After 'Beasts Of The Southern Wild', Benh Zeitlin turns his hand to JM Barrie's Peter Pan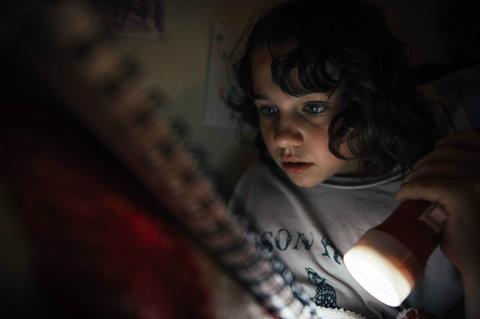 Dir: Benh Zeitlin. US. 2020. 111mins
A liberal reworking of Peter Pan, Wendy is visually resplendent and thematically muddled. Benh Zeitlin's long-awaited follow-up to his Oscar-nominated Beasts Of The Southern Wild has a similar knack for conjuring up immersive, fantastical worlds, dropping us into a primal Neverland where a young girl learns the dangers of never growing old. Wendy casts a powerful spell — the movie has the potency of a dusty folktale brought to vivid life — but it can be frustrating that Zeitlin doesn't have much interesting to say beyond his stylistic flourishes and evocative atmosphere.
With nods to Where The Wild Things Are and Lord Of The Flies, Zeitlin makes the film's principal island setting a lush getaway that, nevertheless, hides true terrors.
Returning to Park City eight years after Beasts claimed the US Dramatic Prize, Zeitlin might receive a similarly rapturous response from those captivated by the bighearted magical realism of his debut. Anticipation for this sophomore film should be high, and the film will be hitting North American theatres on February 28 through Searchlight/Disney (it is now being sold internationally by Celluloid Dreams). But like Beasts, Wendy has no stars, so Zeitlin's track record will be the major selling point.
Newcomer Devin France plays Wendy, a young girl who lives with her single working mother and twin brothers Douglas and James (Gage Naquin and Gavin Naquin) in the Deep South. Inexplicably drawn to a freight train that occasionally passes past their home, Wendy and her siblings hop aboard and meet Peter (Yashua Mack), a child her age who takes them to a far-off gorgeous island where no one grows old. This seems like a dream come true for Wendy, but she'll come to realise that paradise has its problems.
Zeitlin, who wrote the screenplay with his sister Eliza (also the film's production designer), doesn't stray far from Beasts' handmade, dreamlike aesthetic. Pilfering some core elements from J.M. Barrie's iconic work and disregarding the rest, Wendy boasts an untamed beauty, the film's images gorgeously lensed by cinematographer Sturla Brandth Grovlen. With nods to Where The Wild Things Are and Lord Of The Flies, Zeitlin makes the film's principal island setting a lush getaway that, nevertheless, hides true terrors.
But after a fairly dazzling setup, Wendy stumbles in its later reels, introducing ideas that are often obvious or unfocused. As raw and arresting as Wendy's visuals are — including some superb special effects on, presumably, a limited budget — they're in service of familiar notions about the fragility of innocence and the impermanence of childhood. Routinely, the poignancy of composer Dan Romer's orchestrations and the hypnotic rhythms of Affonso Gonçalves and Scott Cummings' editing convey the story's bittersweet undercurrents more strongly than Zeitlin's slack plotting.
Wendy reimagines Barrie's story, looking at what would happen if the ability to stay young wasn't foolproof. Violence and other base human responses emerge, and that stark urgency helps undercut Zeitlin's tendency for preciousness. (As with Beasts, in Wendy he sprinkles in some earnest, purple-ish voiceover from his main character.) Much like Terrence Malick, a filmmaker to whom he's often compared, Zeitlin is interested in the tension between the unspoiled natural world and humanity's attempts to control it, and this unbridled Neverland is as wild and free as the children who populate it. Even if one can guess that Neverland holds certain secrets, Wendy is so passionately crafted that its narrative shortcomings, though bothersome, can't entirely detract.
With her wide, expressive eyes, France isn't as singular as presence as Quvenzhané Wallis was in Beasts, but even at her young age she suggests that Wendy is someone who is quietly taking everything in, gaining wisdom in these unlikely circumstances. As the hard-headed, somewhat bullying Peter, Mack gives us a new way to think of Peter Pan — not as some delightful magical being but, rather, the one kid on the playground who likes tormenting his classmates because he has something the rest of them want.
In two films now, Benh Zeitlin has viewed childhood as a delicate enchantment — wondrous but over much too quickly. It's no surprise, then, that he would turn his attention to Peter Pan, even if he is somewhat stymied trying to reinvent a classic text.
Production companies: Department Of Motion Pictures, Journeyman Pictures
International sales: Celluloid Dreams, info@celluloid-dreams.com

Producers: Becky Glupczynski, Dan Janvey, Paul Mezey, Josh Penn
Screenplay: Benh Zeitlin, Eliza Zeitlin
Production design: Eliza Zeitlin
Editing: Affonso Goncalves, Scott Cummings
Cinematography: Sturla Brandth Grovlen
Music: Dan Romer
Main cast: Devin France, Yashua Mack, Gage Naquin, Gavin Naquin, Ahmad Cage, Krzysztof Meyn, Romyri Ross