Amos Gitai returns to the occupied territories, scene of his 1982 documentary Field Diary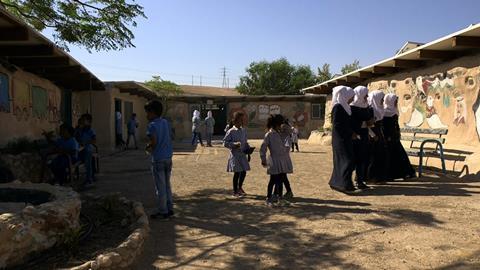 Dir/scr: Amos Gitai. France/Israel. 2017. 90m
Thirty-five years after Field Diary, in which he documented life in the occupied territories of the Gaza Strip and the West Bank as tensions mounted ahead of the Israeli army's invasion of Lebanon, Israeli director Amos Gitai returns to discover how life has moved on — or not. As he talks to Israelis and Palestinians on both side of the ideological and religious divide, so emerges a compelling snapshot of a region desperate for change, but still in danger of being suffocated by both its history and political inertia.
Gitai weaves together a surprisingly uplifting ode to tolerance and peace
Gitai's personal knowledge of his people and their deep-rooted issues lends West Of The Jordan River a powerful intimacy. His own prolific career, together with the film's social conscience and resonant message of grassroots activism, should help it find an appreciative audience on the festival circuit, and perhaps beyond if it lands with a focused distributor.
Some knowledge of the politics of the Middle East is helpful, although it would be difficult not to be aware of of Israel and Palestine's half-century tussle over the occupation of The West Bank. It's a situation that has led to ongoing violence, with leaders seeming unable — or unwilling — to find any common ground.
This context is provided by the film's opening footage, shot by Gitai in 1994 after he returned to Israel following the election of progressive president Yitzhak Rabin. (The director had left the country after the controversial reaction to Field Diary). Amidst the cacophonous shots of border checkpoints and Palestinians angry to the point of action, tensions were reaching breaking point. It seemed that Rabin might hold the answers, as he brokered peace deals with the Palestinian leadership, but his assassination in 1995 led to another two-decades-and-counting period of tumultuous uncertainty.
That politicians, leaders and commentators on both sides disagree about how to resolve the situation is highlighted by a series of often-heated talking head interviews, and Gitai's obvious frustration — and willingness to insert his own impassioned viewpoints — make it clear that, for him, this is an emotional issue. That's also the case for the everyday Israeli and Palestinians Gitai speaks to, who merely want to live in peace. He also drops in on not-for-profit organisations like Breaking the Silence, which encourages Israeli soldiers to talk about the realities of life in the occupied territories, and The Parents Circle, a joint Palestinian-Israeli community support group for families who have lost loved ones in the conflict.
Most powerful, however, is a sequence in which Gitai visits B'Tselem, The Israeli Information Centre For Human Rights In The Occupied Territories, which aims to draw attention to human rights violations by Israeli soldiers. As a roomful of women, many holding children, discuss filming such incidents with their mobile phones, there's a sense that, in this small action, they are taking back control.
Indeed, through such discussions, Gitai weaves together a surprisingly uplifting ode to tolerance and peace. While the bookending of Gitai's 1994 interview with Rabin and the penultimate shot of a carousel in motion speaks to opportunities lost and the vicious circle of government inaction, the raucous closing moments spent in a community backgammon game packed with Israelis and Palestinians chimes with hopeful possibility.
Production companies: Nilaya Productions, Agav Films, France Televisions
International sales: Doc&Films International sales@docandfilm.com
Executive producer: Patricia Boutinard Rouelle
Cinematography: Oded Kirma, Eitan Hai, Vladimir Truchovski
Editors: Tai Zana, Vincent Schmitt, Yuval Orr
Music: Amit Poznansky