Kavich Neang's feature debut follows a young dancer who's about to lose the only home he's ever known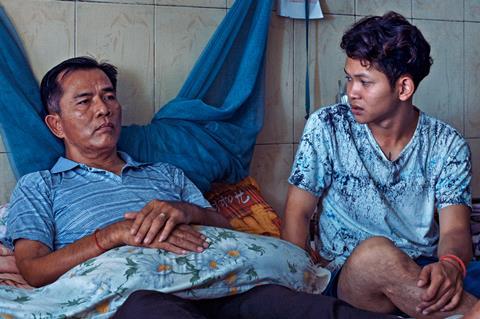 Dir: Kavich Neang. Cambodia/France/China. 2021. 90 mins.
For his debut feature Cambodian director Kavich Neang returns to deeply familiar territory; Phnom Penh's sprawling White Building apartment complex, which was home to a thriving community of artists — including Neang's own family — before its demolition in 2017. Neang previously explored the impact of this destruction in his 2019 documentary Last Night I Saw You Smiling, and now composes a fictional narrative around the same event, centring on an ambitious young dancer faced with the prospect of losing the only home he has ever known. While the film is contemplative, intimate and visually arresting, its deliberately slow pace lessens its dramatic impact.
Douglas Seok's stunning camerawork leans into this stasis
Having premiered in Venice Horizons (where lead actor Piseth Chhun picked up the Best Actor award), White Building — which is co-produced by China's Jia Zhangke — now plays in London's First Feature Competition before heading to Busan and Chicago, and should win the attention of other festivals. The film has been selected as Cambodia's official Oscar entry and could potentially look forward to exposure on an arthouse screening platform.
White Building is divided into three segments — 'Blessings', 'Spirit House' and 'Monsoon' — and each chapter has its own distinct tone. After the film opens with an impressive aerial shot, in which a whining drone looks down on the messy tangle of lives in the extensive titular complex, we are introduced to 20-year-old Nang (Chhun), engaged in a prayer ritual in which he asks to be protected from traffic accidents and win a dance competition.
Both of those are reasonable requests. Nang tears round the streets of Phnom Penh perched on a rickety motorbike with his two best friends, Tol (Sovann Tho) and Ah Kha (Chinnaro Soem), trying to persuade restaurant owners to let them perform their elaborate hip-hop dance routines for the diners. The trio is genuinely talented, but the pocket change they receive in return is only enough to pay for a few cans of beer. (Not that they seem to mind.) This first third is upbeat, following the trio as they practice their dancing, play football in the dust and attempt to chat up girls, often bathed in the city's neon glow which seems to promise so much.
A Japanese company has its eye on their home, the White Building, for development, but initially the boys find it easy to ignore the writing on the wall — literally, as posters of moving firms spring up and numbers painted on the concrete indicate how much the developers will pay for each square metre. But a sense of unease begins to permeate, and when Tol announces that his family is moving to live with relatives in France, the tone becomes far more melancholic.
At this point, Neang takes his focus away from the bright lights of the city and keeps it squarely within the claustrophobic confines of the White Building. Indeed, while snippets of documentary-style footage seen on TV screens touch lightly on Cambodia's troubled past, Neang doesn't provide much in the way of cultural context beyond the fate of this specific building and its residents. His approach is less about offering a political soapbox or dramatic punch, and more about evoking the devastating effects of urban development and population displacement on well-established communities.
And so we watch as Nang's father (Hout Sithorn), the residential chairman, oversees fractious meetings about negotiating a better offer from the developers. Residents argue about whether to move or stay and fight for their homes, even as the building decays around them. The water supply is cut off, walls crumble and patches of black mold spread ominously on the ceiling. In a rather on-the-nose but well-handled parallel, Nang's diabetic father ignores an infection on his toe, which turns black. To Nang's desperate frustration, his deeply spiritual parents eschew the doctor's recommendation that the toe be amputated, and instead choose to treat it the traditional way — with prayer and honey.
Although they may be on opposite sides of the generational divide, both Nang and his father seem to be in suspended animation, unable to take action as the inevitable approaches. Douglas Seok's stunning camerawork leans into this stasis, silhouetting Nang against the night sky while in the distance tower blocks gleam and cranes are constantly in motion. His dreams shift from winning dance competitions to eerie images of his father, dressed in a fine suit and roaming the hallways. Later, a series of composed shots of residents asleep, watching television, speaks to their inertia, frozen in the face of looming catastrophe.
Production companies: Anti-Archive, Apsara Films, Xstream Pictures
International sales: Les Films du Losange, t.masse@filmsdulosange.fr
Producers: Davy Chou, Marine Arrighi de Casanova, Jia Zhangke
Screenplay: Kavich Neang, Daniel Mattes
Cinematography: Douglas Seok
Editing: Felix Rehm
Music: Jean-Charles Bastion
Main cast: Hout Sithorn, Piseth Chhun, Sovann Tho, Chinnaro Soem