Jeffery Robinson links the chains of America's black history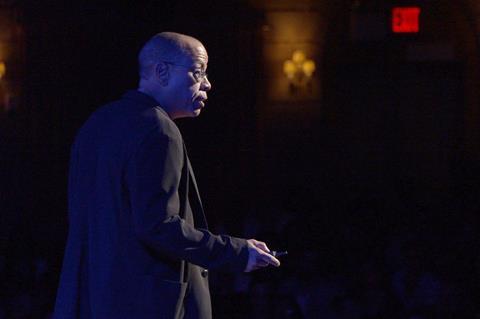 Dirs. Emily Kunstler, Sarah Kunstler. US. 2021. 118 mins.
'A' film about racism in America is not 'the' film about the subject, of course, but Jeffery Robinson's guided tour through the past that anchors and divides his country is the best contextual primer for all those documentaries which came before and, hopefully, will carry on his mission to educate and advocate for change in the future. Two hours, painful though they may be, simply aren't enough as this ACLU leader sews America's troubled racial present into the fabric of its bloody past via a staged monologue – a Ted Talk-like presentation at New York's Town Hall - interspersed with a personal road trip through the South and its history.
Robinson is an impressive orator who wants to engage
Robinson is a precise, empathetic and informed speaker and a righteous man who, in sisters Emily and Sarah Kunstler's documentary, is every teacher you might have ever wished for as a student, but who deserves a larger stage. His documentary is already the winner of an audience prize at SXSW and set for further international festival exposure, but what a true result it would be if this film went on the syllabus in its home nation. A warm critical welcome beckons, alongside potential awards which should attract both domestic and international audiences – many of whom will be sitting in their own glasshouses constructed from denial of the past. It's a film which could play on large or small screens; pre-Covid-19, Robinson would ideally have travelled with it, and perhaps he can again. Who We Are is also a kind film which reaches out across the divide: Robinson's roots are in segregated Memphis, Tennessee, and the Kunstler sisters are white.
Robinson's talk is an extension of a presentation he has been giving in boardrooms which, in turn, was written after he adopted his teenage nephew. That boy's safety, growing up black in America, was a prompt for the veteran lawyer to re-educate himself, and revisit his own past – and the pivotal murder of Martin Luther King in his hometown of Memphis in 1968 when he was aged 11. Robinson and his father had joined one of MLK's marches the week prior to the assassination of the civil rights leader, and it's that blend of the personal with the factual, starting in the preserved Lorraine Motel, which sets Who We Are on a journey to the heart of the issue.
Robinson argues that on several occasions in its past, America has been on the verge of overcoming the racism which is baked into its very foundation, but each time the momentum has rolled back – no more so than on the death of King. Now, with the growth of Black Lives Matter, he sees an opportunity again. And he has armed himself with the information to help push the movement forward: his primer spans the foundations of slavery, the Civil War, Reconstruction, the Constitution and Slave Patrols, before moving on to the enduring pain of lynchings, the Tulsa massacre and ongoing murders of black women and men today. He interviews relatives of those shot and killed – from the daughter of Elmore Bolling, lynched in 1947 for being "too successful to be a negro", to one of the last survivors of Tulsa, to the sister of Terence Crutcher, shot, unarmed, with his hands in the air on a freeway as surveillance cameras watched dispassionately.
To their enduring credit, Emily and Sarah Kunstler (co-producers and co-directors, with Emily editing) open the film out from its stage presentation, even if that's in a low-budget, slightly ramshackle, on-the-road way. Pavement-side interviews owe more to the force of their content than any sophisticated presentation, and the music, when it comes, can be a little too on-the-nose for such an intelligent piece.
Who We Are is more than the sum of these parts, however. Robinson is an impressive orator who wants to engage. He sets a tone of openness, of personal exposure – he visits his old school, which his "unicorn" parents accessed through moving into a white neighbourhood via a proxy as the realtor would not sell to black people. That sense of honesty and invitation makes the film even more impactful as the on-stage oration pieces together the long chain of black history in America. A visit to a former slave market in Charlestown echoes with the pain of the ages; steps to nowhere in Tulsa, the Lorraine Motel, the bridge in Selma, the 'Hanging Tree'. There's no mistaking the fact that while he's open, charming, erudite, and often sad, Jeffery Robinson is also angry. And as he explains the difference between the law and living when you are black in America, viewers will clearly understand why they should feel the same rage.
Production company: Off Center Media
International sales: ICM Partners, bart.walker@icmpartners.com
Producers: Jeffery Robinson, Emily Kunstler, Sarah Kunstler
Screenplay: Jeffery Robinson
Editing: Emily Kunstler
Cinematography: Jesse Wakeman
Music: Kathryn Bostic