Carey Mulligan stars in actor Paul Dano's directorial debut, an adaptation of the popular Richard Ford novel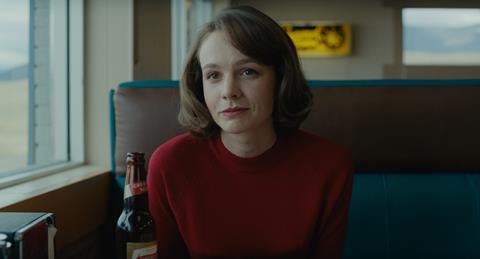 Dir: Paul Dano. US. 2016. 104mins
In Wildlife, a sensitive teen tries to maintain his equilibrium within a dysfunctional family. That setup couldn't be more familiar, but Paul Dano's confident directorial debut sports the same qualities that he always brings to his own performances: it's intelligent, understated and guardedly emotional. Based on Richard Ford's novel, the film is a wonderful showcase for Carey Mulligan as a fed-up mother, but it also provides rising star Ed Oxenbould with a chance to play a young man who says little but observes intensely.
Wildlife blessedly lacks the tell-tale signs of being an actor's first directorial effort in which the ensemble is permitted to indulge in over-the-top theatrics
This Sundance premiere boasts Mulligan's star power alongside Jake Gyllenhaal in a supporting role. The source material and genre trappings should also attract audiences, with upscale markets proving most responsive
Set in 1960 in Montana, Wildlife concerns Joe (Oxenbould), who has just come to town with his long suffering mother Jeanette (Mulligan) and restless father Jerry (Gyllenhaal), who keeps moving the family in search of new job opportunities. But after he's fired from his gig at a golf course, he reluctantly accepts risky work as part of a firefighting crew battling a blaze in the nearby forests, which will keep him away from home for weeks.
Dano, who co-wrote the adaptation, quickly focuses his attention on the relationship Joe has with his mother, who treats him more like a co-conspirator than a son. With Jerry gone, she starts talking to Joe candidly about her worries concerning her husband's infidelity and the infrequency of their sexual intimacy. Suddenly, Jeanette reveals a more assertive, liberated personality which is a by-product of both her anger at Jerry for abandoning the family and her rising suspicion that she's trapped in a bad marriage.
The passive Joe mostly reacts to his mother's impulsive acts, which can be a challenge for any actor. But Oxenbould (previously seen in The Visit) displays an impressive ability to seem tranquil while hinting at the character's underlying anxiety. His face both youthful and poised, Joe has had to grow up fast to serve as an unofficial referee between his parents, and because he loves his dad so much, he must now quietly navigate how to preserve his family once Jeanette begins courting a wealthy local entrepreneur (Bill Camp).
While Oxenbould is muted, Mulligan is electric. A 34-year-old feeling regret about choosing a thankless life of domesticity, Jeanette sees an opportunity to change her circumstance once Jerry takes off, and the Oscar-nominated actress captures this woman's desperation and pent-up sexual desire. Wildlife provides enough sociological detail so that we understand how women are repressed in 1960s culture — Jeanette's best job prospects are as a secretary or substitute teacher — but the anger and need simmering beneath the character's surface seem to have been triggered by other factors as well, making us wonder about the depth of the unhappiness within the marriage.
Aided by Diego García's crisp, clean cinematography, Dano grounds this emotionally tricky story in measured tones. As a director, Dano prefers static camera setups and uncluttered frames, emphasising the mundane nature of the drama, which only allows the increasing darkness of this tale to become more upsetting.
The straightforward approach also gives his capable cast room to operate, although Wildlife blessedly lacks the tell-tale signs of being an actor's first directorial effort in which the ensemble is permitted to indulge in over-the-top theatrics. Camp gives a performance of surpassing subtlety, never making this entrepreneur's intentions with Jeanette entirely clear. And although Jeanette acts out a few times in Wildlife, there's such precision in Mulligan's portrayal that it eschews flashiness. As for Gyllenhaal, his Jerry ends up being the most clichéd character: the failing father who believes he's just one lucky break away from giving his family a better life. Wildlife mostly sidesteps the déjà vu of its threadbare scenario, but Gyllenhaal gets stuck echoing a familiar archetype.
Production companies: Magic Child, Sight Unseen, Nine Stories
International sales: Endeavor Content, dmcintosh@endeavorcontent.com
Producers: Alex Saks, Paul Dano, Oren Overman, Ann Ruark, Jake Gyllenhaal, Riva Maker
Executive producers: Zoe Kazan, Ted Deiker, Eddie Vaisman
Screenplay: Paul Dano & Zoe Kazan, based on the book by Richard Ford
Cinematography: Diego García
Production design: Akin McKenzie
Editors: Matthew Hannam, Louise Ford
Music: David Lang
Main Cast: Carey Mulligan, Ed Oxenbould, Bill Camp, Jake Gyllenhaal