An in-depth and honest look at the Formula One icon from director Morgan Matthews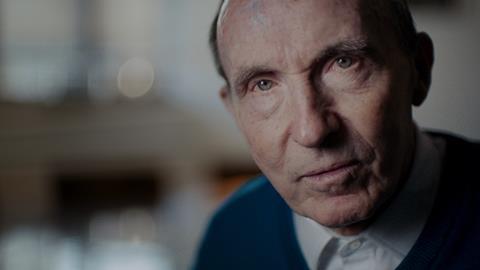 Dir. Morgan Matthews. UK. 2017. 109 mins.
Stories of obsession play well on the big screen, whether drama or documentary. And Sir Frank Williams' passion for going fast is particularly intense. He "doesn't do emotion," we are told, and has "no interests in his life outside motor racing". Williams has watched Top Gun, though, and relates to Goose's line: "I feel the need, the need for speed." He adds, ruefully: "That's how I ended up in a chair, going too fast".
Williams' young family went on holiday to Marbella for 32 consecutive years and he never once joined them
As Williams Grand Prix Engineering celebrates its 40th year, film-maker Morgan Matthews (Shooting Bigfoot, X + Y) takes an in-depth look at 75 year-old Williams, the iconic Formula One force of nature, both before and in the 30 years since an automobile accident rendered him tetraplegic. This is the other side of the pit: the story of a man so focused and obsessed with building a winning Formula One team that nothing else has mattered much in his life. Matthews has filmed this story using the words of Williams' late – and much neglected – wife Ginny, who penned an autobiography that Sir Frank has never read, and relies heavily on the testimony of his daughter, Claire, the most senior woman in Formula One racing today.
Set for previews across the UK between August 1 and 3 before hitting theatres and VOD on August 4, Williams is a natural title for all petrol-heads and armchair racers, and the unusual female perspective on this macho sport gives it a fullness missing from previous films on the subject. Sold internationally by the Film Sales Company, it won't hit the heights of Senna, but it's a 360-degree look at the man who built the car Ayrton was driving when he died. In a way, it goes past obsession: when Sir Frank says working in Formula One is "like having a hard-on your whole life," one is reminded of Crash.
That makes this film all the more intriguing, however. While viewers are told that Williams is the "last of the old-style teams" in Formula One, Sir Frank himself is clearly from another era – a time when a five year-old boy whose father had abandoned his family was placed in a Roman Catholic boarding school in Scotland, to re-emerge aged 16 ready to race. His singular focus comes with a great deal of personal charm and while he is greatly respected, he is also closed off. There has been a personal cost to his continuing achievements, right from the time his close friend Piers Courage died on the track, in a Williams car. The Williams family are generous and truthful; while there are questions they'd prefer not to answer, they don't try to hide the problems which carry on to today.
Through taped interviews, Ginny's voice describes her history with Sir Frank – who was an elusive man, at times unfaithful – while Claire tries to reconcile the past with her present on the track which has, in turn, led to a rift with her brother. But this is also fun: interviews with Nelson Piquet, Nigel Mansell and Sir Jackie Stewart testify to danger but also camaraderie, while the gifted Williams engineer Sir Patrick Head also gets a say. "Meeting him was the best thing that ever happened in my life," gushes Williams, uncharacteristically. "Apart from meeting my wife, of course," he hurriedly adds.
Williams' young family went on holiday to Marbella for 32 consecutive years and he never once joined them. It's a testament to Morgan Mathews' skill and gentle probing that you can sit with a man this single-minded and come away marvelling at all he has done while fully comprehending the cost of it. Editing is smart and subtle for a story about F1, while Satie's Gnossiennes comes to the fore during the devastating crash which saw Williams hover between life and death in intensive care for 12 weeks.
Production companies: BBC Films, Minnow Films
Contact: info@minnowfilms.co.uk
Producers: Hayley Reynolds, Sarah Hamilton, Colin Barr
Executive producers: Morgan Matthews, Colin Barr, Nichola Martin, Joe Oppenheimer, Philip Knatchbull, Louisa Dent
Cinematography: Morgan Matthews, Brendan Easton, Patrick Smith
Editor: Johnny Burke
Music: Martin Phipps
Featuring: Frank Williams, Claire Williams, Jackie Stewart, Nigel Mansell, Alan Jones, Patrick Head