An undocumented Chinese woman struggles to accept her beloved brother's new girlfriend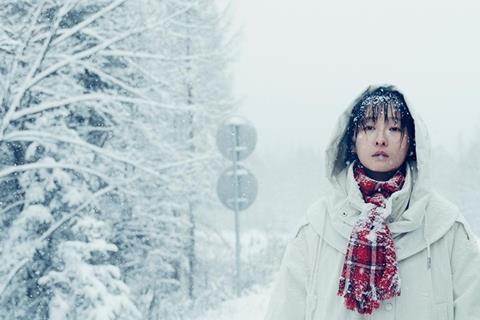 Dir/scr: Liang Ming. China. 2019. 104mins
Gu Xi (Celeste Lv) faces an uncertain future. Her job as a hotel maid is threatened because of her status as an undocumented citizen; her relationship with her brother Gu Liang (Xiaoliang Wu) – her only family – is unsettled by the arrival of a new girlfriend. Meanwhile, an oil spill taints the coastal waters of the nearby Yellow Sea and corruption seeps into the community of the small East China fishing town where Gu Xi and her brother scrape a living. The quicksilver flit of Gu Xi's juvenile emotions is brilliantly captured in this impressive first feature from actor turned writer and director Liang Ming, and there's much to admire in this intriguing, textured account of simmering sibling tensions, secrets and jealousy.
The score, a low murmur of disquiet, knits together evocatively with the sound design.
A former collaborator of Lou Ye — both in front of the camera, with a role in Spring Fever, and behind, as an assistant director on Mystery — Liang scooped the Best Director and the Jury Award at the Pingyao International Film Festival for the film, together with the Jury Award for Best Screenwriter at the Chinese Young Generation Film Forum. Further festival interest seems assured, and, while any theatrical release would require careful marketing, the film could prove to be attractive for specialist streaming platforms. It's an eye-catching debut which should position Liang firmly on the radar of programmers of major festivals looking for the new generation of Chinese directing talent. And it further reinforces the status of producer Sean Chen (Angels Wear White) as a driving force in Chinese independent cinema.
The casual intimacy of the bond between Gu Xi and her brother is something rarely glimpsed in Chinese cinema, not least because the one child policy ensured that sibling relationships were the exception rather than the norm. Gu Xi's status as the younger child accounts for her documentation woes; her mother's death and a question over the identity of her father means that she has always been dependent on Gu Liang.
There's a self-sufficiency in their existence, in a meagre shack parked next to an abandoned coach, which Gu Xi has always assumed is immutable. But then they meet Qingchang (Jiajia Wang), nicknamed "Sis Pizzazz" for her sparky confidence and veneer of sophistication. Gu Liang is smitten, Gu Xi is daunted, initially barricading herself behind adolescent surliness.
But the three-way relationship which develops is more knottily complex than a spare wheel situation. Qingchang's charm offensive seduces both brother and sister. And, as a stinging scene during Gu Liang's birthday makes uncomfortably clear, Gu Xi's clinging affection for her brother tips over into something sexually charged and grabbing.
There's another layer of the film playing out simultaneously. Unable to fish because of the oil spill, Gu Liang and his friend work as thugs for a local big shot. But the discovery of a body draws unwelcome attention to underworld activities which implicate both Gu Xi's hotelier boss, and Qingchang's father. Invisible in her low status hotel maid job, Gu Xi watches on as small fragments of drama piece together – an approach which evokes the measured watchfulness of Lila Avilés' The Chambermaid. The score, a low murmur of disquiet, knits together evocatively with the sound design.
The use of prophetic dreams as a device is one of the few less successful elements, muddying an already somewhat confounding tangle of motivations. But strong performances – Xiaoliang Wu won Best Actor at Macau – and a camera which seems to exude low level anxiety guide us through Gu Xi's bumpy rite of passage.
Production company: Tianjing Happy Entertainment Film Media
International sales: Midnight Blur Films, Parallax Films info@parallaxchina.com
Producers: Sean Chen, Sun Yang
Editing: Zhu Lin
Cinematography: He Shan
Production design: Ma Hongwei
Music: Ding Ke
Main cast: Celeste Lv, Xiaoliang Wu, Jiajia Wang, Weishen Wang