Cartoon Saloon's Irish folklore trilogy ends with a film which seems destined to become an instant classic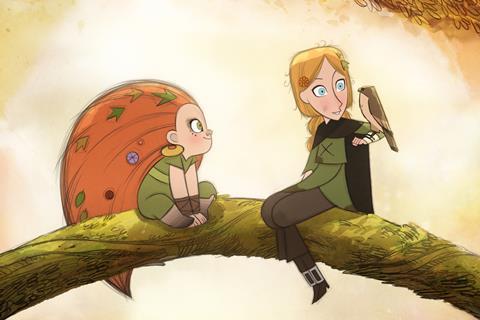 Dirs: Tomm Moore, Ross Stewart. Ireland/Luxemburg. 2020. 103 mins
Tomm Moore and Ross Stewart have an enviable reputation as purveyors of world class animated features. Wolfwalkers will only enhance that status. A mixture of breathtaking artistry and grand adventure, it recounts a stirring tale of friendship, family, folklore and magic set in 17th century Ireland. Set to stream on Apple TV+ after its theatrical release, it should captivate adult and child alike, along with many an awards season voter.
A rumbustious, fast-paced and highly commercial affair full of derring-do, revelations, narrow escapes and dark life-or-death confrontations
The final film in Moore and Stewart's "Irish folklore trilogy" (following 2009's The Secret Of Kells and Song Of The Sea in 2014) is a rumbustious, fast-paced and highly commercial affair full of derring do, revelations, narrow escapes and dark life or death confrontations. It is set in the walled city of Kilkenny under the brutal yoke of Oliver Cromwell's invasion. The city has all the life and character of a Bruegel painting. Bustling streets are teeming with gap-toothed urchins, twinkly-eyed rogues and warty old-timers.
Outside the safety of the city lie woods filled with wolves that howl in the night and strike fear in the heart. Cromwell's righteous Lord Protector (voiced by Simon McBurney) has brought wolf-hunter Bill Goodfellowe (Sean Bean) from England to slay the beasts and clear the forest for agricultural use. Goodfellowe's thrill-seeking daughter Robyn (Honor Kneapsey) is eager to pick up a crossbow and join him on the hunt. It is entirely understandable given the 'Handmaid's Tale'-style life of dutiful domestic drudgery marked for women young and old in the community.
Seen through Robyn's eyes, the woods become a place of storybook enchantment. A palette of autumnal reds and golds make the leaves pop, waterfalls tumble gently from on high, badgers and squirrels break cover into verdant clearings. It looks like somewhere you could wander in your imagination and evokes strong associations with classic Disney fairytales from Snow White to Sleeping Beauty.
Robyn's encounter with the feisty Mebh (Eva Whittaker) changes everything. Sporting a mane of terracota coloured hair and an abundance of attitude, Mebh is a Wolfwalker; a human who can transform into a wolf and communicate with the wild beasts. Robyn gains a friend and a very different perspective on the supposedly fearsome pack of wolves. At odds with an increasingly anxious father and the dastardly Lord Protector, her perspective changes further once she realises the consequences of having been bitten.
A film that never dawdles when it can race, Wolfwalkers feels very cinematic. The directors make use of split screen, montages and sharp editing to sustain a lively pace. It almost goes without saying that it looks gorgeous, rich in depth of colour and detail. Scenes appear like woodcut prints and there is a strong emphasis on sharp lines and geometric shapes. Noses are like ski slopes, tree boughs bend into rounded archways, gleaming fangs are like mountain ranges.
The actors are smartly utilised with Eva Whittaker proving the scene-stealer as she creates a Mebh who is bossy, intrepid and full of mischief but crumbles into vulnerability as she frets over the fate of her missing, long absent mother Molly (Maria Doyle Kennedy).
A lovely, satisfying saga, Wolfwalkers has the feel of an instant classic and even the seemingly obligatory inclusion of two sweeping, spirited songs does nothing to spoil the enjoyment.
Production companies: Cartoon Saloon, Melusine Productions
International sales: Cartoon Saloon info@cartoonsaloon.ie
Producers: Paul Young, Nora Twomey, Tomm Moore, Stephan Roelants
Screenplay: Will Collins
Editing: Richie Cody, Darren Holmes, Darragh Byrne
Production design: Ross Stewart, Tomm Moore, Maria Pareja
Music: Bruno Coulais, Kila
Main voice cast: Honor Kneapsey, Eva Whittaker, Sean Bean, Simon McBurney, Maria Doyle Kennedy, Tommy Tiernan