Dalit women defy discrimination by setting up a journalistic organisation - and making it a success story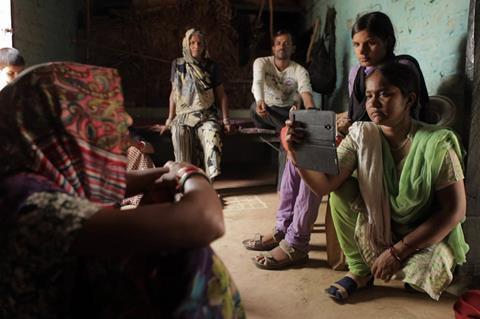 Dirs. Rintu Thomas, Sushmit Ghosh. India. 2021. 93 mins.
Whether the pen is mightier than the sword may be up for debate, but as this engaging and hopeful documentary by Rintu Thomas and Sushmit Ghosh shows, words have the power to change things when wielded carefully. Power lies at the crux of this film, not least because the journalistic organisation it shines a light on, Khabar Lahariya (Waves of News) was founded in the northern Indian state of Uttar Pradesh in 2002 by Dalit women, a caste considered to be "untouchables" and whose members suffer extreme discrimination as a result.
The sorts of stories the women are tackling, including abuses of power and corruption, make it a dangerous game
Unsurprisingly, Khabar Lahariya was expected to fail, but it has flourished and Thomas and Ghosh begin following some of its journalists in 2016 as the organisation, which is still staffed entirely by women, begins a pivot to digital news. The country-specific gender and societal issues raised, coupled with considerations of more universal themes including journalistic integrity and the industry's changing face, could well see Writing With Fire attract attention beyond the festival circuit after its world premiere in the World Cinema Documentary Competition at Sundance.
Husband and wife team Ghosh and Thomas, who previously worked together on several short films, waste no time in plunging us into the day-to-day running of the company – although something more about who founded it would have been welcome. They focus on chief reporter Meera Devi and younger journalist Suneeta Prajapati, observing them at work and taking us between the lines of their reportage to see the lives behind the livelihoods.
"When Dalit women succeed, we can redefine what it means to be powerful," says Meera who, after marrying at 14, bucked societal expectations by continuing her education. Suneeta has also redefined herself, taking her childhood experience of working in an illegal mine and using her community connections to pull back the curtain on ongoing criminality. Part of the redefinition also comes from giving a voice to the powerless, including a woman who, heartbreakingly, relates her story of being raped multiple times but receiving no police help. "We don't trust anyone except you," her husband tells Meera.
The sorts of stories the women are tackling, including abuses of power and corruption, make it a dangerous game. Suneeta admits she is sometimes anxious, but whatever she might be feeling, we can see she maintains a fearless front in interviews, even when faced with animosity. Beyond the day-to-day newsbeat, Thomas and Ghosh also show how the journalists begin to cover the Indian election cycle, as Prime Minister Narendra Modi seeks a second term. Meera is also seen to be dogged in her pursuit of interviews with a rising star in the youth organisation Hindu Yuva Vahini – a vigilante outfit spreading anti-Muslim rhetoric.
The directors, who also edited the film, carefully blend segments where the women talk about their lives with footage of them doing their jobs, to show the story in the round. While this gives the film a broader, less detailed sweep in terms of the issues the women are tackling, it allows the focus to remain on the journalists themselves, so that we also see the way Khabar Lahariya works with its more inexperienced and less well-educated staff, helping them to get to grips with mobile phones and English, where necessary, as well as training them in how to angle their stories.
Additional interviews with Meera and Suneeta's family members also show the power that cultural expectation still has over their lives. "I believe journalism is the essence of democracy," says Meera. Watching this will make you believe it too.
Production company: Black Ticket Films
International sales: Autlook, salma@autlookfilms.com
Producer: Sushmit Ghosh, Rintu Thomas
Cinematography: Sushmit Ghosh, Karan Thapliyal
Editing: Sushmit Ghosh, Rintu Thomas
Original music: Tadjar Junaid