Spike Lee and Jonze produce this debut, hybrid feature about the the French radical Islamist Hasna Ait Boulahcen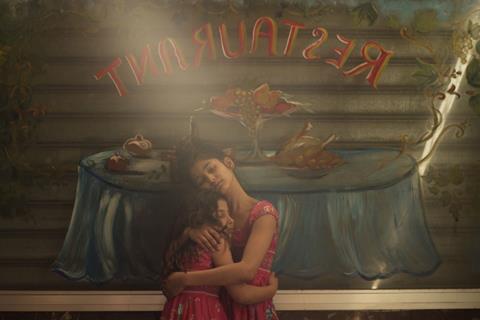 Dir: Dina Amer. Egypt/France/US. 2021. 90 mins.
There are various ways to evoke sympathy for the devil. One of the most tried and tested is to show that he, or she, is not a devil at all. That's the clear and present remit of former VICE journalist turned filmmaker Dina Amer's first feature. In dramatising the life of 'France's first female suicide bomber', Hasna Ait Boulahcen, up to the moment when she died in November 2015 during a police raid on a Paris apartment, Amer takes on a thorny challenge, one that will stir controversy, debate and pushback not only in France, where memories of the Bataclan and Charlie Hebdo attacks are still raw.
There's a breathless energy in a film that feels like it was shot with improvisational abandon and came together in the editing room
It's a strange film, one that feels its way through Hasna's story, changing tack, trying out different methods – including the casting of three different women as the adult Hasna, one of them the director herself, and a final shift into documentary. The result is a fragmentary portrait of a girl Amer clearly feels was a beautiful lost soul fragmented by circumstance. There are moments that hit home emotionally, especially in the early part, where the young Hasna and her sister Mariam are played by two real-life sisters who are camera naturals. But the film's key message, that Hasna resembles us, may not be one most viewers choose to take on board – in part because the style tricks and tics used to bring her closer actually have a distancing effect.
There is nevertheless a breathless energy in a film that feels like it was shot with improvisational abandon and came together in the editing room. This, the topicality of the material, the sense that we're watching a female corrective to a male-dominated story and the imprimatur of two Spikes – Lee and Jonze – as executive producers, will all help to get You Resemble Me seen, though it feels like a title destined to be consumed mostly on small screens.
In its first third, Amer's hybrid biopic sketches in Hasna's difficult childhood. Living in a cramped apartment in a suburban Parisian high-rise, she has learnt to live on her wits, keeping herself and her little sister Miriam away from the clutches of a bitter, violent mother, shoplifting and sleeping rough, even in the shadow of the Eifel Tower. Played with unaffected intensity by sisters Lorenza and Ilonna Grimaudo, Hasna and Miriam are everything to each other – something made rather too abundantly clear in their frequent repetition of the phrase that gives the film its title.
Separated from her mother and sister by social services, Hasna is sent to live with a white French family with a weak but sympathetic father amiably played by Gregoire Collin and a mother who thinks this unruly girl should at least try to eat some pork "out of politeness". Soon, we've lurched forward several years to spend time with the still passionate but deeply mixed-up Hasna in the months before and during her radicalisation – caused principally, the script suggests, by everything the world has thrown at her, but more immediately by her crush on a cousin, Abdelhamid (Alexandre Gonin), who has gone to Syria to join Isis.
"You don't know all the women I've been," Hasna writes to Abdelhamid in one of their increasingly long and intimate chats, which we see scrolling on the left-hand side of the screen. Some of these include prostitute, drug dealer, 'cowgirl' (a media meme generated by the fact that the real Hasna apparently liked to wear a cowboy hat), kebab-shop server and very late convert to burqa-wearing (though she keeps her Nike sneakers on beneath). But to illustrate this by casting three actresses as the adult Hasna – Mouna Soualem, Sabrina Ouazani and the director herself – and to switch from face to face using Deepfake technology, is nothing but a distraction.
The film's final section opens with TV news footage of the St Denis police raid during which Hasna died together with Abdelhamid and an accomplice. Initially painted by the media as a crazy radical suicide bomber who blew herself and the others up so as not to face capture, she was later revealed to have been killed by one of the men, after shouting out to police "Please help! Let me jump! I want to leave!" At the end, we spend some time with the real Miriam, who lays flowers both on the Bataclan memorial and her sister's unmarked grave, as well as the sisters' mother and father – both of whom claim it wasn't them that made her like this. So what was it? "Maybe we'll never know" is a good enough conclusion, but it's one that a film played at a high emotional volume throughout, with little room for reflection or existential doubts, clearly feels is not enough. Hence the coercive title, pushed one last time in a final on-the-nose voice-over: "She looks like me. Does she look like you?". Well actually…
Production companies: The Othrs, VICE/RYOT
International sales: The Match Factory, info@matchfactory.de
Producers: Dina Amer, Karim Amer, Elizabeth Woodward
Screenplay: Dina Amer, Omar Mullick
Editing: Keiko Deguchi, Jake Roberts
Cinematography: Omar Mullick
Music: Saunder Jurrianns, Danny Bensi
Main cast: Lorenza Grimaudo, Ilonna Grimaudo, Mouna Soualem, Sabrina Ouazani, Dina Amer, Alexandre Gonin, Gregoire Colin