Cuban ballet star Carlos Acosta stars in this dramatisation of his life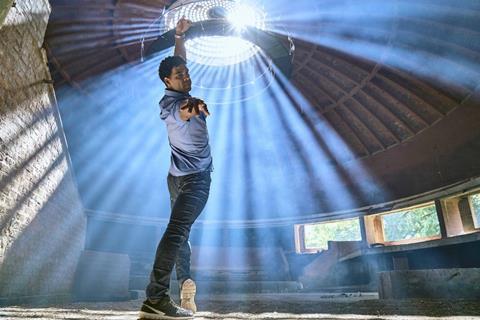 Dir. Iciar Bollaín. Sp-Cub-UK-Ger. 2018. 109mins
Proving that there's room for more than one A Star Is Born in any given season, here's Yuli, a flamboyantly affirmative true story that's bound to have balletophiles and biopic fans reaching for their hankies. Based on the rags-to-renown international career of Cuban ballet star Carlos Acosta, and on his 2007 memoir No Way Home, it stars Acosta as himself, looking back over his career in a story hitting every thematic note – family, sacrifice, maleness, black identity, exile and the transforming power of art – that's likely to touch a chord with audiences.
Politically, the film is clear-eyed about both the glories of Cuban life under Castro, and its iniquities
Spanish director Iciar Bollaín (Even the Rain, The Olive Tree) directs with a romantic swagger, unafraid of the odd splash of kitsch, while in his third script for her, her partner (and long-time Ken Loach associate) Paul Laverty too often errs on the side of obviousness. Despite wallowing in some of the corniest traditions of the artist biopic, however, this vibrantly executed and performed piece is bound to garner international prestige, and score heavily with culture-vulture crowds for whom the film is likely to take wing — even if it often wears wooden clogs, dramatically speaking.
The film begins with Acosta himsef rehearsing a show that turns out to be an impressionistic account of episodes in his life. Opening a red scrapbook emblazoned with the name 'Yuli' — his childhood moniker — he's carried back mentally to his upbringing in a poor district of Havana, the son of black lorry driver Pedro (Santiago Alfonso) and white mother María (Yerlín Pérez). Pedro is first seen gruffly dragging his young son (played as a kid by terrific 10-year-old Edilson Manuel Olbera Nuñes) away from a street dance contest, where he's showing off his hip-hop moves.
We think we're in for a conventional showbiz tale of parent-child conflict, but not quite: what follows is Billy Elliott in reverse. It's authoritarian but loving dad Pedro, not one to spare the strap, who wants his son to excel as a properly trained dancer, while Carlos, who'd rather be a footballer, resists with all his might; especially as he doesn't want to be seen by his peers as effeminate. Dad drags Carlos to an audition at the Cuban School of Ballet, where the boy's talent dazzles teacher Chery (Laura de la Uz) and, even though the boy's a reluctant pupil, the school continues to encourage him despite his waywardness.
A few years later, a young adult Carlos (Keyvin Martínez) accepts the challenge of an offer in London, but doesn't take to rain-soaked exile and returns home to a Cuba facing economic challenges. Here, it takes a little kindly bullying from Chery and Pedro to persuade him that his future really is in dance – and the rest, including being the Royal Ballet's first black Romeo, is dance ballet history.
This is an oddly male-centred narrative, with María and her daughters rather stranded in the background, and the mental problems of older sister Berta (Andrea Doimeadíos) somewhat cursorily sketched in. Acosta's personal life as an adult barely features – although one of the impressionistic biographical dance sequences suggest that he's a big hit with the ladies.
The real emotional meat of the film lies in young Carlos's relation with a dad whose tough love has been the inspiring force through his life. Superbly and charismatically played by another screen debutant, veteran Cuban choreographer Santiago Alfonso, Pedro also serves as the film's conduit for black consciousness: an adept of the Cuban Yoruba religion santeria, he named his son after legendary warrior Yuli, and gives him an impromptu, somewhat awkwardly pedagogic lecture on the history of slavery in Cuba, and the family's own brutal legacy.
There are a few obtrusive touches – notably a dance sequence denouncing the US general Smedley D. Butler ("Raped Cental America for Wall Street"). Some transitions from rehearsal room to reminiscence are also downright creaky. Politically, however, the film is clear-eyed about both the glories of Cuban life under Castro (including free dance schools) and its iniquities, notably economic scarcity and racial inequality.
Directorially, Bollaín contributes a flamboyant swagger, not least in some euphorically swooping camera moves, and the dancers playing Carlos as a boy are terrific when in motion, Olbera Nuñes proving the real find acting-wise. Acosta himself looks a lot happier in motion than when emoting, but admirers will be only too delighted to see him preside over his story in person.
Production companies: Morena Films, Potboiler Productions
International sales: The Match Factory info@matchfactory.de
Producers: Juan Gordon, Andrea Calderwood, Claudia Calviño, Pau Calpe, Pilar Benito
Screenplay: Paul Laverty
Cinematography: Alex Catalán
Editor: Nacho Ruíz Capillas
Production designer: Laia Colet
Music: Alberto Iglesias
Main cast: Carlos Acosta, Santiago Alfonso, Keyvin Martínez, Edilson Manuel Olbera Nuñes, Laura de la Uz