Abel Ferrara turns his hand to the action film in a typically post-modern anti-thriller starring Ethan Hawke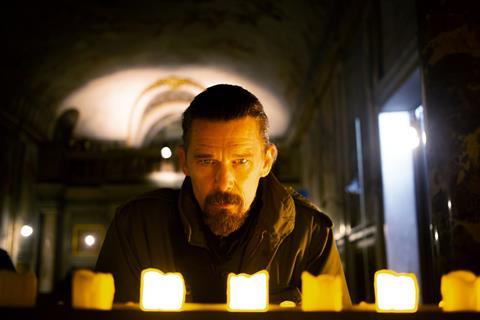 Dir/scr: Abel Ferrara. Germany/UK/US. 2021. 85 minutes
Abel Ferrara blows up the Vatican — and action feature film-making — with his 25th feature-length work Zeros And Ones. Aptly enough given the binary title, reactions to this anti-thriller will likely be highly polarised between those delighted to see that the maverick auteur is still experimenting with the medium in his eighth decade, and others baffled and annoyed by his refusal to play conventional narrative games.
Ferrara gleefully defuses and dismantles the tropes of mainstream US action
The film bows in Competition at Locarno in a year when the Swiss festival has, under its new artistic director Giona Nazzaro, squarely shifted its emphasis from challenging arthouse work towards more audience-friendly genre fare. With Ethan Hawke top-billed as an American military-man dealing with terrorist threats on Rome, Zeros And Ones sounds like the latter but is in fact very much the former.
The fun begins before the film itself even starts via a prologue in which Hawke appears on screen as himself, seemingly in his own office, welcoming the audience to the movie. The star explains how he got involved, praising Ferrara's 'inspiring' work with the director's neighbour in Rome, Willem Dafoe — Ferrara's star in five of the six fiction features he made between 2007 (Go Go Tales) and 2020 (Siberia).
Hawke reveals he is playing two characters in Zeros And Ones, the khaki-clad protagonist and his brother, a "revolutionary". But it turns out that Hawke in fact essays three roles in the picture, the third being an actor named 'Ethan Hawke', who returns for a post-credits epilogue that adds a further layer of post-modern deconstruction. What transpires between these bookends proves deconstructive enough as it is, with Ferrara gleefully defusing and dismantling the tropes of mainstream US action fare such as the Bourne and Mission Impossible franchises.
Hawke's JJ arrives in a nocturnal Rome of eerie emptiness, the streets patrolled by Covid-19-masked soldiers and no sign of pedestrians or cars. In elliptically fragmented fashion, shards of plot are parsimoniously doled out: JJ's brother Justin has gone missing and may have been killed by reactionary forces (JJ finds a video in which Justin taunts murderous henchmen with primo Ferrara lines like "don't you know that your strippers are Marxists?!"). Meanhile, some kind of deadly assault is threatened against the Vatican and Russian secret services lurk menacingly — Ferrara's wife Christina Chiriac, despite limited screen-time, is second-billed as "Laughing Russian Agent".
There is a tiny handful of slam-bang set-pieces, most notably a violent raid on a boxing gym that features the graphic waterboarding of a hapless, gloved pugilist. Later we witness the fiery destruction of the Holy See, an apocalyptic event achieved by the likeably cheap and simple expedient of cutting directly from footage of St Peter's to screen-filling blasts.
While we're clearly aeons way from the Dan Brown cinematic universe, longtime Ferrara co-conspirator Joe Delia scores these uptempo scenes in muscular style, as if he's working on a multiplex-oriented Hollywood thriller. He also lays on the atmospherically distorted strains of Danny Toan's electric guitars for more reflective moments. The latter occupy the bulk of the brisk running-time (well under 80 minutes if Hawke's bookends and the lengthy closing credits are discounted), Ferrara expanding what would usually be expositional interstices to become the main focus of the narrative.
Thus Zeros And Ones becomes more of an oblique study of one man's spiritual and psychological crisis than anything seriously concerned with plot development. JJ is seen praying in both a mosque and a church in which an aged worshipper (Carla Lucia Lasoli) urgently whispers orders which she claims emanate directly from the Holy Father himself. But, longtime Buddhist Ferrara suggests, the binary — or rather Manichean —good/evil certainties of ancient organised religions bear little application to the shadowy moral realms which human beings (and nations) are forced to navigate on a daily, even hourly basis.
This is all smudgily conveyed by the handheld mid-grade digital cinematography of hotshot indie DoP Sean Price Williams, in his first feature-length collaboration with Ferrara (the pair worked on 2020's 65-minute documentary Sportin' Life). The resulting images are nudged towards impressionistic abstraction by editor Leonardo Daniel Bianchi, and given crucial coherence by Lavinia Burcheri's sound design. The Rome thus conjured is a zone of night, a Gothamistic metropolis of encroaching darkness, endowed with additional (topical) tension by the strictures of anti-COVID measures.
Only in the final moments of the narrative proper does dawn break and the denizens of the Eternal City emerge from curfew to go unflappably about their quotidian Roman business, blithely downing espressos in corner cafés. The Vatican, it is implied, lies in crumbling ruins nearby. But Italy is another country — they do things differently there.
Production companies: Maze Pictures, Hammerstone Studios, Rimsky Productions, Macaia Film
International sales: Blue Box International, info@blueboxintl.com
Producers: Diana Phillips, Philipp Kreuzer
Production design: Renate Schmaderer
Editing: Leonardo Daniel Bianchi
Cinematography: Sean Price Williams
Music: Joe Delia
Main cast: Ethan Hawke, Cristina Chiriac, Phil Neilson, Valerio Mastandrea, Dounia Sichov, Babak Karimi, Korlan Madi, Mahmut Sifa Erkaya, Anna Ferrara