Writer-director Richard Linklater talked about new film Everybody Wants Some!! and missing out on the Oscar for Boyhood at London's Barbican.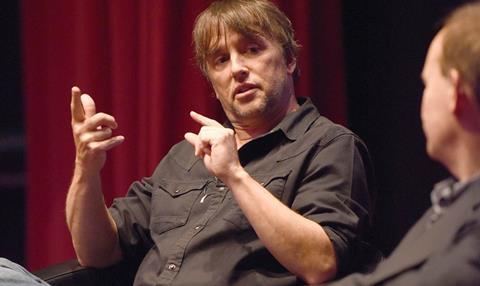 Many in the industry thought US director Richard Linklater would walk away with at least one Academy Award in 2015 for hit coming-of-age drama Boyhood. In hindsight, Linklater is among those.
"There was about a year-long delay, then Ethan [Hawke] and I talked about it and said, 'Are you feeling what I'm feeling? Do you feel like we should have won last year? Yeah, we should have won'," Linklater recalled playfully at an event at London's Barbican this week.
"But on the night I was just glad it was all over," the director added.
Linklater was nominated for best director, original screenplay and best film for Boyhood, bringing his lifetime tally to five Academy Award nominations.
Hawke missed out on the best supporting actor statuette but Patricia Arquette deservedly took home the film's sole Oscar for best supporting actress.
Speaking at a preview of his latest film, 1980-set college romp Everybody Wants Some!!, Linklater said that he wanted to make a sprawling comedy after decade-spanning drama Boyhood.
"I had just made Before Midnight and Boyhood back to back, and after the intimacy of those two I wanted to make a big ensemble film. After each film you have to do what psychically feels right.
"This movie begins right where Boyhood ends – the guy goes off to college. That was 12 years and this is the next three days. Boyhood is the better part of me and this one is the carousing, drunken, entitled, swearing athlete."
Everybody Wants Some!!, which opened this year's SXSW Film Festival in March, follows the exploits of a group of college baseball players over the weekend before classes begin.
Set in a Texas college town, the film sees the team of players – led by freshman Jake (Blake Jenner) – bonding, partying and incessantly competing with each other for girls, laughs and sporting glory.
Linklater has called it a "spiritual sequel" to his 1993 high-school comedy Dazed And Confused and told audience members that he has been trying to make it for years "but had trouble getting it off the ground".
Like many of his films, Everybody Wants Some!! is mostly autobiographical, with many of the characters based on his college friends and baseball teammates. "They were some of the funniest guys I ever met," said Linklater.
"Everything in the movie, more or less, happened. We didn't have a mud wrestling pit in the front yard – but we should have."
Linklater, a former athlete himself, compared his role as director to that of team coach and casting to "putting your team together, defining your goals and setting a worth ethic."
"The chemistry between people is the most important thing and I've gotten better at assembling the right cast over the years."
Linklater was tight-lipped about his next project but said he was hoping to be in production by the summer. "I have a bunch of scripts, as always," he said. "But I've got to get the planets – casting, money and all that – to line up."