Star Wars spin-off makes $30m in its opening weekend.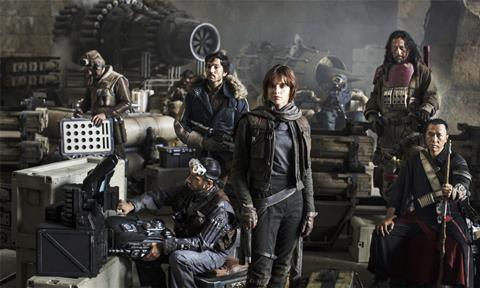 Disney's Star Wars spin-off Rogue One: A Star Wars Story debuted on top of the Chinese box office in the first week of January (Jan 2-8), taking in $30.72m from its three-day opening weekend.
As the first revenue-sharing Hollywood title in 2017, its takings represented around 61% of Star Wars: The Force Awakens two-day opening weekend in 2015, but was on par with Star Trek Beyond's three-day opening weekend last year.
To draw the Chinese crowd, the new film has roped in local cast such as Ip Man action star Donnie Yen and renowned director-actor Jiang Wen.
Rogue One was the only new film that cracked the top five, narrowly ahead of local romantic comedy Some Like It Hot which was going strong in its second week with $27.97m for $53.04 after 10 days.
In third place, Railroad Tigers also held steady in its third week with $16.09m. The 1940s action war comedy posted $87.25m after 17 days, making it the top grossing collaboration between director Ding Sheng and actor Jackie Chan who have previously worked on Little Big Soldier and Police Story 2013.
Zhang Yimou's action fantasy epic The Great Wall slipped to the fourth with $11.16m for $160m after 24 days.
See You Tomorrow, starring Tony Leung Chiu-Wai and Takeshi Kaneshiro, dropped to the fifth with $5.22m. With a 17-day total of $67.68m, Zhang Jiajia's directorial debut was able to match popular author-turned-director Guo Jingming's Tiny Times 1.0, which was subsequently turned into a successful franchise.
Last week's box office was down by approximately 24%. This week's new releases include Passengers, Kubo And The Two Strings and Eye In The Sky, all scheduled for Jan 13.