Only projects with 25% of their financing in place have been selected for Rotterdam's CineMart.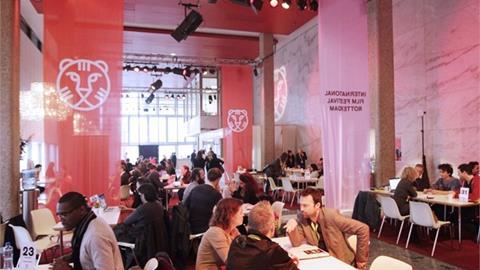 CineMart is tightening up. The oldest and longest-running film festival co-production market, in its 32nd edition, is aiming only to take projects that have at least 25% of their budget in place and a final draft of the screenplay available.
"We have to present projects that are really, really ready to go into the market," Marit van den Elshout, International Film Festival Rotterdam's head of industry and CineMart, says of the emphasis on films that are fully developed and ready to go into financing.
In the past, film-makers with close ties to the festival sometimes saw their projects chosen even at a very early stage. That is no longer good enough.
"The market is so tight at the moment. There are so many projects put into the market through all these programmes, including ourselves," van den Elshout says.
She argues it is "not beneficial" for a project - even from a well-known director - to be pitched too early.
"If [it's] too early in development, even though we want to support the film-maker, we don't want to harm the project," she adds.
Even so, one or two projects that do not fully meet the criteria have been allowed into selection. Nanouk Leopold's Cobain arrives at CineMart with only $41,000 (€35,000) of its planned $1.9m (€1.6m) in place (2.2%). The project's producer-screenwriter, Stienette Bosklopper of Circe Films, acknowledges CineMart films need to be developed properly.
"I've been in the past at CineMart with projects too early," Bosklopper says. "If you only have a first draft and the project is going through major changes, it's difficult to keep [hold of] the attention you got at CineMart. Timing is of the essence."
With the arthouse film business "in such a deplorable state in terms of financing and box-office results", Bosklopper calls the CineMart "a free haven".
As well as introducing the participating film-makers to potential financiers, van den Elshout is keen to bring the film-makers together and see if they might be able to work together.
CineMart received around 380 submissions this year. The festival made a pre-selection of 180 and then whittled these projects down to 24.
Budgets range from $7.1m (€6m) - for Dutch director Sacha Polak's English-language biopic Vita And Virginia, about the relationship between writers Vita Sackville-West and Virginia Woolf - to $325,000 (€275,000) for Only The Dead Have Seen The End Of War from prolific Filipino film-maker Khavn De La Cruz.
"CineMart is the natural platform for a project that's very innovative and will be an international co-production," says French producer Ilann Girard of Arsam International, which will present Alla Kovgan's experimental Cunningham, a $3.5m (€3m) 3D documentary on choreographer Merce Cunningham.
Girard adds: "You must come to CineMart with a real strategy" to benefit from the event. Producers who do not know for what they are aiming are likely to founder.
One reason for the renewed optimism among local producers is that Netherlands now has a 30% cash rebate scheme, which should make the territory more attractive to foreign producers as a co-production partner.
Another boost to Dutch production is the new international co-production programme, HBF+Europe from Hubert Bals Fund (HBF).
The initiative will back European producers serving as minority co-producers on feature films with "theatrical potential, focused on but not limited to, first and second-time film-makers from Africa, Asia, Latin America, the Middle East and parts of eastern Europe".
"It's an organic development [for HBF] to move more into co-production," says HBF manager Iwana Chronis. "If 80% of all the films we've supported end up as European co-productions, it's a logical development to highlight that even more."
Several Rotterdam regulars will be presenting projects at CineMart, including Ex Drummer director Koen Mortier with Angel.
Family affairs
Ask van den Elshout about themes she has noticed in the selection and she points to the number of family dramas submitted, in particular films about "distorted parent-child relationships".
There are also a number of projects that give an arthouse spin to genre film-making, for example Rodrigo Moreno's heist movie Los Delincuentes or Alejandro Fernandez Almendras's sci-fi drama The Gray Beyond.
For the third year, CineMart will be presenting three 'art' films in its selection. This ongoing initiative - aimed at bringing together financiers and producers from the film industry and the gallery world - is proving successful. Fiona Tan's History's Future, pitched at CineMart 2013, is nearing completion and has Benelux distribution through Cineart.
CineMart is also launching the Wouter Barendrecht Award, in honour of the sales executive and CineMart co-founder who died in 2009. Worth $6,000 (€5,000), the award is supported by Fortissimo Films, which Barendrecht co-founded.
As usual, many projects that previously passed through CineMart are screening in the festival's official selection. Of equal importance to festival exposure is the fact CineMart projects are finding distribution.
Their prospects can only be boosted by IFFR's Tiger Release initiative, a deal with Dutch company Infostrada Creative Technology that will give Rotterdam movies the chance to be shown and marketed on VoD platforms including iTunes, YouTube and Vimeo.
Bullish on Bals
After several years of financial uncertainty, IFFR's Hubert Bals Fund (HBF), which supports film-makers from developing countries, is in a healthy condition.
HBF secured Creative Europe MEDIA support for pilot programme HBF+Europe, through which it will support eight projects a year (see above).
Its overall budget is stable at around $945,000 (€800,000) - up from $590,000 (€500,000) last year. The main festival programme features 19 HBF-backed films - up from 11 last year - and five HBF-backed projects looking for finance in CineMart.