A panel of film industry experts in Rotterdam shared experiences and tips of how best to tackle the festival circuit.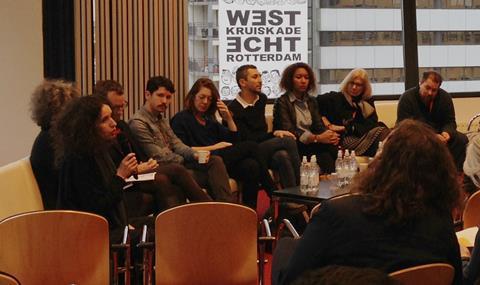 The "human factor" is all-important when making the most of your time at film festivals, according to a nine-strong panel of filmmakers, sales agents and festival reps at the International Film Festival Rotterdam (IFFR).
Speaking on one of this year's first IFFR industry panels, the line-up told delegates that at a time of technological advance, where so much communication is carried out over laptops and phones, getting face-to-face time with people they may work with for years to come was all-important.
"Before a big festival, you put yourself under pressure as to everything you want to achieve, but you have to focus on watching great movies, meeting great people and being inspired," said consultant Claudia Landsberger from BaseWorx For Film, previously head of Dutch film promotion outfit EYE International for 20 years.
Producer Benny Drechsel of Berlin-based independent production company Rohfilm supported that comment and added: "The human factor is almost the only factor, especially in Rotterdam, which is so informal. There is no pressure here to finance or sell a film. It's about meeting filmmakers on a personal basis. If I am going to spend three or four years working with someone on a project, I need to meet them personally."
Marian Masone, a programmer at New York's Film Society of Lincoln Center, said relationships were key to getting a film attention ahead of selection for a festival.
"For the past few years, we have not done an open call," she stated. "So much was being submitted that they weren't looked at as closely as they should have been. Now, we reach out to sales agents and others to ask, 'What do you have? What do you know?'."
Pamela Pianezza, a curator and programmer at Midnight Pictures, worked as a film programmer for Cannes Critics' Week. "The bigger the festival, the harder it is," she said of getting attention for films.
"At Cannes Critics Week, we received 4,500 DVDs for seven slots. Previously, a film without a sales agent still had chance. But it is less likely now. So it's about being noticed."
Hedi Zardi, a sales agent and CEO of new international sales agent Luxbox, said: "The film is important and we all love cinema but a film is a dialogue between people. So the human factor is all-important."
Mexican filmmaker Elisa Miller, at IFFR with love story The Pleasure Is Mine (El placer es mio), said: "Everyone was telling me I had to work and network but I just wanted to see films and party. Treat everyone the same and you get surprises. You meet someone at cocktails and they turn out to be important in the festival world or a producer. Being social at festivals helps."
US critic and filmmaker Gabe Klinger said: "You can't fear being foolish and asking what you think are stupid questions. Some of those people I asked became my best friends. Also, some of these older filmmakers won't be coming to festivals forever so I wish I'd asked them questions and watched films with them when I had the chance.
"The first year I was here, I saw Hou Hsiao-Hsien [The Assassin] doing karaoke. When am I going to see that again?"
Argentine filmmaker Jonathan Perel, at IFFR with documentary Toponimia, said: "The only thing that exists are the films we make. Those are our reality. What's important is what you have to say about the world. So it's either you have something or say or you don't. I work alone as a filmmaker and don't have a sales agent and say you can make it to the best festivals without a sales agent. I have good relationships with festivals."
Landsberger added: "You have different worlds in a festival. There is [IFFR co-production market] CineMart, where people are coming with a clear idea of what their visit will be. Some will have to work harder. For them, festivals are a lot of pressure. They are spending money to come to a festival with a passion for film but also because they want to make their next project or find the next big talent.
"There needs to be focus and networking. We need the industry guide to follow up with people. There is homework you do during the festival to find out who people are at the festival, such as the programmers. When you want to come back in a couple of years, you'll be happy that you have a card somewhere to go back and explain about your next project. So enjoy but everyone here can be useful for the next project you want to make."
The panel was moderated by Hayet Benkara.