Lucile Hadzihalilovic's Evolution wins special jury prize; Joachim Lafosse's The White Knights wins Silver Shell.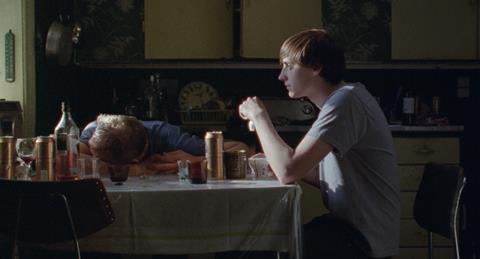 Scroll down for full list of winners
Rúnar Rúnarsson's Sparrows has won the Golden Shell for best film at the 63rd San Sebastian International Film Festival (Sept 18-26).
Runarsson's second film, following Volcano (2011), follows 16-year-old Ari, who has to leave his mother's home in Reykjavik and move back to his former hometown in the isolated Westfjords of Iceland where he navigates a rocky relationship with his father.
Lucile Hadzihalilovic's surreal horror film Evolution picked up the Special Jury Prize. The French director's first feature in more than a decade follows a young boy living in a mysterious, isolated seaside clinic who uncovers the sinister purposes of his keepers.
The film also saw Manu Dacosse pick up the Jury Prize for best cinematography.
The Silver Shell for best director went to Joachim Lafosse for The White Knights (Les Chevaliers Blancs). The film stars Vincent Lindon as the head of an NGO attempting to rescue 300 children from the civil war in Chad.
The Silver Shell for best actor was shared by Ricardo Darin and Javier Cámara, co-stars in Cesc Gay's Truman. Cámara plays a man who returns to Madrid in order to convince his childhood friend (Darin), whom he hasn't spoken to in years, to continue his chemotherapy treatment.
Sparrows, Evolution, The White Knights andTruman all had their world premieres at Toronto earlier this month.
In only her second feature, Yordanka Ariosa picked up the Silver Shell for best actress for her performance in Agustí Villaronga's The King Of Havana (El Rey De La Habana), which received its world premiere at San Sebastian.
The Audience Award went to Our Little Sister (Umimachi Diary) from Japan's Hirokazu Koreeda.
San Sebastian 2015: Winners
Golden Shell For Best Film
Sparrows
Rúnar Rúnarsson (Iceland - Denmark - Croatia)
Special Jury Prize
Evolution
Lucile Hadzihalilovic (France - Belgium - Spain)
Silver Shell For Best Director
Joachim Lafosse
The White Knights (Les Chevaliers Blancs)
Joachim Lafosse (Belgium - France)
Silver Shell For Best Actress
Yordanka Ariosa
The King Of Havana (El Rey De La Habana)
Agustí Villaronga (Spain - Dominican Rep.)
Silver Shell For Best Actor
Ricardo Darin and Javier Cámara
Truman
Cesc Gay (Spain - Argentina)
Jury Prize For Best Cinematography
Manu Dacosse
Evolution
Lucile Hadzihalilovic (France - Belgium - Spain)
Jury Prize For Best Screenplay
Arnaud Larrieu, Jean-Marie Larrieu
21 Nights With Pattie (21 Nuits Avec Pattie)
Jean-Marie Larrieu, Arnaud Larrieu (France)
Jury Special Mention
The Apostate (El Apóstata)
Federico Veiroj (Spain - Uruguay - France)
Kutxabank-New Directors Award
Le Nouveau / The New Kid
Rudi Rosenberg (France)
Special Mention
Tjuvheder / Drifters
Peter Grönlund (Sweden)
Special Mention
Vida Sexual De Las Plantas (Sex Life Of Plants)
Sebastián Brahm (Chile)
Horizontes Award
Paulina
Santiago Mitre (Argentina - Brazil - France)
Special Mention - Luis Silva
Desde Allá (From Afar)
Lorenzo Vigas (Venezuela - Mexico)
Special Mention
Te Prometo Anarquía (I Promise You Anarchy)
Julio Hernández Cordón (Mexico - Germany)
Irizar Basque Film Award
Amama (When A Tree Falls)
Asier Altuna Iza (Spain)
Special Mention - Irene Escolar
Un Otoño Sin Berlín
Lara Izagirre
Audience Award
Our Little Sister (Umimachi Diary)
Hirokazu Koreeda (Japan)
Award To The European Film
Mountains May Depart (Shan He Gu Ren)
Jia Zhang-Ke (China - France - Japan)
Ezae Youth Award
Paulina
Santiago Mitre (Argentina - Brazil - France)
International Film Students Meeting Awards
First Prize
New Life (Nueva Vida)
Kiro Russo (Argentina - Bolivia)
Universidad Del Cine (Argentina)
Second Prize
The Enemy (El Enemigo)
Aldemar Matias (Cuba)
Escuela Internacional De Cine Y Tv (Eictv) (Cuba)
Third Prize
Wada' / Prediction
Khaled Mzher (Germany)
Deutsche Film - Und Fernsehakademie Berlin (Germany)
Orona Award
New Life (Nueva Vida)
Kiro Russo (Argentina - Bolivia)
Universidad Del Cine (Argentina)
Torino Award
Volando Voy (I'll Fly Higher)
Isabel Lamberti (Netherlands)
Netherlands Film Academy (Netherlands)
Tokyo Gohan Film Festival Award
Noma, My Perfect Storm
Pierre Deschamps (UK - Denmark)
Films In Progress Awards
Era O Hotel Cambridge / The Cambridge Squatter
Eliane Caffé (Brasil - France)
Films In Progress Industry Award
Ibermedia Tv Films In Progress Award
Europe-Latin America Co-Production Forum. Egeda Best Project Award
La Omisión (The Omission)
Sebastián Schjaer (Argentina - Germany - France)
Special Mention To The Project
Memorias Del Calabozo
Álvaro Brechner (Spain-Uruguay)
Directed By Álvaro Brechner And Tornasol Films
TVE-Another Look Award
Paulina
Santiago Mitre (Argentina - Brazil - France)
Spanish Cooperation Award
La Tierra Y La Sombra (Land And Shade)
César Augusto Acevedo (Colombia - Chile - Brazil - Netherlands - France)
Fipresci Award
The Apostate (El Apóstata)
Federico Veiroj (Spain - Uruguay - France)
Zinemaldia Feroz Award
Truman
Cesc Gay (Spain - Argentina)
Signis Award
Moira
Levan Tutberidze (Georgia)
Special Mention
Amama (When A Tree Falls)
Asier Altuna Iza (Spain)
Guipuzcoan Blood-Donors' Association Corresponding To The Solidarity Award
Freeheld
Peter Sollett (US)
Sebastiane Award
Freeheld
Peter Sollett (US)