Dir: Gilles Paquet-Brenner. France. 2010. 106mins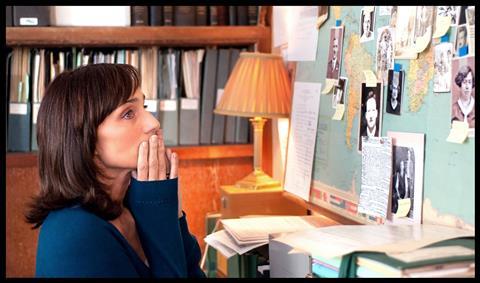 A woman from the present becomes obsessed with tracking down a young woman from the past – for reasons even she can't quite articulate – in Sarah's Key, a staid but stubbornly involving drama. Though ostensibly yet another film about the horrors of the Holocaust, director Gilles Paquet-Brenner's adaptation of Tatiana de Rosnay's novel uses the atrocity as a treatise on personal survival and new beginnings that is eloquently delivered by star Kristin Scott Thomas.
As she did to great effect in I've Loved You So Long, Scott Thomas suggests worlds of sadness in her behaviour without ever expressing that discontent.
Sarah's Key will be opening in France on October 13, with the Weinstein Company securing US rights before the film's Toronto premiere. Sharing superficial similarities with the distributor's 2008 Oscar-nominated The Reader, the film is tentatively slated for a domestic release in 2011. The subject matter, the novel's popularity, and Scott Thomas's superb performance will all be factors in drawing in art-house audiences.
Sarah's Key tells two stories simultaneously. In the first, Sarah (Melusine Mayance) is a 10-year-old Jewish girl living with her parents and younger brother in Paris in 1942 when French authorities arrest them and other Jewish families to send them to Nazi prison camps. In the second, Julia (Scott Thomas) is a journalist living in Paris in 2009 with her husband and daughter who wants to write about the detainments to bring to light this little-known moment of shame in French history.
But her investigations turn up a disturbing discovery: The apartment her family is moving into (which has been owned by her husband's family for more than 60 years) was previously occupied by a displaced Jewish family – Sarah's. Believing that Sarah was not killed in the concentration camps, Julia goes on a hunt to determine what became of her.
With its sombre style and somewhat melodramatic storyline, Sarah's Key gives off a genteel, cultivated air that can come across as exceedingly dull and earnest. In addition, Paquet-Brenner's handling of Sarah's plot thread doesn't differ greatly from the countless previous films that have explored the Holocaust, although it does offer the unique twist that as opposed to the oppressors being Nazis, these were French soldiers doing the rounding-up.
But despite these demerits, the film gets its lifeblood from Scott Thomas. While her narrative contains its own familiar story beats – she's facing marital issues because she's just learned she's pregnant and her husband doesn't want her to keep the child – she invests Julia's pursuit of Sarah's whereabouts with a conviction that never feels overblown.
Without fully delineating her motives, Paquet-Brenner and co-adapter Serge Joncour provide subtle hints about similarities between the two women that transcend nationality, ethnicity or eras. And as she did to great effect in I've Loved You So Long, Scott Thomas suggests worlds of sadness in her behaviour without ever expressing that discontent. As a result, Sarah's Key draws its power from the way her character slowly comes to understand her own life by researching another's. Free of easy epiphanies, her performance remains wonderfully opaque throughout, even when she reaches the film's final scene in which her last line is open to a myriad of interpretations.
Though a kind of detective story, Sarah's Key is less about finding out what happened to Sarah than it is a gentle examination of the consequences of Julia's quest. While her investigation, which takes her from France to America and Italy, certainly impacts her life, the filmmakers nicely illustrate how the dredging up of the past also has a ripple effect on others. Without giving away the film's surprises, let it be said that Sarah's Key ultimately asks how people's instinct to bury painful memories can be both blessing and curse for all those involved, especially when those lies reach across generational lines.
Among the supporting cast, Niels Arestrup is powerfully understated as a gruff but kind-hearted villager who helps Sarah in her attempts to elude capture. And Aidan Quinn ably portrays a man whose foundation is rocked by Julia's investigation.
For a film that leads with its high-minded earnestness, Sarah's Key's tech credits are rigorously tasteful, the highlight being Max Richter's delicate score, which manages to underline the story's emotional moments without being obtrusive.
Production companies: Hugo Productions, Studio 37, TF1 Droits Audiovisuels, France 2 Cinema, Canal +, TPS Star, France Televisions
US distribution: The Weinstein Company, www.weinsteinco.com
International sales: Kinology,
Producer: Stephane Marsil
Screenplay: Serge Joncour, Gilles Paquet-Brenner, based on the novel by Tatiana de Rosnay
Cinematography: Pascal Ridao
Production designer: Francoise Dupertuis
Editor: Herve Schneid
Music: Max Richter
Main cast: Kristin Scott Thomas, Melusine Mayance, Niels Arestrup, Frederic Pierrot, Michel Duchaussoy, Dominique Frot, Gisele Casadesus, Aidan Quinn