PREVIEW: Head of industry Jovan Marjanovic talks about bringing together all its activity under one umbrella.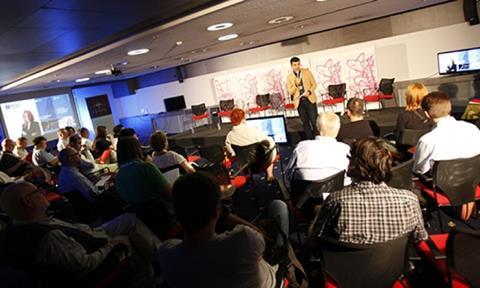 Sarajevo's industry section has developed from a small co-production market into the largest industry event in South-East Europe.
Growing in size and scope, and broadening its geographic reach to the Middle East, North Africa and Caucasus countries, it is now a major hub covering all segments of the industry, and regularly introduces new sections.
Sarajevo's head of industry Jovan Marjanovic says it is now time to integrate all these segments into one whole.
"We have for a long time offered activities for all spheres of the business, and for young and established professionals, but this year we have really made an effort to integrate them all under the umbrella of CineLink Industry Days," explains Marjanovic.
"In doing so, we are responding to industry needs and how we see the world of film is developing - with traditional borders being blurred and things converging more and more. We have designed this year's programme to reflect this and hope participants will find it useful."
Regional Forum
The traditional Regional Forum, which serves as a platform for discussion of trends, issues and problems that the industry is facing, will this year focus on the key trend: increase of tax incentives in the region.
"You could say it is a sign that the funding and production landscape is maturing," says Marjanovic. "It remains to be seen how this fact will affect production costs and co-production trends in the future.
"Added to this is the fact that all countries in the region - except Kosovo - now have access to the Creative Europe MEDIA programme, which also means an increase in the amount of available public funding."
Montenegro, Serbia and Slovenia are introducing new tax incentive schemes in 2016. This means that half the countries in Southeast Europe now operate this type of public support in addition to the existing selective subsidy schemes, a fact that is probably the driver behind another trend: the increase in the overall amount of available public funding.
This, of course, led to an increase in the number of films produced, driven by Bulgaria (from 11 films in 2014 to 25 in 2015), Macedonia (12/14), Serbia (29/33), Slovenia (11/17) and Turkey (106/139), whose output counters the plateaued level of production in Bosnia and Herzegovina along with a drop in feature production in Croatia (30/26) and Romania (36/29).
Last year saw a rise of available public film funding in all countries except Bulgaria and Serbia, with the largest increase in Turkey, where the amount of public funding almost tripled.
Think Tank: The Future of Co-production Markets
Another new introduction is the Think Tank on the Future of Co-Production Markets. Sarajevo marks the first in a series of events that will be held at major European festivals.
Marjanovic explains: "This came about through our own constant wish to develop what we do, our curiosity about where the industry is heading, and our wish to talk about it with colleagues from other parts of Europe.
"Co-production and market have been the standard format for 20 years when it comes to international arthouse film, but in the meantime everything around us has changed. Should the current market model change? How? What are different players looking for at the markets and how can we anticipate this will change?"
Sarajevo has teamed with Cinemart, Holland Film Meeting and Cannes Marché du Film/Next Pavillion, to continue discussions over the coming year. The Sarajevo event will have the format of working groups: three tables, each with 10 people with different points of view, one moderator and two keynote speakers, for two hours on Aug 19.
Partner Countries
Sarajevo traditionally invites professionals from countries outside its region to meet and network with their Southeast European counterparts. This year, 26 representatives from the Czech Republic and Slovakia will spend four days at the CineLink Industry Days.
Markéta Šantrochová, head of the Czech Film Centre, says: "Co-production between the Czech Republic and the regions of Southeast Europe is very desirable and also logical, in part due to our common historical experience. Firm ties already exist with Slovenia and Romania."
The initiative has been arranged in collaboration with the Czech Film Centre, with the support of Creative Europe Desk Czech Republic - MEDIA and the Slovak Film Institute as well as the Slovak Embassy in Bosnia and Herzegovina and the Ministry of Culture of the Slovak Republic.
Sarajevo's previous partner countries include Poland (2015), the UK (2014), Germany (2013 and 2005), France (2012), Switzerland (2011), Israel (2010), Sweden (2009), Ireland (2008), Cine Regio (2007), Netherlands (2006), and Austria (2004).
Docu Rough Cut Boutique
Docu Rough Cut Boutique is an intensive five-day programme focused on documentary films from Southeast Europe that are in production or post-production.
The five selected projects are offered tutorials, expert individual and group feedback sessions, closed screenings and one-on-one meetings on request.
Projects this year are:
City Of The Sun (Georgia), Director: Rati Onel, Producers: Jim Stark, Dea Kulumbegashvili
F**k You (Croatia), Directors: Marija Ratković Vidaković, Dinka Radonić
Producer: Marija Ratković Vidaković
I Am Hercules (Romania, Germany), Director: Marius Iacob, Producers: Irina Malcea, Christian Popp
Ultra (Hungary), Director: Balazs Simonyi, Producers: Laszlo Jozsa, Balazs Simonyi
In The Shadow Of War (Turkey), Director/Producer: Reyan Tuvi
A jury consisting of Marina Maslać (HBO Adria), Catherine Le Clef (CAT&Docs), Adriek van Nieuwenhuy (IDFA), and Stefano Tealdi (Stefilm) will give out the following awards:
Digital Cube Award (in-kind post-production services worth €20,000)
HBO Adria Award (€2,000)
CAT&Docs Award (€2,000)
IDFA Award – the winner will be fully invited to IDFA 2016 with sneak preview at Docs for Sales
DOK Preview Award – the winner will be fully invited to DOK Leipzig to present the soon-to-be completed film