Tinatin Kajrishvili, Aida Begić, Hüseyin Karabey films among lineup.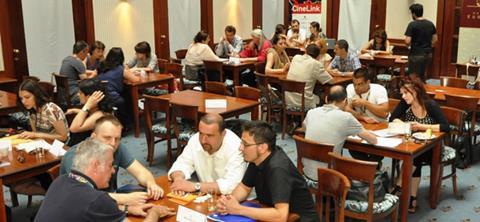 Scroll down for full list of projects
Sarajevo Film Festival's co-production market CineLink, which will take place during the final days of the festival's 21st edition (Aug 14-22), has unveiled its full selection.
Nine projects have been added to the previously announced eight, including three guest projects from Qatar, Syria and Russia.
The selection targets projects from established regional names, which are in advanced stage of development and financing.
The line-up includes Georgian director Tinatin Kajrishvili's Manji, the filmmaker's second feature after 2014 Berlinale title Brides.
Also featured is A Ballad, the third film by Bosnian film-maker Aida Begić, who won awards at Cannes with Snow in 2008 and Children Of Sarajevo in 2012.
Coming from Turkey is Hamarat Apartment, the new feature by Hüseyin Karabey, whose feature debut My Marlon And Brando received the Heart of Sarajevo for Best Actress for Ayca Damgaci in 2008, and whose last outing Come To My Voice won the CNC Award at CineLink in 2009.
Another Turkish project taking part is Iguana Tokyo, the second film by Kaan Müjdeci, known for 2014 Venice prize-winner Sivas.
Romanian producer Marcian Lazar, known for When I Want To Whistle, I Whistle and Loverboy will be in Sarajevo with The Professor by first-time director Radu Dragomir.
Croatian writer Ognjen Sviličić (These Are The Rules) has teamed up with Macedonian director Sergej Stanojkovski (Contact) for Life Begins (aka Freestyle).
The selection is rounded out by two guest projects as part of Sarajevo's cooperation with the Doha Film Institute (DFI): Parijat by Hend Fakhroo (Qatar), and The Taste Of Apples Is Red by Ehab Tarabieh (Syria-US-Palestine-Qatar).
Georgia-Russia co-production Honeymoon Flight, the fourth film by writer-director Rezo Gigineishili, is also a guest project.
FULL LIST OF PROJECTS
IGUANA TOKYO
Director: Kaan Müjdeci
Producer: Nazli Kilerci
Production company: Coloured Giraffes
Turkey
MANJI
Director: Tinatin Kajrishvili
Producer: Lasha Khalvashi
Production company: Gemini
Georgia
A BALLAD
Director: Aida Begić
Producer: Adis Djapo
Production company: Film House Sarajevo
Bosnia and Herzegovina
HAMARAT APARTMENT
Director: Hüseyin Karabey
Producer: Su Baloglu
Production company: ASI film
Turkey
LIFE BEGINS (aka FREESTYLE)
Director: Sergej Stanojkovski
Writer: Ognjen Sviličić
Producers: Sergej Stanojkovski, Marcelo Busse, Tomi Salkovski
Production company: Avvantura d.o.o.
Croatia, Germany, Macedonia
THE PROFESSOR
Director: Radu Dragomir
Producer: Marcian Lazar
Production company: Strada Film
Romania
Guest projects
PARIJAT
Director: Hend Fakhroo
Writer: Caroline Palla
Producer: Hend Fakhroo
Production company: Certifiable Productions
Qatar
THE TASTE OF APPLES IS RED
Director: Ehab Tarabieh
Producer: Sol Goodman, Jonathan Doweck
Production company: Railroad Movies
Syria, US, Palestine, Qatar
HONEYMOON FLIGHT
Director: Rezo Gigineishili
Writer: Rezo Gigineishvili, Lasha Bugadze
Producers: Mikhael Fenogenov, Rezo Gigineishvili, Natalia Bilan, Tamara Tatishvili
Production company: 20 Steps Production
Georgia, Russia
Previously announced projects
LANKARAN
Director: Elvin Adigozel
Producer: Gillaume de Saille
Production company: Arizona Productions
Azerbeijan, France
A COAT OF GOLD
Director: Cristina Grosan
Producer: Dora Nedeczky
Production company: Mindwax Ltd
Hungary, Romania
IN THE STRANGE PURSUIT OF LAURA DURAND
Director: Dimitris Bavellas
Porducer: Gina Petropolou
Production company: VOX Productions
Greece
OTAR'S DEATH
Director: Ioseb Bliadze
Producer: Eva Blondiau
Production companies: Color of May, Imanov&Blondiau Filmproduktion GbR
Georgia, Germany
THE SON
Director: Ines Tanović
Producer: Alem Babić
Production company: Dokument
Bosnia and Herzegovina
CROWS
Director: Erol Mintas
Producer: Erol Mintas
Production company: Mintas Films
Turkey
NOTHING TO WORRY ABOUT
Director: Dimitar Banov
Producer: Marek Novak
Production company: Xova Film, s.r.o.
Macedonia, Czech Republic
SOLDIERS
Director: Ivana Mladenović
Producer: Ada Solomon
Production company: Hi Film
Romania