Thanks to ambitious shoots for films such as World War Z and Under The Skin, Scotland's reputation as a film-making hub is growing. Leon Forde reports.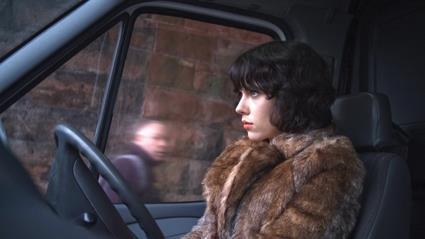 With its breathtaking landscapes, Scotland has long been a draw for film-makers. But recent years have also seen the territory build its reputation as a film hub that can offer skilled crews and diverse locations for ambitious shoots. And with the UK's new tax relief for high-end TV drama, and discussions around developing the local industry, Scotland's future looks bright.
"I think there's a new dawn in Scotland," says Iain Smith, chair of the British Film Commission and a producer whose credits include Children Of Men and Bill Forsyth's Local Hero. "And it is partly of course to do with the political landscape, that the whole nation is beginning to think about how it is within itself and how it functions and what it can achieve. But specifically I think at the highest levels there has been a political awakening, if you like, to the potential of film and TV in the world."
Over the past decade an average of 22 feature films have shot in Scotland every year, worth between $35.6m-$43.3m (£23m-£28m) of location spending annually. These have included major shoots such as The Dark Knight Rises, World War Z, Cloud Atlas, 47 Ronin, Fast & Furious 6, Prometheus and Skyfall. Plus, a host of new Scotland-shot films are premiering in 2013 including Under The Skin, The Railway Man, Filth and Sunshine On Leith.
'There has been a political awakening to the potential of film and TV'

Iain Smith, producer
All underline the range of locations available and Scotland's film-making abilities. For example, The Dark Knight Rises shot its audacious opening scene for real, closing off an area of wilderness in the Highlands for the ambitious aerial sequence. For urban locations, Scotland's biggest cities offer very different looks, from historical Edinburgh to the more modern Glasgow, which has a grid road system and has doubled for Philadelphia in World War Z and San Francisco in Cloud Atlas.
"With a full road closure and suspension of parking bays, you are left with a four-lane city-centre street with which to work - a bonus for planning stunts and action sequences like the opening scenes of World War Z, and for Fast & Furious 6, which used Glasgow to stand in for modern-day London in some of its chase scenes," explains Jennifer Reynolds, film commissioner at the Glasgow Film Office.
Scotland has more than 80 production companies, 300 facilities companies and a skilled and friendly crew base - as Andy Paterson, producer of The Railway Man starring Colin Firth and Nicole Kidman, explains. "When you have Colin Firth and Nicole Kidman on set saying that a crew is world class, it's not just hype," he says. "They are impressing some very big movie stars with the way the set works."
Development agency Creative Scotland has $6.2m (£4m) to invest in film and TV production for 2013-14. The body also has additional funding for recces and works closely with other relevant bodies. All regions of Scotland have film liaison services including Edinburgh Film Focus and the Glasgow Film Office.
The Glasgow Film Office, part of Glasgow City Council, has designated filming contacts within all relevant council departments and has also established the Glasgow Film Partnership, a collaborative organisation uniting the creative industries involved in location filming in Glasgow and the public and private stakeholders most affected by their activities. The body also supports productions with location scouting and can give a facilities grant to productions to help subsidise the hiring of local facilities or services. For example as well as production funding from Creative Scotland, Under The Skin, The Railway Man, Sunshine On Leith and Filth also received facilities funding from the Glasgow Film Office.
Scotland's local production sector is also healthy, with strong local talent such as writer-director Paul Wright (whose For Those In Peril screened in Critics' Week in Cannes this year) and David Mackenzie, whose latest feature, Starred Up, makes its world premiere in Toronto. The prison drama was produced by Sigma Films and shot in Belfast.

The studio boost
One missing piece of the jigsaw in Scotland has been a significant studio facility. The success of the UK film tax credit and the introduction of the new high-end TV tax break in the UK has put impetus behind the need to build. (Indeed, Scotland is currently set to host a major shoot for Starz, Sony Pictures Television and Left Bank Productions' Outlander, which is set to start shooting from the end of September in a converted factory in Cumbernauld.)
'When you have Colin Firth and Nicole Kidman saying a crew is world class, it's not just hype'

Andy Paterson, producer
Creative Scotland's locations manager Brodie Pringle says now is the time for a studio. "We have incentives now that we've never had before, we have international interest and certainly over the past three or four years some of the big-budget features that have been present in Scotland have established that we have the talent and crews here."
In response to an application from Film City - a film-making centre in the old Govan Town Hall in Glasgow, which has 5,000 sq ft of build space - Creative Scotland has invested $116,000 (£75,000) to explore the feasibility of a studio, ring-fencing $1.5m (£1m) towards building costs. Meanwhile, Scottish Enterprise has allocated a further $116,000 (£75,000) to develop the feasibility and Fiona Hyslop, Cabinet Secretary for Culture and External Affairs for the Scottish Government, has set up a film studio delivery group.
With a referendum on Scottish independence to take place in 2014 the Scottish Government has underlined its commitment to the audio-visual sector, with plans to keep existing UK tax breaks in place should independence be the outcome.
"These are very exciting times for the audio-visual sector," says Hyslop.
"The Scottish Government is committed to maintain the existing tax reliefs and credits system for TV and film and will also consider what further opportunities that independence for Scotland could provide to develop our audio-visual sector further."
Hyslop adds: "To maximise the benefit of tax reliefs to Scotland we are examining how film and television production facilities, with robust business cases, can be developed or enhanced."
A studio facility would help Scotland build for the future, says Iain Smith. "If there's a studio facility and a skills and infrastructure base around that, then it becomes much more likely that a producer would look to root an entire production in Scotland," Smith explains. "That's a much bigger industrial base upon which to build everything else."
Scottish shoots in the spotlight
UNDER THE SKIN
Based on Michel Faber's acclaimed novel about a predatory alien in human form on a journey through Scotland, Under The Skin spent eight weeks shooting in the territory in late 2011 before moving to Elstree Studios.
Directed by Jonathan Glazer (Sexy Beast, Birth), the film makes its world premiere at Venice before heading to Toronto. It was produced by Nick Wechsler Productions and JW Films with Glasgow-based Sigma Films, backed by Film4, the BFI, Silver Reel Entertainment and Creative Scotland. FilmNation is selling internationally.
"The range of locations was amazing," producer James Wilson says of working in Scotland. "It is a road movie which moves outwards from the centre of the city to remote coastline and mountainous wilderness and our location manager Eugene Strange found all of that in relatively close proximity. I don't think you can find such diversity in that way elsewhere in the UK."
The production spent three months scouting Scotland extensively from July 2011. Strange, who had previously worked with Glazer in Scotland on the award-winning Sony Bravia paint commercial, says the country offers "stunning scenery and wild locations that were in keeping with this film because it's all about a journey and we were trying to find the more wild and remote elements of Scotland".
Shooting got underway in October 2011. Key locations included a forest in Argyll, the private Black Mount Estate, Auchmithie beach and - thanks to Historic Scotland - Tantallon Castle. "It was just a beautiful castle, right on the coast, nice and windy which was what we were after," Strange explains. "It still had quite a lot of its original features and design so you felt that you were in a castle."
The shoot was based out of Glasgow, partly because there were a number of urban locations that could be used: run-down tower blocks, the Buchanan Galleries shopping centre and a nightclub. The shoot did decamp to the beach location for a week and the forest location for more than a week, which proved to be a challenging part of the shoot because of bad weather.
Throughout the production, Strange says, "people were always willing to help us", including Forestry Commission Scotland, film commissions, Historic Scotland, Transport Scotland, the police and regional film offices.
Adds Wilson: "We were supported hugely throughout by all the Scottish agencies and bodies involved in connection with filming. We couldn't have done it without them."
FILTH
It may be based on an Irvine Welsh novel about a corrupt policeman and addict who snorts and drinks his way around Edinburgh while trying to solve a murder, but Filth did not only call for the kind of locations for which Welsh's work is known. "Trainspotting for the most part is pretty gritty and set in an underworld, but this is not really that," explains lead producer Ken Marshall of Steel Mill Pictures. "There's an element of a gritty subculture at times but we're dealing with cops who are very much middle class and the film is set among several different levels of society."
Written and directed by Jon S Baird, Filth stars James McAvoy alongside Jamie Bell, Jim Broadbent, Eddie Marsan, Joanne Froggatt and Imogen Poots. The film is produced by Marshall and Baird, Trudie Styler and Celine Rattray of Maven Pictures, Will Clarke, and Jens Meurer and Christian Angermayer of Film House Germany. Sierra/Affinity is selling internationally, and the film opens in Scotland on September 27 and the rest of the UK on October 4 through Lionsgate UK.
Key locations in Glasgow included a tower block, a nightclub, a supermarket, an underpass, middle-class housing and a partially disused warehouse. The production also filmed in Edinburgh for a couple of days for establishing shots of the city, including in the Grassmarket area.
For a key police-station location, the production took over the Municipal Buildings in the town of Stirling. "It was going to get renovated not long after we shot there so it was completely empty," says Marshall.
The producer points to the importance of the support received from the Glasgow Film Office and Creative Scotland in the development stage as Filth was moving towards prep. "They assisted us with logistics and recces and contacts, and helping us out with facilities companies," he says. "It was really valuable."
Five weeks of Filth's seven-week shoot took place in Scotland. The film's co-producers were Egoli Tossell Film in Germany, Film i Vast and Filmgate in Sweden, and Entre Chien et Loup in Belgium.
THE RAILWAY MAN
Based on his autobiography, The Railway Man tells the story of Eric Lomax, a prisoner of war forced to work on the Thailand-Burma railway during the Second World War who returns to Thailand decades later to confront his tormentor.
Directed by Jonathan Teplitzky and starring Colin Firth, Nicole Kidman, Jeremy Irvine, Stellan Skarsgard and Hiroyuki Sanada, The Railway Man world-premieres at Toronto and is an Australia-UK co-production between Archer Street Productions and Pictures In Paradise.
With a story spanning Europe and Asia as well as two time periods, the complex 10-week shoot started on April 30, 2012 in Scotland, filming there for around three-and-a-half weeks before moving on to the real Death Railway in Thailand and jungle locations and studio sets in Queensland, Australia.
Period railways were crucial to the film. The private Bo'ness & Kinneil Railway provided heritage stations and trains. Location manager Miglet Crichton explains: "They are so convenient and helpful and they have a huge array of different period trains, and they have a decent length of track with quite a bit of variety on it. And you have control, which is brilliant."
Meanwhile the Victorian station at Perth, despite still being in use, was able to accommodate period locomotives and carriages brought in from Bo'ness. "These logistics are the difference between being able to get the kind of scale that we're looking for or not," says producer Andy Paterson of Archer Street, who co-wrote the adaptation with Frank Cottrell Boyce.
The Edinburgh base also gave access to a rich variety of locations, including Berwick-upon-Tweed, the principal house on the beach at North Berwick and St Monans Church on the Fife coast.
Paterson wanted to avoid spending "incredibly expensive crew time driving… The miles we were looking at covering were daunting but actually you can get around really quickly."
Creative Scotland assisted the production with a grant for a week-long scout in the beginning, which Paterson says was invaluable. It also invested in the film.
Having executive produced Zam Salim's award-winning Up There in Scotland, Paterson says he was already aware Scottish crews were world class. "When you're trying to make a movie on this budget level and running around the world as we had to, you want to make sure the crews understand what they're doing and love it - which they did," Paterson explains. "They were fantastic."
SUNSHINE ON LEITH
Sunshine On Leith, which world premieres in Toronto, showcases Scotland's urban and contemporary side. Adapted from the hit stage musical based on the songs of Scottish pop legends The Proclaimers, the film tells the story of two friends returning to Edinburgh after serving in Afghanistan. Peter Mullan and Jane Horrocks star alongside rising talents George MacKay, Kevin Guthrie, Antonia Thomas and Freya Mavor. Dexter Fletcher (Wild Bill) directs.
"It is Scotland at its most glorious - modern, fresh and urban yet still very cinematic," says producer Arabella Page Croft of Black Camel Pictures, which produced with DNA Films.
The film shot for six weeks late last year, with a few days of additional photography in May. Though set in Edinburgh, the shoot was split across Edinburgh and Glasgow, where Black Camel and many heads of department were based. "The cities are very near one another so you can capitalise on the best bits of both for film-making purposes," Page Croft explains.
Interiors were shot mainly in Glasgow and most exteriors in Edinburgh. "Edinburgh, where the film is set, is easily I suspect the most photogenic city in Britain," says producer Andrew Macdonald of DNA Films.
For the film's finale - set to The Proclaimers classic I'm Gonna Be (500 Miles) - the production shot in central Edinburgh on the Mound, next to the busy Princes Street. The sequence involved 500 dancers and extras, a Technocrane, three camera crews and playback for the music.
Interiors included a small modern flat in Edinburgh, a Glasgow tenement, pubs and community hall. Scotland even doubled for Miami and Afghanistan, with a sequence involving a column of tanks and armoured personnel carriers shot south of Glasgow on an old runway.
The production was assisted by Creative Scotland, Edinburgh Film Focus and the Glasgow Film Office. Creative Scotland also invested, and supported the script's development with Black Camel.
"The authorities that ran Edinburgh, the roads and the film office in Edinburgh were great," says location manager Derek Yeaman. "They all had meetings and pulled things together. It was a completely positive experience."
The production also did some aerial photography of Edinburgh to give the film scale. "Flying Pictures provided the helicopter and the camera pilot was Marc Wolff," says Page Croft. "It is fantastic aerial photography."
As Macdonald says: "When you look at the production values of Sunshine On Leith, you realise how much talent there is [in Scotland]." ns All profiles by Leon Forde
Creative Scotland's Locations team will be at Toronto International Film Festival's UK Film Centre, Festival Room, Hyatt Regency Hotel from September 6-11, offering free and confidential assistance to any production seeking to film on location in Scotland including images, information and local crew contacts. For a slot, please contact locations@creativescotland.com
For more info, please visit www.creativescotlandlocations.com