Despite a tough market, event film and mini-series still make sense for European broadcasters keen to build audience loyalty. But attracting high-profile talent can be vital for financing and sales. Andy Fry reports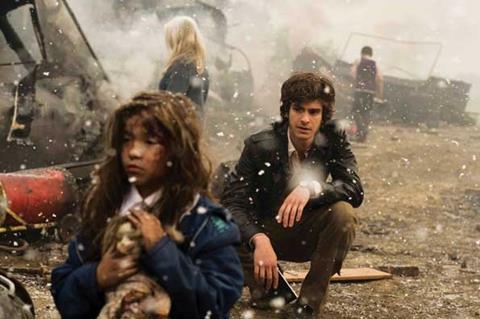 The production of large-scale event drama in Europe is under pressure from several fronts. The rise of reality-based primetime entertainment, combined with developments in digital, has made it harder than ever for scripted shows to find an audience. Meanwhile, schedule space is eaten up by long-running US imports such as CSI: Crime Scene Investigation and Grey's Anatomy, tried-and-tested shows which mean low risk and low marketing expenditure for broadcasters.
Nevertheless, the drift towards such scripted franchises has not completely stopped broadcasters from commissioning locally sourced short-run drama events. Despite concerns about the cost of producing and marketing singles and mini-series, there is a realisation that event drama provides the kind of emotional engagement which nurtures audience loyalty.
That is certainly the view at UK free-to-air broadcaster Channel 4, where the axing of reality show Big Brother has freed up $30m (£20m) a year to spend on event dramas which can emulate critically acclaimed mini-series such as The Devil's Whore and Red Riding. The latter, a three-part crime series produced by Revolution Films for Channel 4, featured film talent on both sides of the camera and sold to IFC Films in the US, where it was released theatrically. Channel 4 is currently working with director Shane Meadows on his first TV project.
The financial squeeze is leading to a greater emphasis on projects with promotable elements. "All of us who work in TV drama are behaving more like film producers," says Mammoth Screen joint managing director Michele Buck, who executive produced the remake of The Prisoner, starring Jim Caviezel and Ian McKellen, which ran on AMC in the US last year. "We're all trying to pull together the elements that will secure funding from broadcasters, screen agencies and rights distributors."
Theatrical talent is a big draw for buyers but high-profile names can be tough to attract. "In the US, there's enough money in the TV system to woo someone like Kiefer Sutherland away from film into a franchise like 24," says Robert Cooper, founder of UK independent producer Great Meadow. "That's not the situation in Europe where there's rarely enough money to persuade film actors to commit to a series that might run for a few seasons. Even if a film star is interested, the producer doesn't really want to invest in a series only to lose its lead after one season."
Cooper, whose credits include Anthony Minghella's TV-film breakthrough Truly Madly Deeply, recently cast film actress Lindsay Duncan as the lead in an acclaimed biopic of former UK prime minister Margaret Thatcher. "There's no question Lindsay helped BBC Worldwide's sales on Margaret," he says. "But you have to be clear from the start about what TV projects film talent is willing to attach itself to."
With budgets tight, the motivating factor for film talent working in television is often creative. There are exceptions, "but generally film talent in Europe is looking at single dramas and mini-series that appeal for creative reasons," says Cooper. "When Helena Bonham Carter played Enid Blyton in a recent BBC drama, she would have done it for creative not financial reasons."
Such high-end BBC dramas have real pulling power. Like Hollywood stars who decide to flex their creative muscles on London's West End stage, a number of top UK actors dip back into TV when the right project comes along. Julie Walters recently played the lead role in the BBC's A Short Stay In Switzerland, a one-off based on a true story about the assisted suicide of a terminally ill woman. Meanwhile Judi Dench was a key component of BBC costume drama Cranford, which aired as a five-part series in 2007 with a two-part sequel in 2009. Similarly, Kenneth Branagh has appeared in two six-hour runs of Left Bank and Yellow Bird's well-received BBC detective series Wallander.
In all cases, the talent has helped both financing and sales. Dench is adored by US audiences — which is why WGBH Boston's Rebecca Eaton came on board Cranford as a co-producer and co-­financier. As for Branagh, his involvement helped BBC Worldwide pull in half of its $11.4m (£7.5m) budget from co-­production partners WGBH and ARD ­Germany. It also helped to secure sales in Scandinavia, Canada, Australia and Benelux.
Film talent can also be attracted by the limited shooting time — just 12 weeks for Branagh on Wallander, for example. And occasionally it is loyalty to the medium that gave a person their first break: the late Anthony Minghella worked in TV before achieving film success. Other factors include the chance to have some rights participation in a project and the benefits of exposure.
Emerging talent can be a cost-effective alternative to established actors. "Sometimes you get lucky," says Mammoth Screen's Buck, "for example when Harry Potter's Emma Watson came on board our BBC one-off Ballet Shoes, ­providing a boost to BBC Worldwide's DVD and international sales. Other times, it's about your skill in spotting talent as it's about to break. One of our big hits was Lost In Austen which featured an emerging actress called Gemma Arterton."
The reality of international co-productions also means that partners often instruct producers to include talent in order to appeal to their home market.
"We often get told to use a particular actor or actress in return for co-production finance," says ZDF Enterprises' Peter Nadermann who executive produced The Girl With The Dragon Tattoo, the first part of the Millennium film trilogy produced by Yellow Bird.
"Sometimes, they don't have a profile outside their home market — but you have to be positive about that and find a way to make it work."
One thing which is clear is that the old distinctions between film and television are breaking down in Europe. In Scandinavia, leading producer Yellow Bird is as comfortable making films such as the Millennium titles as it is producing a TV property like the Swedish Wallander. And in the UK, a number of film and TV producers are encroaching on each other's turf with the likes of Company Pictures, Ecosse Films and Left Bank having shown it is possible to succeed in both spheres.
UPCOMING PROJECTS
AURELIO ZEN
Lead broadcaster BBC
Prod Left Bank Pictures
Co-prod WGBH Boston Masterpiece
Format 3 x 120mins
Talent Rufus Sewell
Left Bank's latest project for the BBC and WGBH Masterpiece is a series of two-hour dramas based on Michael Dibdin's Aurelio Zen novels. His name, combined with the Italian locations, was enough to draw in RTI Mediaset as a partner — and is sure to appeal to other buyers. So will the inclusion of Sewell as lead actor.
BRAQUO
Lead broadcaster Canal Plus
Producer Capa Drama
Format 8 x 52mins
Talent Olivier Marchal (dir), Jean-Hugues Anglade, Nicolas Duvauchelle
Zodiak Entertainment, through its French production/distribution powerhouse Marathon, has picked up international rights to Braquo, a series for Canal Plus about a pair of cops seeking to avenge their former boss. Braquo is the first TV project from director Marchal after standout police films such as Department 36. Zodiak's Emmanuelle Bouilhaguet says drama is not a priority for the company because it is a tough sell, "but Braquo's director and cast, combined with its 35mm theatrical look, makes us confident about its potential".
CARLOS
Lead broadcasters Canal Plus, Arte, Film en Stock Co-prod Egoli Tossell Film (Ger), Canal Plus, Arte France, Medienboard Berlin-Brandenburg, German Federal Film Fund.
US dist IFC Films
Format 3 x 90mins, theatrical film
Talent Olivier Assayas, Edgar Ramirez
Assayas' $20m (€14.5m) biopic Carlos tells the story of the fabled mercenary and assassin. Shot in France, Germany and Lebanon, the film stars Venezuelan actor Ramirez whose film credits include The Bourne Ultimatum. The project will air as a 3 x 90 minutes mini-series in Europe on Canal Plus and Arte and in the US on the Sundance Channel later this year. It will also go out theatrically in the US as a mini-series and two-hour feature through Sundance sister company IFC Films.
THE PRISONER
Lead broadcaster ITV
Co-prod AMC (US)
Format Mini-series and 6 x 60mins
Talent Jim Caviezel, Ian McKellen
A re-imagining of the classic 1960 TV series of the same name, The Prisoner has had an unusual road back to screen — with different partners and formats during development. The final version is a co-production between ITV UK and US cable channel AMC. AMC's insistence on a film star saw Caviezel in the lead role of Number 6. The casting of McKellen is another coup. "His involvement will force UK audiences to re-explore ITV's offering," says Michele Buck, whose company Mammoth Screen executive produced the project. "Jim and Sir Ian will be a big pull for channel buyers."
THORNE: SLEEPYHEAD; THORNE: SCAREDY CAT
Lead Broadcaster Sky1
Prod Stagereel
Co-prod Cité Amérique (Can)
Format 6 x 60mins series and 2 x films.
Talent Stephen Hopkins (dir), David Morrissey, Natascha McElhone, Aidan Gillen
Sky1 head of drama Elaine Pyke has been using high-quality event HD drama to force viewer reappraisal of the UK channel, and recently unveiled a link up with Morrissey, who is to play the lead in two serial-killer thrillers based on books by Mark Billingham. Morrissey's production company Stagereel is making the films, which will run as a six-part series in the UK. ContentFilm holds worldwide distribution rights outside the UK and Australia and plans to secure both TV and theatrical distribution.
THIS IS ENGLAND '86
Lead broadcaster Channel 4
Prod Warp Films
Format 4 x 60mins
Talent Shane Meadows
Backed by Channel 4's new tranche of drama cash, This Is England '86 is director Meadows' TV debut, a follow-up to This Is England which revisits the characters years later; Warp Films produces. "When I finished This Is England, I had a wealth of material and unused ideas that I felt very keen to take further," says Meadows. Production is under way for transmission on Channel 4 later this year.