Dir: Aleksei Fedorchenko. Russia. 2010. 77mins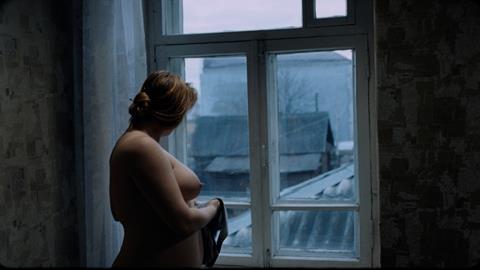 A perfect example of film's ability to take viewers into other worlds, Silent Souls is a profound and moving cinematic poem about love and loss, set against the bleak landscape of central western Russia. Mixing folk legend, ethnography, race memory and road-movie narrative, this ravishingly-shot story of a dead wife and the two significant men from her life who travel to the river shore where they will cremate her detaches the places and people we meet from the here and now and pushes them into a suspended netherworld.
Silent Souls could just turn out to be a quiet little word-of-mouth performer.
This is made all the more poignant by the fact that the remants of lost pre-Russian tribal culture described in the film may be pure figments of the screenwriter's and director's imaginations.
It's arthouse for sure, but Silent Souls could just turn out to be a quiet little word-of-mouth performer – as much if not more so in Europe, North America and other cineaste territories as at home in Russia, where artsy homespun films rarely do well. Fedorchenko's film travels to Toronto after its well-received Venice competition screening, and further festival action is on the cards.
The film's voice-over narrator Aist (Sergeyev) is the son of a local poet, and a man who combines his job as a photographer at the paper mill in the small central Russian town of Neya with a hobby writing down "words, songs and poems" – particularly those related to the Merja, a Finno-Ugric tribe that "dissolved into the Slavs around four hundred years ago", but which Aist still feels he belongs to.
After buying a pair of caged buntings from a street vendor, he is summoned to a meeting with his boss Miron (Tsurilo). Miron's young wife Tanya (Aug) has died, and he asks Aist to accompany him on a journey to send her off properly in true Merja fashion.
The two dour friends duly set off with Tanya's corpse in the back of Miron's jeep, driving along wet roads past clapperboard houses with grey slate roofs and on through yellow-grassed lowlands towards Gorbatov, a distant town where, it seems, Miron and Tanya shared some happy memories. On-the-road passages – observed from the back seat, with the two men separated by the bunting cage that Aist has brought with him – alternate with stops en route – including a ravishing, tender scene, lit in a style reminiscent of Caravaggio, in which both men wash Tanya's large, pale body.
Along the way it becomes clear that Aist and Tanya had some sort of fling or affair, and that Miron's choice of Aist as his road-trip partner was perhaps not entirely casual. But this sounds like a set-up for a thriller or at least a dramatic stand-off, and one of the charming, surprising things about the film is that its elegaic, dreamlike tone is never upset by such obvious scriptwriting temptations, even while scraps of backstory, and moments of male tension, are allowed to emerge. Mikhail Krichman's lucid, painterly photography and Andrei Karasyov's moody, haunting soundtrack, part archaic soundscape and part sung folk accompaniment, help to nail the mood.
In the end we're not quite sure what we've just seen – and a quick check on Wikipedia for some of the traditions and rituals described in the film leaves us even more baffled, as they seem not to actually exist. Neither does 'Aist Sergeyev', the writer who supposedly wrote the story The Buntings on which (according to the credits) the film was based. Then you remember that Fedorchenko's last but one feature was First on the Moon, a weird mockumentary about a 1930s Soviet lunar landing. But it would be wrong to think of Silent Souls' blend of legend and fiction as mockumentary; it seems closer in spirit to the odd fables of Jorge Luis Borges.
Production companies: April Mig Pictures, Media Mir Foundation
International sales: Memento Films, www.memento-films.com
Producers: Igor Mishin, Mary Nazari
Screenplay: Denis Osokin
Cinematography: Mikhail Krichman
Production design: Aleksei Potapov
Editor: Sergei Ivanov
Music: Andrei Karasyov
Main cast: Igor Sergeyev, Yuri Tsurilo, Yuliya Aug