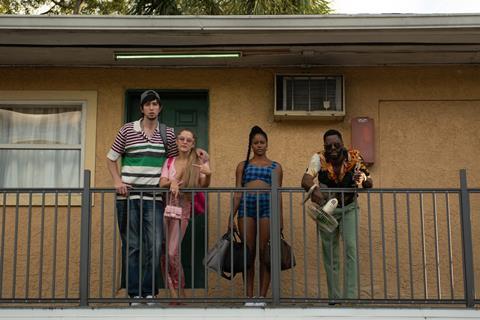 Part of Florida's Tampa Bay metro area, St. Petersburg Clearwater encompasses 24 cities and is known for its sunny weather, gulf coast beaches and marine life.
It is an attractive destination for both international and US filmmakers and while the state of Florida does not have a filmmaking incentive St. Pete Clearwater area does: The large metro area offers a rebate of 20% on expenses incurred when shooting in St. Pete Clearwater and Tampa.
Tony Armer, the film commissioner for St Pete Clearwater, acknowledges the invaluable and easy-to-apply production rebate is a big draw for productions when mixed in with the weather and locations. With over 300 days a year of sunshine, St Pete Clearwater is always open for business with something filming nearly every day of the year.
"You can shoot 12 months of the year and have beautiful sunny weather," says Armer. "There are 35 miles of white sugar sand beaches that are voted some of the best beaches in the world."
The variety of locations attracts all kinds of films with productions looking for tropical looks, small town America, urban upscale, downtown, historic, and dark and gritty all catered for in the St. Pete Clearwater area. And there are dolphins for the sharp-eyed filmmaker looking for some added value for free.
Armer notes the area is much larger and more diverse than international producers may realise. "While we're known for our beaches, the area is 24 cities of varying sizes and includes Tarpon Springs which has the largest Greek population in the United States."
Filmmaker Kevin Smith, who shot horror film Killroy Was Here in 2017 and 2018, describes the area quite simply as "gorgeous". "Anywhere you turn the camera there is production value," says Smith. "There is a fantastic crew base. You get served well in this area".
Originally set in a north-eastern US state during the winter, Smith changed his script and shooting plans after scouting out the St Pete Clearwater area. With its Banyan trees, palm trees and sultry backdrops, St Pete Clearwater lent itself to the southern gothic elements in Smith's early script drafts.
Some unplanned local flavour enhanced the film, Smith explains. "We got free production value from boats in the backgrounds coming in and out of the frame. No-one looked down the barrel of the camera so it didn't ruin any shots."
Further projects to recently shoot in the St. Petersburg Clearwater Tampa area include Zola, directed by Janicza Bravo and starring Taylour Paige and Riley Keough. Debuting at Sundance last year, the film details the story of a stripper who embarks on a wild road trip to Florida. A24 rolled it out in US theatres on June 30.
Ghost story Lady Of The Manor, directed by Christian and Justin Long and staring Justin Long alongside Judy Greer, Melanie Lynskey and Ryan Phillippe and the psychological thriller Fear of Rain, starring Harry Connick Jr. and Katherine Heigl, have also shot in St Pete.
Non-stop flights to the area into Tampa Airport from the UK, Iceland, Switzerland, and Germany make it a fast and accessible area to film in.
St. Pete Clearwater area also counts a great local crew base with plenty of equipment rental options among its pluses for incoming productions.
"With free film permits, beautiful weather year -round, spectacular locations, a populace and businesses who support filming, the St. Pete Clearwater area is without a doubt one of the best locations for filmmakers in the country," says Armer. "St. Pete Clearwater is very much a film community. Studio films, independents and micro-budget features shoot regularly in the area."
Once a production shoots in St. Pete Clearwater they often want to come back, says Armer. "Not only are the locations amazing but the area is so film friendly you can accomplish a lot more here than in many other areas and it costs less."
Local film festivals and theatres are also a major component of the film community feel. They help to support, encourage and provides resources to the local film infrastructure. "People like and enjoy seeing productions happening in their communities," says Armer. "Residents, government, chambers of commerce, businesses and more all participate in making this a film friendly area."
Filmmaker Tim Burton, who most recently shot Miss Peregrine's Home for Peculiar Children, says the area offers different vibes and looks.
"The film commission was really great and supportive, the St. Pete team was great and they make things happen," says Burton. "I may live here, I love it."
Contact: St. Pete Clearwater Film Commission


The St. Pete/Clearwater Film Commission serves Pinellas County, Florida, supporting and working to bring commercials, television shows, feature films, and digital media projects to the area.