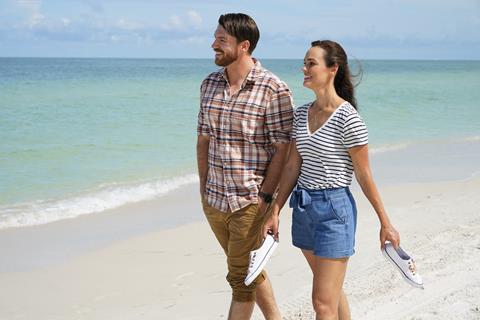 Part of Florida's Tampa Bay metro area, St. Petersburg Clearwater boasts cash rebates, production confidence from Covid-19 safety protocols and an array of eye-widening locations with a film friendly populace.
The area encompasses 24 cities and is known for its sunny weather, gulf coast beaches and marine life, and is an established destination for international and US filmmakers alike.
The large metro area offers a rebate of up to 20% on expenses incurred when shooting in St. Pete Clearwater and Tampa.
"There is no state-wide Florida incentive for filmmakers, but this regional programme enables productions to be able to shoot a portion of – or their entire film – in Florida," says Tony Armer, the film commissioner for St. Pete Clearwater.
Coupled with concerted efforts to put in place strict Covid protocols as established by the various unions, St. Pete Clearwater has never been busier.
"Productions felt so safe and secure filming in the area that 2021 was a record year, with the film commission issuing the most permits ever in its 30-year history," states Armer. By the end of the 2021 fiscal year, shooting permits issued had reached 270 – up from the previous record of 250 in 2019.
Recent productions to enjoy all that St. Pete Clearwater has to offer include romantic drama A Taste of Love, directed by Michael E. Brown and Conrad De La Torres III, and TV movie South Beach Love for Hallmark Channel.
Lifetime murder mystery feature DOA At The PTA is shooting and thrillers Deadly Suspicion and What Lies Beyond The Walls are both lined up to shoot in the metro area during 2021 and 2022.
Romantic comedy The Plus One, starring Ashanti and Cedric the Entertainer, is scheduled to film between Thanksgiving and Christmas 2021 at the Sandpearl Resort and the Hyatt Regency Clearwater Beach Resort.
Actress and The Plus One co-writer Austin Highsmith Garces (Dolphin Tale) called former Clearwater Marine Aquarium CEO and Dolphin Tale producer David Yates about her film.
Yates got in touch with Armer to discuss bringing the film to St. Pete Clearwater with the metro area's filming incentives one of the primary attractions to shoot in Pinellas County, part of the Tampa–St. Petersburg–Clearwater area. The conversations and familiarity with St. Pete Clearwater and Pinellas County paid off (The Plus One was initially lined up to shoot in a different state with incentives).
"As a filmmaker, Pinellas County is as good as it gets," says executive producer Danny Roth. "The people, natural beauty and community support make filming here a dream come true."
"Not only does St. Pete Clearwater have some of the best beaches in the world, but the area has a long history of film production with great crews, and a film friendly community that will go out of their way to help productions in the area," says Armer.
Iconic filming locations
The ability to shoot 12 months of the year, sunny weather and those 35 miles of white sugar sand beaches - some of which have been voted some of the best beaches in the world - add up to an enviable filming destination.
"There is a strong crew base locally and in the state of Florida," Armer says. "Crews are constantly busy and working, and there is plenty of crew to support multiple projects at any given time. Film permits are free, and the film commission strives to make the whole process simple and easy."
There are plenty of iconic filming locations in the area with the newly established St. Pete Pier District, the famous Clearwater Marine Aquarium and the Salvador Dali Museum among them.
Productions seeking tropical looks, small town America, urban upscale, downtown, historic, and dark and gritty are all catered for.
Aside from Tim Burton's Miss Peregrine's Home For Peculiar Children and Kevin Smith horror Killroy Was Here, which shot in 2017 and 2018, the metro area also played host to Dolphin Tale and Dolphin Tale 2 as well as Zola, directed by Janicza Bravo and starring Taylour Paige and Riley Keough for A24.
It also provided the backdrops for Harmony Korine's Spring Breakers, Colombian drug lord Pablo Escobar drama The Infiltrator starring Brian Cranston, and the Channing Tatum male stripper drama Magic Mike.
Non-stop flights into Tampa Airport from the UK, Iceland, Switzerland, and Germany make it a fast and accessible area in which to film.
Armer adds: "We are proud to support quality filming that shows the world the amazing variety of our top-rated tourist destination."

The St. Pete/Clearwater Film Commission serves Pinellas County, Florida, supporting and working to bring commercials, television shows, feature films, and digital media projects to the area.
View full Profile