Dir: J.J. Abrams. US. 2013. 135mins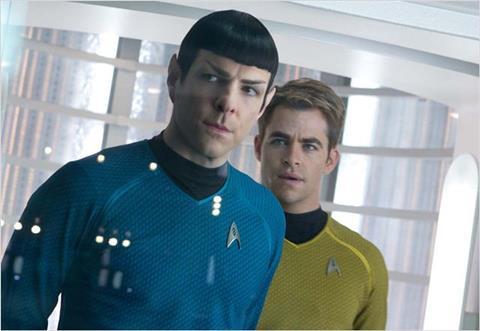 The second voyage of the new look starship USS Enterprise goes boldly into new territory as it pitches the fledgling crew up against a rather nasty intergalactic terrorist. After a four year gap, J.J. Abrams brings his reboot sequel to screens, and it arrives in a blaze of thrilling sci-fi adventure, stunning special effects and – most importantly – further subtle development of a series of characters who are familiar and yet fresh at the same time.
The film impressively freewheels between thrilling chases and laser battles on planets to beautifully shot spaceship attacks and onto a stunning climax back at Earth itself.
The anticipation for Star Trek Into Darkness is intense – both from die-hard Star Trek fans and those who simply relished the 2009 reboot – and the film looks likely to knock Iron Man 3 off its box office top spot perch. It looks set to dominate the early summer, and will prove an additional draw for IMAX screens, on which the film looks fabulous.
The original film offered a vibrant, funny, youthful and thrilling alternate start to the Star Trek world, and while the villain and visceral thrills were perhaps modest rather than amazing, where J.J. Abrams got it spot on was with the casting and character development.
Chris Pine made for a perfect brash, cocky, smart and charismatic James T Kirk, and was perfectly complement by Zachary Quinto's restrained, enigmatic and brilliant Spock. The tantalising relationship between Spock and communications officer Uhura (the delightful Zoe Saldana) give the film some much-needed frisson, while the casting of Sulu (John Cho), Chekov (Anton Yelchin), Bones (Karl Urban) and Scotty (Simon Pegg) is spot-on.
Star Trek Into Darkness opens with the crew of the Enterprise settled in their roles, driven by the reckless confidence and exuberance of Captain Kirk as they attempt to help save a remote planet from volcanic destruction. When Spock is trapped, Kirk opts to break protocol and reveal the Enterprise to the planet's undeveloped inhabitants as the only option to save his friend's life.
Reprimanded for his decision, the Enterprise crew look like being split up until a series of acts of terrorism by villainous John Harrison (an excellent and often mesmeric Benedict Cumberbatch) sees Starfleet officers killed and Kirk and his crew sent on mission to the Klingon home planet to kill Harrison who is hiding in a remote spot, on the direct orders of a Star Fleet Admiral (Peter Weller).
Faced with a series of moral and ethical decisions (naturally pointed out by Spock) the usually wilful Kirk has to make a series of tough and complex decisions as he faces up to Harrison as he has to navigate the thin line between friends and enemies, revenge and justice, with the spectre of an all-out war hanging over his head as he has to grow as both a man and a leader.
Where the film works at its very best – and this is set alongside the simple fact that it is spectacular entertainment – is with the character development. Yes, Kirk and Spock are the characters around which the film spirals, and their developing friendship is the core of the story, with both actors excellent and at ease in their roles, but at the same time all of the support characters have moments to shine and great moments of dialogue that help refine and define their parts.
John Cho's Sulu has a great moment where he shows unexpected steel when asked to assume the role of Captain; Zoe Saldana gets to mix it up in the action sequences; and against the odds Simon Pegg's Scotty (still played for fun, but with a bit more grit this time round) is almost an action hero as he heads off on a sub-plot all of his own.
This is all set against a wonderfully unrepentant villain in the form the mysterious 'John Harrison', a morally complex character who shows no regret in taking lives and yet who is also driven by a crusade that he sees as justified and correct. Benedict Cumberbatch – so spectacular in the BBC TV series Sherlock – is terrific as the villain, and is the perfect foil for the developing crew and the pairing of Kirk and Spock, who are driven to try and do the right thing.
The film – which runs an epic 135mins – impressively freewheels between thrilling chases and laser battles on planets to beautifully shot spaceship attacks and onto a stunning climax back at Earth itself, with J.J. Abrams never shirking when it comes to laying one thrilling action sequence on top of the next, and delivering a film that will quite simply have audiences desperate for more. One can only hope there won't be four more years until the next sequel.
Production companies: Paramount Pictures, Skydance, Bad Robot
International distribution: Paramount Pictures
Producers: J.J. Abrams, Bryan Burk, Damon Lindelof, Robert Orci, Alex Kurtzman
Executive producers: Jeffrey Chernov, David Ellison, Dana Goldberg, Paul Schwake
Screenplay: Robert Orci & Alex Kurtzman & Damon Lindelof, based on Star Trek created by Gene Roddenberry
Cinematography: Dan Mindel
Editors: Maryann Brandon, Mary Jo Markey
Production designer: Scott Chambliss
Music: Michael Giacchino
Main cast: Chris Pine, Zachary Quinto, Zoe Saldana, Karl Urban, Simon Pegg, John Cho, Anton Yelchin, Bruce Greenwood, Benedict Cumberbatch, Alice Eve, Peter Weller