Dir: Scott Speer. US. 2012. 98mins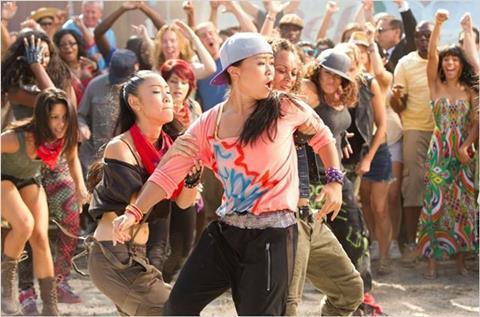 Graceful in their movements, wooden in their emoting, the stars of Step Up Revolution dance with such propulsive confidence that one is almost willing to forget how clichéd every other beat of this fourth Step Up film is. Set in Miami and structured almost like an Ocean's Eleven-style heist picture, Revolution makes great use of its 3D for several stunning dance sequences — too bad that the film's Romeo And Juliet love story couldn't be more one-dimensional.
Any acknowledgment of Step Up Revolution's expert dancing must also concede that the story around those sequences is terribly pedestrian.
The Step Up series has seen its domestic box office decrease with each instalment, while its overseas take has steadily grown. (Worldwide, 2010's Step Up 3D has had the largest haul, bringing in $159m.) Step Up Revolution arrives July 27 in the States, and with no major returning stars on the marquee, Summit will be selling the Step Up brand above all else. Modest, respectable returns seem assured, although the possibility of the franchise expanding its base looks unlikely.
At this stage, Step Up is chiefly for those who have already sworn allegiance to the franchise's galvanic dancing — and who will no doubt appreciate the brief cameos from actors seen in the series' earlier instalments.
Working-class Sean (Ryan Guzman) falls for the beautiful Emily (Kathryn McCormick), only later learning that her father is the wealthy, predatory real estate developer Bill Anderson (Peter Gallagher) — who just happens to be Sean's boss. Both excellent dancers, Sean recruits the classically-trained Emily into his underground dance troupe known as The Mob, which does performance art pieces in public spaces without warning. But when Anderson plans to raze Sean's impoverished neighbourhood, Sean and his troupe must find a way to protect their homes.
2006's Step Up set up the narrative template that the franchise has followed ever since: Young lovers from different sides of the tracks come together through a shared passion for dance, resulting in a number of elaborately crafted dance numbers that lead to one big musical extravaganza at the finale. While those dance sequences have become more nimble and ambitious over time, none of the Step Up sequels have managed to find a romantic pairing with as much chemistry as the first film's Channing Tatum and Jenna Dewan.
This is especially troublesome in Step Up Revolution, which doesn't seem particularly interested in developing a spark between Guzman and McCormick. There's no question that both actors can eloquently cut through the air, whether it's for a routine set to hip-hop or classical, but when they have to stand and talk to one another, the proceedings start to drag quickly.
However, to be fair to those who faithfully follow this series, the point of any Step Up movie isn't the eye-rolling, cheesy love story but, rather, the electric new choreography that tries to outdo the previous films' moves. Choreographer Jamal Sims — aided by Christopher Scott, Travis Wall and Chuck Maldonado — delivers a dynamic set of dance sequences often inspired by The Mob's need to infiltrate a restricted venue (such as a highfalutin fine-art gallery) so that they can shock those in attendance with their percussive urban dancing.
Director Scott Speer and screenwriter Amanda Brody, both making their feature debut, get some mileage out of The Mob's inventiveness in crashing these exclusive events, turning Sean and his pals into an underground dance-troupe version of either The Impossible Missions Force or Danny Ocean's crack team of crooks. Step Up Revolution is the second Step Up movie in a row to incorporate 3D, and the technology helps give the dances an enrapturing drama, stretching out the visual plane and emphasizing each move of an arm or leg through space.
But any acknowledgment of Step Up Revolution's expert dancing must also concede that the story around those sequences is terribly pedestrian. Whereas earlier Step Up films focused more time on the central couple's dances with one another, allowing the lovers' bond to grow, Revolution emphasises The Mob's team efforts, minimizing audience interest in Sean and Emily's burgeoning attraction.
Additionally, the film tends to get melodramatic whenever any weighty moment comes along, and just about every interpersonal relationship — Sean and Emily, Emily and her father, Sean and his best friend Eddy (Misha Gabriel) — plays out in clumsy, predictable ways. Even Revolution's one mildly provocative notion — that The Mob is a team of radical activists helping Miami's underprivileged stand up against Bill Anderson's corporate oppression — quickly gets shoved aside for a trite happy ending that undermines the film's nascent anti-commercialism message.
In their first screen roles, McCormick (who made her name on the reality competition show So You Think You Can Dance) and Guzman are appealing eye candy with a great sense of rhythm — their dramatic chops aren't as finely tuned, however. Their supporting cast is equally insubstantial, although Gallagher classes up Revolution as the prototypical soulless businessman who eventually realises the error of his ways.
Production company: Offspring Entertainment
Domestic distribution: Summit, www.summit-ent.com
Producers: Adam Shankman, Jennier Gibgot, Patrick Wachsberger, Erik Feig
Executive producers: Bob Hayward, David Garrett, Meredith Milton, Jon M. Chu, Matthew Smith, Nan Morales
Screenplay: Amanda Brody, based on characters created by Duane Adler
Cinematography: Crash
Production design: Carlos A. Menendez
Editors: Matthew Friedman, Avi Youabian
Music: Aaron Zigman
Website: www.facebook.com/stepupmovie
Main cast: Ryan Guzman, Kathryn McCormick, Misha Gabriel, Cleopatra Coleman, Stephen "tWitch" Boss, Tommy Dewey, Peter Gallagher