Dir/scr: Uberto Pasolini. UK-Italy. 2013. 87mins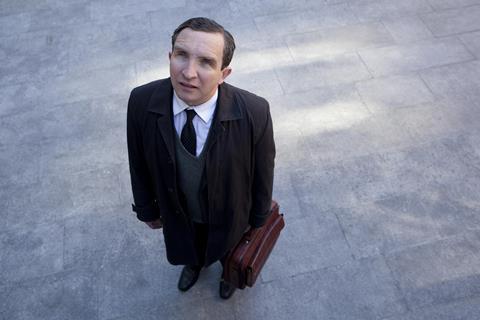 A mannered and rather familiar dark comedy-drama, Uberto Pasolini's attractively structured British-set film is given life and depth by a striking performance by Eddie Marsan as a solitary man who works doing a rather usual job, and who is given a glimpse of what his future could be when he finds himself out of a job when his department is downsized.
The film is very much centred around Eddie Marsan's restrained and highly watchable performance.
Directed in a rather static manner – which helps the astute production design, costumes and location, but means it lacks a certain energy – Still Life is littered with engaging and entertainingly oddball moments, though in the end its lacks the poignancy it is aiming for, and rather shoots itself in the foot with a misjudged final scene. The film had its world premiere at the Venice Film Festival.
In modern-day South London John May (Marsan) works for the local council attempting to find the next of kin to those who seem to have died alone. He meticulous, ordered and focused just on his job (he returns to his small council flat to a dinner of toast and a can of tuna) and always tries to do the right thing by those who have passed away by organising funerals, replete with music and eulogies, despite the fact only he is there to attend.
One day he gets a new case, an elderly alcoholic named Billy Stoke. But the death hits him rather differently, because it happens to be in a flat directly opposite his own apartment, and as he looks the detritus of the man's life the emptiness of his own stark existence starts to dawn on him.
When he is told that he is to be let go and that Stoke is to be his last case, he sets about scouring the country for clues as to the man's past (he finds a photograph of a daughter in a battered old album), and slowly reveals the man's rich history (friends in the Midlands, the fact he served in the Falklands War and that he had another daughter he knew nothing about). He eventually tracks down Stoke's estranged daughter Kelly (Joanne Froggatt), and against the odds these two lonely souls are drawn to each other.
May starts to become a new man – abandoning his tie and wearing a sensible jumper, sipping hot chocolate instead of tea and meeting Kelly in a railway café – but a few days before Billy Stoke's funeral he does something else he has never done that has tragic consequences.
The film is very much centred around Eddie Marsan's restrained and highly watchable performance, but suffers from being rather static in terms camerawork (which helps reinforce the astutely staged scenes but hampers momentum) and just not as darkly funny as it perhaps needs to be. There are moments to enjoy in the details of this man's strange and solitary life, but it is just too subtle at times. The other performances are okay at best – though Joanne Froggatt is terrific as the rather sad Kelly – but the film makes rather a mistake with its final scene (it would spoil the plot to give full details) that involves ghosts.
Production companies: Redwave, Embargo Films, Cinecitta Studios, Exponential Cinema, Beta Cinema, Rai Cinema
International sales: Beta Cinema, www.betacinema.com
Producers: Uberto Passolini, Felix Vossen, Christopher Simon
Cinematography: Stefano Falivene
Editors: Tracy Granger, Gavin Buckley
Production designer: Lisa Marie Hall
Music: Rachel Portman
Main cast: Eddie Marsan, Joanne Froggatt, Karen Drury, Andrew Buchan, Ciaran McIntyre, Neil D'Souza, Paul Anderson, Tim Potter