Dir: Park Chan-wook. US. 2012. 98mins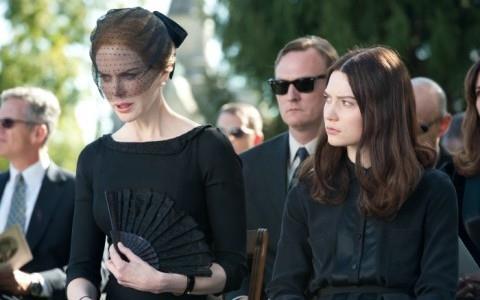 In Stoker, Park Chan-wook's American debut, a long-absent uncle's return for a brother's funeral triggers a tempest of killing, framed in film allusions, starting with the film's title.
Wasikowska has shown a new depth here, and is sure to be pursued for it.
Nicole Kidman, as a stunning new widow with eyes for her brother-in-law, gives the stylised Stoker a head start at the box office. The real draw however, is Mia Wasikowska, her angry vengeful daughter. Elegant iconic suspense, with minimal dialogue (director Park speaks little English) and a generous sprinkling of laughs could position Stoker well in Europe, Asia and Latin America. Strong echoes of Guillermo Del Toro could also broaden the film's young audience on VOD.
Stoker begins with the funeral of Richard Stoker (Dermot Mulroney), who dies in a mysterious car accident. Tall courtly Charlie Stoker (Matthew Goode) rejoins the family after a long absence to mourn his brother's passing and stay with widow Evie (Kidman) and sullen daughter India (Wasikowska) in the Stokers' spacious home. Soon the housekeeper disappears.
Goode hits a seductive tone of the urbane and the unctuous as a charmer with tales of world travel and a killer instinct. He has eyes for Evie, played like a spoiled princess by Kidman, who welcomes the attention that her late husband reserved for his daughter. Young India, Charlie's real target, turns out to be a challenge, as Wasikowska brings a dark complexity to the character that scares off almost everyone, even local bullies.
The script by actor Wentworth Miller (Prison Break) packs in the literary and film references, not least the title's nod to Dracula – enough to leaven the killings with insider humor, but not overburdening it. India is a female Hamlet, as the daughter who watches her newly-widowed mother take up with an uncle. Freud is all over this story of mother-daughter tension and an affectionate father-substitute.
So is Hitchcock, especially his Shadow Of A Doubt (1943), in which Joseph Cotten played a silver-tongued murderer, named Charlie, stalking the young Teresa Wright. When Charlie Stoker's aunt (Jacki Weaver) seeks to counsel a standoffish Evelyn about her nephew, Charlie strangles her in the telephone booth at a motel – shades of Psycho. Spiders crawling around India to unsettling music are an homage to Del Toro.
It's sophomoric smartness, yet Wasikowska keeps Park and Miller from drowning in it. Even as Charlie becomes a weapon for her to hurt her mother, India's resolute composure rises above the endless quoting, shrouding her real intentions. All the better for the vengeful girl when family history is exhumed to explain why Charlie was sent away from the Stokers' home for years.
In this retreat from Park's earlier wildness (Old Boy), there is a sureness to his directing here, most of the time, as he modulates the volatile family tensions which risk exploding in the house where Therese Deprez's neatly handsome production design reflects the semblance of propriety — all the colors are right and each decorative object is in place.
Cinematographer Chung-hoon Chung tightens the drama with close-ups that capture Wasikowska in poses that look remarkably like Leonardo's 'Woman with an Ermine', another icon of concealed intentions. Wasikowska has shown a new depth here, and is sure to be pursued for it.
Production companies: Fox Searchlight Pictures, Indian Paintbrush, Scott Free
US Distributor: Fox Searchlight Pictures
Producers: Ridley Scott, Tony Scott, Michael Costigan
Executive producers: Stephen Rales, Mark Roybal
Screenplay: Wentworth Miller
Cinematography: Chung-hoon Chung
Editor: Nicholas de Toth
Production designer: Therese Deprez
Main cast: Mia Wasikowska, Matthew Goode, Dermot Mulroney, Jacki Weaver, Nicole Kidman, Phyllis Somerville, Alden Ehrenreich, Lucas Till, Ralph Brown, Judith Godreche