The streaming giant on Monday reported that global members increased by 3.6m in the third quarter, sending shares up after hours by 20% from $19.75 to $119.67.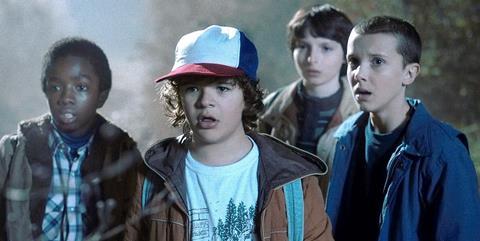 The number of global subscribers now stands at 86.7million. International membership increased by 3.2million and US by 370,000, beating Netflix's July prediction of 2million and 300,000, respectively.
Revenues in the third quarter jumped 36% to an unprecedented $2m-level.
The service anticipates spending on content by $1bn from this year's level to $6bn in 2017 and plans to add more than 1,000 hours of original content next year compared to 600 hours this year. However it warned the surge would be expensive and might dent profitability.
Netflix show Stranger Things (pictured), The Get Down and Luke Cage debuted in the third quarter, while the second season of Narcos got underway. A third season is scheduled to shoot soon in Colombia.
The Crown, an Elizabeth II series written by Peter Morgan, will air on November 4.
CEO Reed Hastings highlighted local production efforts in an earnings call but noted Netflix had a way to go before it would catch up with local efforts of YouTube and Facebook.