JANUARY 19 UPDATE: Heading into Park City's opening night screening of An Inconvenient Sequel on Thursday, we take a look at a dozen acquisition titles likely to spark deals once the action gets underway.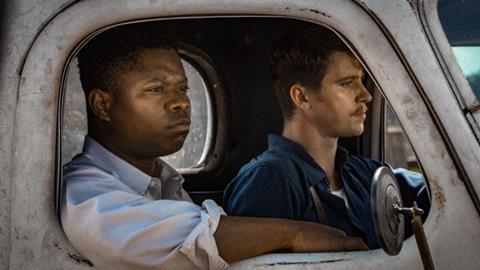 The Sundance Film Festival will unveil 120 features over the course of ten days, setting the tone of US independent cinema in 2017, unearthing international gems and launching several potential awards contenders.
While a certain number of films arrived with distribution already in place, others have sparked deals in the last few weeks (we're thinking of you, Call Me By Your Name, Casting JonBenet, Berlin Syndrome and Long Strange Trip).
Then there are the acquisition titles. Sundance inevitably sparks a multitude of deals during and after the event and buyers expect modestly priced transactions in the $3-5m range. This has been a common refrain every year since 2008. Watch the numbers soar on a handful of titles.
What follows is a list of 12 films we believe will get tongues wagging. Titles like The Yellow Birds, Wind River, Beatriz At Dinner, The Polka King, The Final Hours, Chasing Coral, Rememory, etc could easily have made the list but we had to draw the line somewhere.
The list begins with Mudbound, the most hyped film in selection at time of writing, and continues in no particular order. The Sundance Film festival runs from January 19-29
Mudbound
Buyers will be falling over themselves to get seats at Saturday's premiere at Eccles Theatre at 6.15pm. Dee Rees broke out at Sundance 2011 with her narrative debut Pariah and returns with this Premieres selection about two WWII veterans – one white, one black – who must fight different battles in the South. Garrett Hedlund, Jason Mitchell, Carey Mulligan, Jason Clarke and Mary J. Blige are among the ensemble. The film has just been awarded the 2017 Dolby Family Sound Fellowship.
WME Global and Cassian Elwes represent US rights and Good Universe handles international.
info@wmeentertainment.com
info@cassianelwes.com
intl@good-universe.com
Patti Cake$
Advance word, even if it comes almost entirely from the agents and publicists on the film, would suggest one keep an eye on Australian Danielle MacDonald's performance. Geremy Jasper's feature directorial debut follows a 23-year-old Jersey girl and aspiring rapper. It premieres in U.S Dramatic Competition on Monday at Eccles Theatre at 12.15pm.
CAA and WME Global jointly represent world rights.
filmsales@caa.com
info@wmeentertainment.com
Brigsby Bear
There's plenty of Saturday Night Live talent surrounding this U.S Dramatic Competition selection from 3311 Productions about a sheltered man-boy who uses his favourite TV show to make sense of the world. Feature debutant Dave McCary is a writer and director on the weekly comedy show and alumni Andy Samberg and Michaela Watkins have roles alongside lead Kyle Mooney and a smattering of familiar faces. Samberg is one of the producers with The LEGO Movie co-directors Phil Lord and Chris Miller, while former Gersh Agency financing and sales expert Jennifer Dana is an executive producer. Brigsby Bear premieres on Monday at Eccles Theatre at 3.15pm.
UTA Independent Film Group represents the world.
info@unitedtalent.com
The Big Sick
Hello, My Name Is Doris director Michael Showalter based his new Premieres entry on the actual courtship of co-writers Kumail Nanjiani and Emily V. Gordon. Nanjiani and Zoe Kazan star as a Pakistan-born aspiring comedian and an American grad student who fall for each other before the latter is suddenly taken ill. Judd Apatow and Barry Mendel are producers and Holly Hunter and Ray Romano round out the key cast. The film premieres on Friday at Eccles Theatre at 6.15pm.
UTA Independent Film Group represents the US and FilmNation handles international sales.
info@unitedtalent.com
info@wearefilmnation.com
Novitiate
Maggie Betts' feature narrative directorial debut is a coming-of-age story set in the 1950s and 1960s as a young girl navigates her way through her first love – God. Margaret Qualley, Julianne Nicholson and Melissa Leo star in the U.S. Dramatic Competition selection. Catch the premiere on Friday at Eccles Theatre at 12pm.
CAA handles sales.
filmsales@caa.com
Woodpeckers (Carpinteros)
A World Dramatic Competition selection with considerable breakout potential, José María Cabral's feisty drama was the talk of the Ventana Sur market in Buenos Aires last month. Cabral's story chronicles the blossoming love between a man and a woman in adjoining prisons who use sign language to communicate. Woodpeckers premieres at The Egyptian on Monday at 8.30pm.
Film Factory represents world rights.
Manon@filmfactory.es
Don't Swallow My Heart, Alligator Girl!
Brazilian filmmaker Felipe Bragança's story of love on opposite sides of a borderland turf war between Brazilian and Paraguayan gangs promises drama a-plenty. Told in Portuguese, Spanish and the indigenous Guarani language of Paraguay, Alligator Girl! will head to Berlin for its European premiere after Park City. The World Dramatic Competition selection premieres on Sunday at The Egyptian at 5.30pm.
Mundial represents world rights.
cristina_garza@mundialsales.com
Rebel In The Rye
All eyes will be on the Premieres selection about Catcher In The Rye author J.D. Salinger starring Nicholas Hoult in the lead. The project will be familiar to international buyers after Bloom Media's Alex Walton and his team launched pre-sales in Toronto 2015. Empire co-creator Danny Strong makes his feature directorial debut and Rebel premieres on Tuesday at Eccles Theatre at 9.30pm.
CAA represents North American rights and Bloom handles international sales.
filmsales@caa.com
info@bloom-media.com
Fun Mom Dinner
UPDATED: Momentum has picked up North American theatrical rights and Netflix has acquired select international streaming rights. Katie Aselton, Toni Collette, Molly Shannon and Bridget Everett star in a comedy about bored mothers who enjoy the night of their lives. Sound familiar? Alethea Jones's comedy has Premieres written all over it and should strike a chord with buyers in light of last summer's $180m worldwide success of Bad Moms. The moms ride out on Friday January 27 at Eccles Theatre at 3.30pm.
UTA Independent Film Group, WME Global and ICM Partners represent North American rights. Voltage Pictures launched international sales in Toronto in September.
info@wmeentertainment.com
info@unitedtalent.com
jlacy@icmpartners.com
sales@voltagepictures.com
City Of Ghosts
Matthew Heineman returns after his stunning Oscar-nominated Cartel Land with a new documentary about a group of citizen journalists who are pushing back against ISIS. The U.S Documentary Competition selection premieres on Saturday at The MARC at 5.30pm and should be quite the draw.
Cinetic Media handles sales.
sales@cineticmedia.com
Joshua: Teenager Vs Superpower
Joshua Wong may not be that well known in the West but this film could change all that. The Hong Kong-based teen activist has made it his mission to become a thorn in the side of China, no mean feat. The World Documentary Competition selection premieres at Temple Theatre on Friday at 3pm. Joe Piscatella directs.
WME Global handles worldwide sales.
info@wmeentertainment.com
Icarus
Bryan Fogel's first documentary sounds like the perfect Inauguration Day companion piece. Fogel's 'Super Size Me'-style investigation into doping in sports plunges him into the world of the Russian Olympic doping scandal and beyond. The U.S. Documentary Competition selection premieres on Friday at The MARC at 11.30am.
UTA Independent Film Group represents the world.
info@unitedtalent.com.