Dir: Ramaa Mosley. US. 2011. 102mins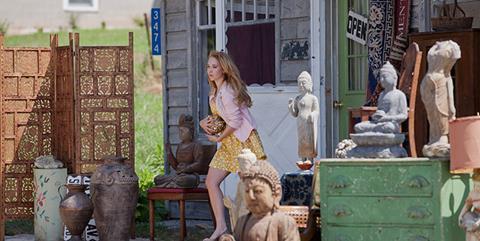 The Brass Teapot sets out to prove that money is, indeed, the root of all evil, but while this dark comedy makes a few smart observations about the lengths people will go to snag the American Dream, its satiric edge gets dulled rather quickly. Director Ramaa Mosley's feature debut starts off with a fanciful concept — a poor, young married couple find a magic money-dispensing teapot — but the follow-through fails to build satisfyingly on the juicy premise.
Where The Brass Teapot does get interesting is in its narrative twist that the couple can only create more money by inflicting physical pain on each other.
Screening in the Discovery section at the Toronto Film Festival, The Brass Teapot boasts a marketable hook, and in the current economic downturn this film could strike a chord with belt-tightening audiences. The film's star, Juno Temple, has seen her profile rise recently thanks to Killer Joe and (in a small role) The Dark Knight Rises, which could also help attract territory sales.
Newlyweds Alice (Temple) and John (Michael Angarano) are deeply in love, which helps them forget about the fact that they're barely able to keep their heads above water financially. But their luck seems to change after Alice stumbles upon an ancient teapot in an antique store. Inexplicably drawn to the teapot, Alice steals it, soon discovering that whenever she or John injure themselves, money appears inside.
The Brass Teapot is not unlike several previous films (such as Shallow Grave, Treasure Of The Sierra Madre and A Simple Plan) where a group of characters find a pile of money or treasure but must contend with the repercussions of their good fortune. Mosley's movie differentiates itself by taking a more comedic approach, particularly when it comes to its portrayal of Alice and John.
Though their love is without question, they're extremely flawed, shallow people, and while they certainly need the money — in part to impress their snooty friends — it's apparent right from the start that they're not going to be able to demonstrate the self-discipline such an incredible gift requires.
The problem with this tonal strategy, however, is that the movie's often off-kilter sense of humour rarely lands its punches. Ass-kicking Hasidic Jews (who want the teapot for themselves) and the couple's white-trash landlord are just a few of The Brass Teapot's quirkier-than-quirky characters, none of whom are particularly funny. Along the same lines, Alice and John are a bit one-note, and the arrival of this mysterious teapot doesn't do much to enhance or complicate their regular-folks personalities.
Where The Brass Teapot does get interesting is in its narrative twist that the couple can only create more money by inflicting physical pain on each other. Unfortunately for them, though, that technique stops being effective, which forces them to find other means to keep bankrolling their suddenly extravagant lifestyle. As it turns out, many different forms of "pain" can produce cash — including emotional pain — and Mosley has some fun charting how frighteningly willing Alice and John are to cross certain lines so that they're never poor again.
Still, that doesn't keep The Brass Teapot from feeling both a bit repetitive and predictable. (Its no surprise that the teapot carries with it a curse that our lovers insist won't be a problem for them.) As for the performances, Angarano overdoes John's schmucky nice-guy routine, while Temple tries her best to give Alice's increasing bitchiness some relish. On the whole, there's a lot of perspiration and not much comedic inspiration on display.
Production companies: Northern Lights Films, Queen Nefertari Productions, TF1 International, Atlantic Pictures, Laundry Films
International sales: TF1 International, www.tf1international.com
Domestic sales: The Gersh Agency, www.gershagency.com
Producers: Darren Goldberg, Kirk Roos, James Graves, Ramaa Mosley
Executive producers: Erik Rommesmo, Jeff Schlossman, Anthony Gudas, Michael Corso, Lanre Idewu, Cynthia Stafford
Screenplay: Tim Macy, story by Ramaa Mosley and Tim Macy
Cinematography: Peter Simonite
Editor: Ryan Folsey
Production designer: Elizabeth Jones
Music: Andrew Hewitt
Main cast: Juno Temple, Michael Angarano, Alexis Bledel, Alia Shawkat, Bobby Moynihan