Dir: David Dobkin. US. 2011. 112mins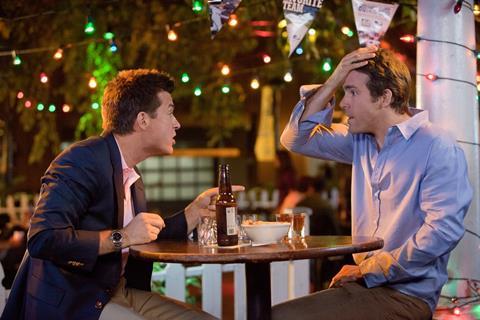 Despite its title, The Change-Up does precious little to switch up the formula for the R-rated studio comedy. Leaning hard – much too hard – on its seeming shock value, this body-switch comedy from the director of Wedding Crashers tries to insert a little sweetness near the end, but by then it's far too late into a film that strands a capable cast (led by Ryan Reynolds and Jason Bateman) in a sea of foul and foul-mouthed humour.
Even when The Change-Up stumbles upon a funny idea, the filmmakers tend to bludgeon it with jokes that require the two men to act inappropriately at the worst possible moment.
Opening August 5 domestically, The Change-Up will hope to follow in the footsteps of Bridesmaids, The Hangover Part II, Bad Teacher and Horrible Bosses (which also starred Bateman), which all found sizable audiences for their R-rated exploits. This Universal offering's marketable hook and marquee names are certainly pluses, but a lingering worry might be that, with summer coming to a close, moviegoers will have already had their fill of inappropriate, risqué laughs.
The Change-Up introduces us to ladies' man Mitch (Reynolds) and respectable family man Dave (Bateman), childhood friends who have remained pals despite their different lifestyles. After a night of drinking, they admit that they envy the other's life, which conjures up a spell that puts them into each other's body the following morning. Understandably shocked, they must learn to cope in their new skin.
Movies in which characters switch bodies are nothing new, but The Change-Up, directed by David Dobkin, might be considered the bromance variation on the genre, boasting sexual and scatological humour as well as a heavy helping of vulgarity and nudity. Reynolds and Bateman are likeable leading men, but the potential of them essentially "playing" each other is never adequately realized.
Unlike their script for The Hangover, writers Jon Lucas and Scott Moore here don't build much comic momentum, instead settling for hackneyed situations in which straight-laced Dave (in Mitch's body) and wild-man Mitch (in Dave's body) come face-to-face with "outrageous" realities they never face in their normal life. But even though these men are supposed to be old friends, they show almost no concern for the other's life, creating easy obstacles that each character must predictably fix by the end of the film.
Even when The Change-Up stumbles upon a funny idea, the filmmakers tend to bludgeon it with jokes that require the two men to act inappropriately at the worst possible moment. Often this comes in the form of Mitch (in Dave's body) swearing at esteemed colleagues at Dave's law firm or at Dave's young children. But the repetitiveness of the device soon grows stale, especially when considering how many R-rated comedies have already used the same would-be shocking tricks this year. When the movie switches gears near the finale, allowing each man to learn something meaningful about himself by living in his friend's body, the mawkishness is equally unsubtle and wearying.
The two leads have a few moments of real spark, but the uninspired screenplay only gives them so much to work with. As Dave's harried wife who doesn't realize that the body-switch has occurred, Leslie Mann mostly reacts to the silly scenarios. Olivia Wilde is a fetching love interest who isn't developed beyond the mound of eye shadow placed around her bewitching peepers. And as Mitch's disappointed dad, the great comic veteran Alan Arkin barely leaves an impression, as damning an example of the film's overall laziness as one would need.
Production companies: Relativity Media, Original Film, Big Kid Pictures
Domestic distribution: Universal Pictures, www.universalpictures.com
Producers: David Dobkin, Neal H. Moritz
Executive producers: Joe Caracciolo, Jr., Ori Marmur, Jeff Kleeman, Jonathon Komack Martin
Screenplay: Jon Lucas & Scott Moore
Cinematography: Eric Edwards
Production designer: Barry Robison
Editors: Lee Haxall, Greg Hayden
Music: John Debney
Website: www.thechangeupmovie.com
Main cast: Ryan Reynolds, Jason Bateman, Leslie Mann, Olivia Wilde, Alan Arkin