Over the past four decades, the festival landscape has been in a state of constant evolution, with events coming and going all over the world.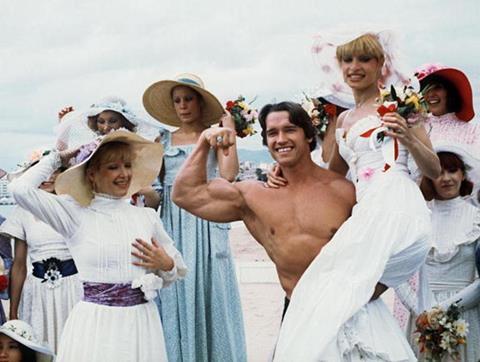 The original motivation behind film festivals was culture and tourism, not business.
The idea for the very first occurred to sculptor Antonio Maraini, secretary-general of the Venice Biennale, when he was watching a football match.
His aim was to create an artistic event as popular as any big sports gathering and, when the Venice Film Festival held its inaugural edition in 1932, guests sat in the gardens of the Excelsior Hotel, sipping cocktails while watching Fredric March and Miriam Hopkins in Dr Jekyll And Mr Hyde on an outdoor screen — with not a distributor or trade paper in sight.
Flash forward 45 years to the mid 1970s, when Screen International was launched, and the situation was very different.
The Cannes market — Le Marché International Du Film — was founded in 1961, but the real frenzy began in the mid-1970s after Frans J Afman and Dino De Laurentiis began to pioneer the financing of films through the discounting of distribution contracts.
"Nothing beats screening a film to several people at once, where you get some sense of competition. It's a different experience" - Colin Vaines, industry executive
Peter King, then publisher of Screen, realised that there were huge potential profits to be made by a festival 'market daily', reporting on the frantic buying, selling and pre-selling of movies taking place on the Riviera.
"No one really saw how much money there was to be made out of it but my publisher Peter King," recalls former trade journalist turned industry executive Colin Vaines, part of the small team of reporters and specially hired Fleet Street sub-editors sent out to Cannes to work on the early dailies, which were then over 100 pages long.
"It was unbelievably hard work. They used to have to set the copy in hot metal down in the printers at Le Muy."
As the pre-sales market heated up, players like Menahem Golan and Yoram Globus at Cannon and Lew Grade at ITC would turn up at Cannes, meet the buyers, pre-sell them a movie on the basis of a star or even a poster and then use the money to pay for the production. They would come back to Cannes the following year with a completed feature; a virtuous circle of sorts.
In its pomp, Cannon would spend as much money at the festival hyping its films as it actually invested in making one of those egregious Chuck Norris action pics. The company booked full-page ads in all the trade papers, and its posters would hang all along the Croisette.
"He [Golan] would meet some Greek distributor who didn't speak English, couldn't read English, certainly couldn't read a script but he had to sell him a movie, so he would show him a poster," one ex-Cannon exec says of his former boss in recent documentary Electric Boogaloo.
In Cannes, as Vaines notes, there was the official "posh festival" and then "all this mercenary activity" going on around it in the market. Other festivals, even the major ones, didn't have anything like the same industry profile.
"I don't think you can ever really beat the experience of screening a film at a festival" - Colin Vaines
Venice, which took place on the Lido, attracted plenty of distributors but lacked the infrastructure for a full-blown market. Its industry profile was weakened in the early 2000s by the rise and rise of Toronto International Film Festival, which usurped its status as an autumn launchpad for awards contenders.
Berlin had been launched in 1951, at the height of the Cold War. Oscar Martay, a film advisor to the US State Department, had lobbied for the creation of the festival on the grounds that it could be a useful propaganda tool. Berlin eventually established its own film bazaar, the European Film Market, but this was a relatively small event.
By the early 1980s, alongside Cannes, other key stops for distributors seeking to buy movies were the American Film Market in LA, started in 1981, and MIFED in Milan.
Going global
As designated by the International Federation of Film Producers' Association (FIAPF), Cannes, Venice and Berlin were the A-status events.
Yet there were also plenty of other festivals, some of them with very long histories. Events like Annecy (for animation), San Sebastian, Moscow, Karlovy Vary, London, Edinburgh, Locarno and New York had very high profiles, and younger festivals were beginning to spring up both in Europe and the US; including Sundance, which first took place in 1978.
What was beginning to change was that all these events, old and new, began to reach out to the industry as well as to the public and critics. Many had previously scorned the work of the buyers and sellers; they were celebrations of the art of cinema, and didn't want their reputations tarnished by the hustlers.
International Film Festival Rotterdam broke new ground by establishing the CineMart in the mid 1980s. This was "a gigantic workshop where filmmakers would find the right kind of potential partners," as Marco Muller, briefly festival director in Rotterdam, called it.
CineMart started as a 'regular' market, but was quickly remodelled as the very first co-production bazaar. The idea was that producers with projects could meet sales agents, distributors and potential financiers, and secure the funds to make their films.
Some notable festival hits have come through CineMart, among them Breaking The Waves, The Magdalene Sisters and The Lobster. Since then, co-production events were also set up at many other festivals, among them Berlin, Sarajevo and Busan.
Part of the process
Additionally, festivals were becoming involved in production and distribution initiatives.
Rotterdam had its Hubert Bals Fund, which supported film-makers in developing countries. New cash-rich Middle Eastern festivals such as Dubai (launched in 2004) and Abu Dhabi (2007) offered generous prizes to festival winners while also staging their own industry events, often run by seasoned European and US industry veterans.
While the 2002 founding of the Tribeca Film Festival was a direct response to the events of September 11, 2001, in the wake of the attacks US execs were unwilling to travel to MIFED in Milan, weakening the event to such an extent that it closed in 2003.
Meanwhile, the American Film Market shifted its dates, moving from a post-Berlin February slot to one in mid November. That opened up a new space for the European Film Market in Berlin, which began to grow very rapidly in size — and at which the major film trade papers all began to publish dailies, just as they did in Cannes.
It's a commonplace observation that there is now at least one film festival for each day of the year, yet few have a significant industry profile. Cannes is still "the big hard-selling festival" as Vaines calls it.
The others often act as de facto distributors, enabling local audiences to see films which would not otherwise be released in their territories. (Sales agents sometimes grumble, though, that if a foreign art-house movie is screened half a dozen times in big cinemas at a festival in a small country, that will deter buyers from acquiring it on the grounds that too many people have already watched it.)
Festivals in demand?
One question on which opinion remains split is whether the ongoing digital revolution is boosting festivals or undermining them. VoD giants such as Netflix and Amazon have been on a charm offensive to convince the major European festivals of their good intentions toward the film industry.
Netflix Chief Content Officer Ted Sarandos gave a lengthy Q&A at Cannes this year and one of Netflix's most high-profile film acquisitions, Beasts Of No Nation, screened in competition at Venice.
In the VoD era, when buyers can be sent links of the latest films and gauge public opinion by social media activity as well as by the number of fans outside the screening theatres, some have questioned whether the industry needs to attend festivals at all.
In his capacity as a producer, Vaines challenges this viewpoint. As he observes, a film will always have more impact when it is seen with an audience at a festival. He also points out the continuing value of festivals for networking.
"The most important ones are Venice, Cannes, Berlin and Toronto. Those four festivals give you a great way of setting up a film and getting it out there," Vaines states. "Nothing beats screening a film to several people at once, where you get some sense of competition. It's a different experience. The problem with the digital side of it is that it is very convenient because we can send out the links, but most people will watch it on a laptop and will be doing something else at the same time. I don't think you can ever really beat the experience of screening a film at a festival."