Dir: Ridley Scott. US. 2013. 117mins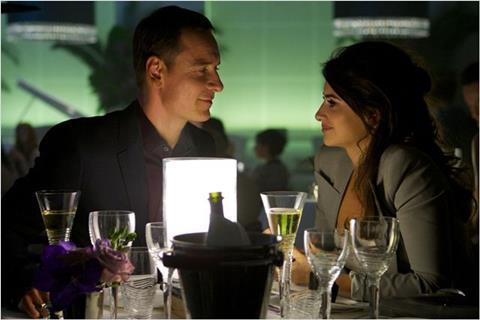 Weary tough-guy poetry executed with considerable intelligence and style, The Counselor is a moody thriller in which what happens is far less important than how it happens. Working from a screenplay by decorated novelist Cormac McCarthy (the author of No Country For Old Men and The Road), the latest from director Ridley Scott manages to have it both ways, succeeding as a nervy meditation on greed and fate while at the same time flaunting a slightly campy, showboating energy that always keeps the proceedings lively.
It is one of Fassbender's least showy performances, but he's equal to the task, suggesting the man's darker impulses behind those bewitching eyes and alluring smile.
Opening October 25 in the States before expanding overseas throughout November, The Counselor boasts star power in the form of Michael Fassbender, Penélope Cruz, Cameron Diaz, Javier Bardem and Brad Pitt, but this decidedly idiosyncratic film eschews easy categorisation, which may dampen theatrical prospects. Featuring some disturbing violence and a measured pace, The Counselor will cater to adult audiences and may not deliver gaudy opening-weekend numbers, hoping for good word-of-mouth to compensate for a lack of sizzle. Strong but not stellar reviews should help some in that regard.
Set mostly in Texas, The Counselor stars Fassbender as an unnamed defence lawyer. (Everyone in the film simply refers to him as Counselor.) Recently engaged to the beautiful Laura (Cruz), who doesn't know much about his work, he's in need of a cash infusion and so he decides to go in on a lucrative onetime drug-trafficking deal with two shady associates: a nightclub owner named Reiner (Bardem) and a cartel liaison known as Westray (Pitt).
On its simplest level, The Counselor is yet another story about the repercussions of an illicit get-rich-quick scheme that goes wrong. But after the sci-fi spectacle of Prometheus and the lumbering action of Robin Hood, Scott pleasingly works in a nastier, loopier, more minor key here, giving us a world of overly colourful characters who periodically step out of the plot to deliver sober soliloquies about evil, greed, love, gender or other weighty themes.
Their dialogue comes from McCarthy, who with The Counselor has written his first original screenplay, and much of the film's pleasure derives from his trademark terse language emanating from the mouths of these disreputable characters. With Laura the only real innocent in the group, The Counselor gets a lot of mileage out of its casual, entertaining depiction of this particular criminal underworld.
Drawing comparisons to recent films such as The Limits Of Control and Killing Them Softly, The Counselor is a deliberate exercise in studied cool in which recognisable genre tropes are subverted or toyed with, the storytelling focusing more on atmosphere than narrative mechanics. The Counselor risks being derailed by its self-indulgent flamboyance. (This is the sort of film where characters wear loud outfits, sport outrageous hairdos or possess bizarre quirks just because.) But the advantage to this off-kilter approach is that it juices the film's unwavering sense of menace, adding an unpredictable edge that makes it hard to guess where the story might go next.
And yet, despite The Counselor's reams of talk, this remains a steely thriller — and a rather sneaky one. With a magician's sleight of hand, Scott distracts us with his pungent characters' seemingly meandering conversations and obsessions so that he can slowly lay the foundation for an intricate series of twists and reckonings that eventually begin to take hold of the plot.
For a movie in which not much seems to be happening, The Counselor is surprisingly tense as the men's scheme goes awry and deadly forces start to surround them. Though the film isn't action-packed, Scott ensures that the story's suspense sequences deliver, staging these scenes with a blunt simplicity that complements McCarthy's spare dialogue and unromantic view of these luckless characters.
Fassbender's rising stardom has come thanks to stark portrayals of men in crisis (Shame, Hunger), sturdy work in blockbusters (X-Men: First Class) and adventurous, sometimes ostentatious performances (Prometheus, 12 Years A Slave). His role as the unnamed counsellor is different, forcing him to be more insular and mysterious than normal. McCarthy and Scott intentionally leave this sharp-dressed, unflappable character somewhat opaque, the reasons for his decision to get involved in this foolish scheme never fully explained.
Consequently, it is one of Fassbender's least showy performances, but he's equal to the task, suggesting the man's darker impulses behind those bewitching eyes and alluring smile. At the same time, the counselor's gradual recognition of what he's done—and what he might lose—is handled deftly, Fassbender slowly breaking apart as the film reaches its conclusion.
In comparison to Fassbender's reserved turn, the other leads are more demonstrative, particularly Diaz as Reiner's libidinous, potentially dangerous girlfriend Malkina. Decked out with dark mascara and a gold tooth, Malkina never really transcends a certain movie-movie artificiality, and Diaz doesn't always have the killer instinct to make this nightmare vamp as delicious fun as she should be. But as a counterbalance to the moral seriousness at play elsewhere in The Counselor, she's a welcome bit of comic relief—a sly wink to the audience that acknowledges the pulp pleasures underlining this ostensibly solemn character study.
Production companies: Fox 2000, Scott Free, Nick Wechsler Productions, Chockstone Pictures
US distribution: Twentieth Century Fox, www.foxmovies.com
Producers: Ridley Scott, Nick Wechsler, Steve Schwartz, Paula Mae Schwartz
Executive producers: Cormac McCarthy, Mark Huffam, Michael Schaeffer, Michael Costigan
Screenplay: Cormac McCarthy
Cinematography: Dariuz Wolski
Editor: Pietro Scalia
Production design: Arthur Max
Music: Daniel Pemberton
Website: www.thecounselormovie.com
Main cast: Michael Fassbender, Penélope Cruz, Cameron Diaz, Javier Bardem, Brad Pitt