Julie Taymor's unconventional but effective Gloria Steinem biopic stars four actresses in the lead role, including Alicia Vikander and Julianne Moore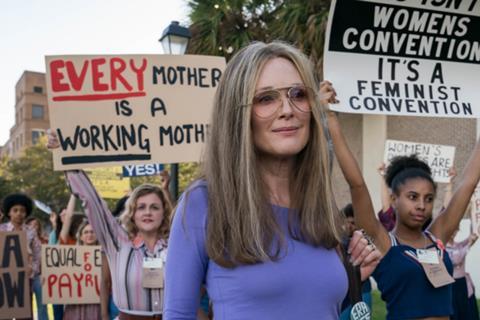 Dir: Julie Taymor. US. 2020. 145mins
Julie Taymor has said that she wanted her Gloria Steinem biopic to eschew the feminist writer's imposing cultural status in order to focus on her flesh-and-blood humanness. What's most pleasing about The Glorias is that the director actually gets to have it both ways, presenting Steinem as a complex woman coming into her own but also as a symbol of something larger than herself. Dramatising Steinem's life during different periods, and with different actresses, Taymor has crafted an exceedingly thoughtful portrait of a leader and the women's movement she championed.
Impassioned but never preachy, The Glorias makes the case that Steinem's fight is far from over
This Sundance premiere boasts the star power of Oscar-winners Julianne Moore and Alicia Vikander, and in the age of the global Women's March, The Glorias' feminist message couldn't be more timely. Turning 86 in March, Steinem remains a towering, controversial figure, and a film based on her memoir will surely spur interest.
There are actually four Gloria Steinems that we meet in the film as it crosscuts between eras: Ryan Kiera Armstrong plays her as a girl, Lulu Wilson as a teen, Vikander in her young adulthood, and Moore in middle age. In her 20s, Steinem (Vikander) wants to be a writer, but because she's a woman — and attractive — she finds that she's not taken seriously. Undaunted, she works to raise awareness for women's issues, including passage of the Equal Rights Amendment.
Taymor (Frida, The Tempest) is a strong visual stylist, sometimes at the expense of her storytelling. But while The Glorias does have its fanciful interludes, which are some of the film's least-successful elements, the screenplay (which she co-wrote) is a relatively straightforward retelling — except in one crucial regard. The choice to use different actors to portray the legendary activist will no doubt draw comparisons to I'm Not There, Todd Haynes' similarly experimental Bob Dylan project, but in The Glorias, the technique feels less like a bold conceptual gambit than a prudent way to encompass so many of Steinem's different phases.
The two most prominent eras are played by Vikander and Moore, who wisely resist the urge to make Steinem larger than life. Before Steinem can be a spokesperson for a movement, she has to learn how to conquer her fear of public speaking, and Vikander delightfully plays a cocky writer who is spoiling to be heard but not quite composed enough to become a leader. Vikander guides us through defining moments in Steinem's early life — her decision to have an abortion, her initial resistance to a patriarchal order that constantly reduces her to her looks. We see the activist's insecurity and ambition, paired with a desire to see the world and change it.
When The Glorias passes the baton to Moore, Steinem is now more of a national figure, and the veteran star is regal without a whiff of self-satisfaction. Challenging the male-driven publishing industry with her feminist magazine Ms. or becoming fierier in her public condemnation of sexism, this Steinem is more at ease as a role model, and yet Moore still shows the vulnerability under that confidence. (Although Steinem famously shot down male interviewers who asked why she didn't get married, The Glorias details the loneliness that her endless activism brought her.)
Occasionally, Taymor unites these different Steinems on a mysterious bus driving down the highway, each Gloria asking the others about their shared existence. In other hands, this could have been pretentious, but in The Glorias it emphasises Taymor's central point, which is that Gloria Steinem didn't just become "Gloria Steinem" — she, like all of us, is an amalgam of the seasons of our life, each one informing the other. (By comparison, when the movie tries to offer visual representations of Steinem's despair or anger, such as a scene with a reporter that morphs into a surreal Wizard Of Oz, the effect feels precious and showy.)
Among the supporting cast, Lorraine Toussaint is excellent company as Florynce Kennedy, an African-American lawyer who helped educate Steinem on the plight of black women, while Bette Midler has a blast playing the unapologetic activist Bella Abzug, who teaches our main character how to grow a thick skin when fighting for her beliefs. Impassioned but never preachy, The Glorias makes the case that Steinem's fight is far from over.
Production company: Page Fifty-Four Pictures
US sales: Endeavor Content, cslager@endeavorcontent.com/International sales: FilmNation, nyoffice@filmnation.com
Producers: Alex Saks, Julie Taymor, Lynn Hendee
Screenplay: Julie Taymor and Sarah Ruhl, based on the book My Life on the Road by Gloria Steinem
Production design: Kim Jennings
Editing: Sabine Hoffman
Cinematography: Rodrigo Prieto
Music: Elliot Goldenthal
Main cast: Julianne Moore, Alicia Vikander, Timothy Hutton, Lulu Wilson, Lorraine Toussaint, Enid Graham, Ryan Kiera Armstrong, Janelle Monae, Bette Midler