The Hangover Part II scores the biggest opening for a comedy in the UK since Toy Story 3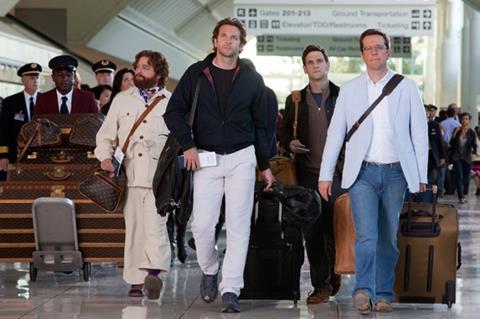 The Hangover Part II saw double digits at the UK box office, taking an impressive £10.4m from 469 screens at a brilliant £22,194 average, the highest among UK films since Harry Potter And The Deathly Hallow: Part One last November (£30,823).
Warner Bros.' sequel easily eclipsed the first film's opening of £3.2m in June 2009 at an average of £7,568. The Hangover went on on to gross a resounding £21m, and will likely be toppled by its successor, but the less than favourable reviews could slow up the second episode.
The film's take included £2m from 471 previews.
Disney's Pirates of The Caribbean: On Stranger Tides dropped 59% in its second week, making £4.8m from 567 screens at an average of £8,390. While it is already the tenth biggest film in the UK over the last 52 weeks, and was always going to see a significant drop off against The Hangover Part II's debut, the film has taken £10m less than its predecessor after two weeks.
Fox's third-placed Diary Of A Wimpy Kid, the only other top ten entry, made it a franchise 1,2,3 at the head of the UK market, scooping £1.5m from 444 screens, double the first film's take last year. However, the film's box office included £380,414 from 446 previews.
Optimum's ninth-placed Attack The Block dropped 60% week-on-week in its third week taking £142,919, while Lionsgate's 11th-placed Blitz fell 70%, managing only £79,565.
New Wave's Le Quattro Volte debuted on £36,205 on only 15 screens at an average of £2,414, the week's fourth best, while Optimum's Apocalypse Now re-release took £19,066.
Fox's X-Men: First Class is this week's only saturation release, while there are wide distributions for Disney's Prom, Optimum's Last Night and Omniverse's JLS concert doc Eyes Wide Open 3D.