Dir: Tommy Lee Jones. US. 2014. 122mins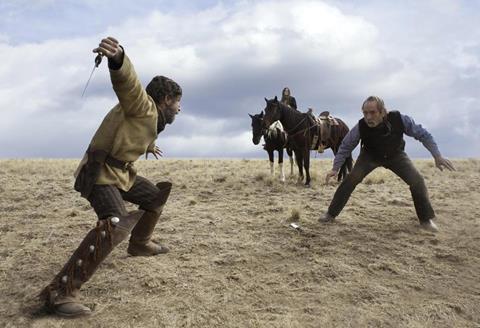 Eschewing the romance and adventure of the old West, The Homesman paints a poignant picture of an era that crushed the spirit and chipped away at the souls of those who barely endured through the harshest conditions. Time is marked in children lost, crops that fail and bitter winters that steal the sanity of your nearest and dearest.
The Homesman opts for a less conventional, less sentimental narrative that shows how everyone is marked by the West.
By concentrating on the vast human toll of those pioneer days, Tommy Lee Jones has created a beautifully crafted, heartbreaker of a tale that will find a ready welcome among older audience attracted by the unusual subject matter and the classical, unfussy elegance of the storytelling. The Homesman should easily match and exceed the commercial success of Jones previous theatrical directorial outing The Three Burials Of Melquiades Estrada.
After Clint Eastwood's farewell to the genre in Unforgiven, Tommy Lee Jones is among a handful of actor/directors (Kevin Costner, Robert Duvall etc) who still believe in the western and have the clout to make films in that genre. His faith is well rewarded in The Homesman, a film that is beautifully crafted in all departments and is especially noteworthy for the cinematography of Rodrigo Pietro who captures a sense of vast desolate plains, dusted by snow, bathed in bleak sunlight and devoid of a human presence as far as the eye can see. No wonder early settlers felt dwarfed and defeated by the land.
The Homesman is based on a 1988 novel by Glendon Swarthout, who also wrote The Shootist which became a touching swansong for John Wayne in 1976. You could almost imagine Wayne playing Jones role of George Briggs, a grizzled, curmudgeonly rascal saved from a hangman's noose in return for accompanying a group of women from Nebraska to Iowa.
His saviour is God-fearing Mary Bee Cuddy (Hilary Swank), a solitary woman with a good heart who is described as " as plain as a tin pail". She has taken responsibility for transporting three women (played by Miranda Otto, Grace Gummer and Sonja Richter) whose harrowing experiences of death, loss and failure have tipped them towards insanity.
The set-up could well suggest a tale in the tradition of The African Queen or True Grit where a booze-sodden reprobate finds redemption through his association with a virtuous woman. The Homesman opts for a less conventional, less sentimental narrative that shows how everyone is marked by the West. Even the able, forthright Mary Bee is desperately lonely. She makes two eager marriage proposals in the course of the film and both are humiliatingly rejected.
Hilary Swank invests her with a determination and decency that never descends into caricature. Jones is equally commendable for refusing to play Briggs in a broader register that might have made him a larger than life presence. He is taciturn and flinty as we might expect from this actor but there are enough moments of quiet humour and compassion to reveal his flawed, weary humanity.
Lyrical and touching with nicely-etched moments from a supporting cast that includes John Lithgow and Meryl Streep, The Homesman also contains one unexpected development that further underlines the tragic lives of the men and women who tamed the West.
Production companies: Javelina Film Company, Ithaca Films
Producers: Peter Brand, Brian Kennedy, Luc Besson
Executive producers: Deborah Dobson Bach, G. Hughes Abell, Richard Romero
International sales: EuropaCorp, www.europacorp.com
Screenplay: Tommy Lee Jones, Keiran Fitzgerald, Wesley Oliver based on the novel by Glendon Swarthout
Cinematography: Rodrigo Prieto
Editor: Roberto Silvi
Production designer: Merideth Boswell
Music: Marco Beltrami
Main cast: Tommy Lee Jones, Hilary Swank, Hailee Steinfeld, Meryl Streep, James Spader