Dir: Ariel Vromen. US. 2012. 97mins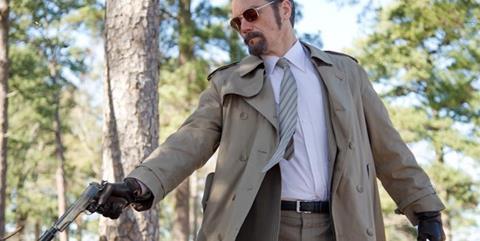 Family man, stone-cold contract killer and facial hair aficionado, the real life story of Richard Kuklinski, who is thought to have murdered more than 100 people before finally being caught by police in 1986, is a grim, gripping, brooding and impressively performed film with a wonderful sense of time and location. The Iceman's unrelentingly dark tone makes it a tough watch, but it acts as a powerful accompaniment to the likes of The Sopranos as it details the brutal mob world.
Real kudos should go to cinematographer Bobby Bukowski for his powerful work, working wonderfully in tandem with production designer Nathan Amondson and costumer Donna Zakowska.
With Michael Shannon totally watchable – like a hulking monster on a vicious mission – the film solidifies his reputation as one of the most interesting actors around, though the real strength of the film comes with strong support performances from the likes of Winona Ryder, Ray Liotta, David Schwimmer and Chris Evans. The film premiered at the Venice Film Festival.
But what makes Richard Kuklinski so interesting is his fanatical devotion to his wife Deborah (Ryder) and their two daughters as he steadfastly sustains a double life as mob killer and family man. With them he genial and tender, but when he heads off to the day job he is cold-blooded and brutal…though does draw the line at killing women and children.
Directed with great control and period sense by Ariel Vromen the story is told in straight-forward fashion, though sets the tone at the start as it opens with a fumbling and mumbling Richard out on his first date with Deborah (Ryder in impressive form) in 1964, before cutting to a scene of him killing – brutally and efficiently – a man who makes crude comments about her.
From there on, the film charts the twin journeys of his family life and his work as a killer. Polish-American, and with a tough past – hinted at in one flashback – he initially convinces Deborah he works dubbing Disney animation, when in fact he bootlegs porn films. Gangster Roy Demeo (Liotta, nicely steely and certainly one of his best recent roles) sees the darkness in him, and recruits him to 'send messages'…this quickly translates to killings.
With Kuklinski – or Ritchie as he is called – making good money all is well on the family front, with two daughter and a nice suburban house and with him telling Deborah he works in finance and she happily believing him. Problems come when Demeo's track-suited sidekick Josh Rosenthal (a chunky David Schwimmer with a moustache and ponytail) causes Mob problems and Demeo has to close down operations…leaving Ritchie unemployed.
In a darkly amusing twist Ritchie ends up teaming with another contract killer dubbed Mr Freezy – because he drives around in an ice-cream van, and favours freezing his victims before cutting up the bodies and dumping them – played engagingly by grungily long-haired Chris Evans (in a role about as far from his Captain America part as one could imagine).
But when Demeo finds out Ritchie is working without his okay things get heavy, with Demeo threatening Ritchie's family and Ritchie having to try and work out – brain power is not his major skill – a murderous way out of the dangerous situation he finds himself in.
Real kudos should go to cinematographer Bobby Bukowski for his powerful work, working wonderfully in tandem with production designer Nathan Amondson and costumer Donna Zakowska, who between them do a fantastic job in charting a dark journey (there is never really any sunshine here) through New York from the 1960s to the mid '80s. If there is one moment of dark humour, it comes from the sight of the hulking Ritchie striding forth in 1970s trendy stacked heels.
In addition, it is fascinating to the variations in Ritchie's facial hair over the time period, though in truth these facial quirks help Shannon develop his character. In some ways he has little to work on – Ritchie is so cold and often emotionless it is easy to see why he is called The Iceman – but the clothes and facial hair help the character alter as the film draws on.
There are brief cameos from Stephen Dorff and James Franco, though while nicely performed they add little to the film. And while Shannon and Ryder are terrific, the real strength of the film comes from veteran performers Ray Liotta and Robert Davi who have both spent many years playing mob men, but here seem to be at the top of their game.
There is never a point where Richard Kuklinski slips into being an anti-hero – this man is a vicious killer – but Michael Shannon manages to always keep him interesting, and in The Iceman it is the scenes of family life that are most compelling rather than the regular killings, as this brooding monster tries to juggle the darkest of twin existences.
Production companies: Ehud Bleiberg, Millennium Films
International sales: Millennium Films, www.millenniumfilms.com
Producers: Ehud Bleiberg, Avi Lerner, Ariel Vromen
Executive producers: Danny Dimbort, Trevor Short, Boaz Davidson, Mark Gill, Lati Grobman, Laura Rister, Rene Besson, John Thompson
Screenplay: Morgan Land & Ariel Vronen, based on the book The Iceman: The True Stoory of a Cold Blooded Killer and the documentary The Iceman Tapes: Conversations With a Killer by James Thebaut
Editor: Danny Rafic
Production designer: Nathan Amondson
Music: Haim Mazar
Main cast: Michael Shannon, Winona Ryder, Chris Evans, Ray Liotta, James Franco, David Schwimmer, Robert Davi, Danny Abeckaser, Stephen Dorff, John Ventimiglia