Dir: Morten Tyldum. US-UK. 2014. 114mins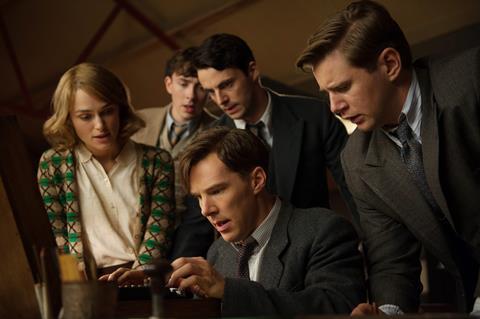 Coolly intelligent with a dry wit to match, The Imitation Game tells its story with a minimum of fuss, an approach that's appropriate for the temperament of its main character. Less a biopic than an old-fashioned World War II drama without the combat, the film recounts how brilliant, aloof mathematician Alan Turing helped crack the Nazis' coded communications, which was a key moment along the way to an Allied victory. Featuring a fleet of strong performances, particularly from Benedict Cumberbatch, The Imitation Game isn't exactly scintillating, but its slow-burn suspense is plenty pleasurable.
Unquestionably, The Imitation Game has a tasteful reserve that can sometimes make the story feel like it's been encased in amber. As a result, it's a movie that's more cerebral than exhilarating,
After playing in Telluride and Toronto, The Imitation Game will throw itself into the awards race, opening November 21 in the US. When it comes to Oscar voters, the Weinstein Company will probably push Cumberbatch's starring turn, but commercially co-star Keira Knightley may be as important. Lack of awareness in the States for Turing's contributions to British history may keep grosses small, which is why Weinstein will need strong reviews to raise the movie's profile.
The film intercuts between three time periods, showing Turing at school as a lad, during World War II, and then in 1951. The most crucial of these periods is the span of years during World War II when Turing is working for the British government to crack Enigma, Germany's sophisticated military code machine that many think is unbreakable. If Turing and his team can decipher the Nazis' secret communications, then there's a chance that Hitler's forces can be stopped.
Based on Andrew Hodges' biography Alan Turing: The Enigma, The Imitation Game goes a long way on Turing's awkward charm. Haughty but passionate, Turing isn't that far removed from another character Cumberbatch plays, Sherlock Holmes. But Turing is hiding deep childhood trauma, which explains the flashbacks to 1927: In these glimpses from boarding school, we'll see what made him so withdrawn and why he chooses to name his code-breaking machine Christopher.
Turing isn't working alone against the Nazis, however. He's paired with, among others, a cocky chess champion (Hugh Alexander, played by a suave, tart Matthew Goode) and a beautiful local woman (Joan Clarke, played by Knightley) who shocks the men with her quick mind. (When she first joins the team, some assume she must be in the wrong place: Secretaries are located in another building.)
As directed by Morten Tyldum, who previously made the bloody crime thriller Headhunters, The Imitation Game focuses much of its time on Turing's trial-and-error process of figuring out how to defeat Enigma — if an answer can even be found, of course. But screenwriter Graham Moore keeps the plot from drowning in tech-talk or static scenes of people in rooms thinking: The banter between these mismatched individuals is often quite clever without feeling overly scripted.
Even better is the unlikely courtship between Turing and Joan. A product of an era in which unmarried women in their 20s were considered old maids, Joan is feeling pressure from her parents to find a mate. Turing volunteers for the job of husband. However, this isn't because he's in love with her — he's a closeted homosexual — but because he values her intellect and inquisitiveness. It wouldn't be accurate to describe what Cumberbatch and Knightley have as a "rapport" — their characters are too peculiar and obstinate to share anything so warm. But their pairing makes for an amusing, off-kilter centre to the film.
In countless roles, Cumberbatch has proved to be a master of portraying slightly odd, powerfully intelligent individuals, so even if his Turing isn't particularly novel, he flashes his considerable skill yet again. And he's adept at conveying Turing's brittle emotional state, that sense that his intimidating intellect is his way of shielding his intimacy issues. (Later after the war, that fragility will become more pronounced as his life starts unravelling in painful fashion.)
Unquestionably, The Imitation Game has a tasteful reserve that can sometimes make the story feel like it's been encased in amber. (Oscar Faura's cinematography is a rich canvas of greys and browns.) As a result, it's a movie that's more cerebral than exhilarating, Turing's quest to crack Enigma exuding a puzzle-solving appeal. But once Turing is victorious, the movie falters in its final act while trying to tie up the man's life in dramatically satisfying fashion. The Imitation Game is most lively when the genius is in his element, quickly scribbling equations or quietly thinking off by himself — but the filmmakers' attempt to "explain" the genius through a Rosebud-like symbol is less persuasive. The mystery of Turing's inner life is too complex to crack.
Production companies: Black Bear Pictures, Bristol Automotive, FilmNation
US distribution: The Weinstein Company, http://weinsteinco.com/
Producers: Nora Grossman, Ido Ostrowsky, Teddy Schwarzman
Executive producer: Graham Moore
Screenplay: Graham Moore, based on the book Alan Turing: The Enigma by Andrew Hodges
Cinematography: Oscar Faura
Production designer: Maria Djurkovic
Editor: William Goldenberg
Music: Alexandra Desplat
Website: http://theimitationgamemovie.com/
Main cast: Benedict Cumberbatch, Keira Knightley, Matthew Goode, Rory Kinnear, Allen Leech, Matthew Beard, Charles Dance, Mark Strong