JUNE 19 UPDATE: Universal's 'Dark Universe' release rules international on $53m; Pirates Of The Caribbean 5 hits $500m international.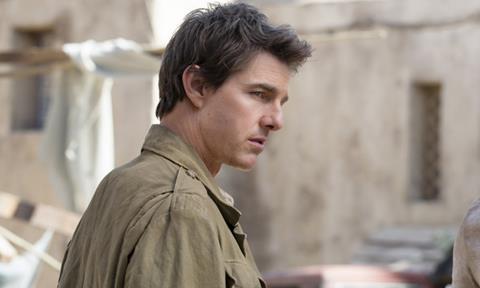 UNIVERSAL PICTURES INTERNATIONAL
UPDATED: The Mummy held on to top spot at the international box office for the second weekend as a confirmed $50.6m from 65 territories boosted the running total to $236.8m. Combined with $57.1m from North America, the studio's first 'Dark Universe' release stands at $293.9m worldwide.
Despite a superior performance at the international box office, the film's dismal North America run makes break-even a tall order given the stated $125m production cost that excludes marketing spend.
The horror reboot debuted in five territories, led by France on a soft $3m number one result. China led the holdovers in second place on $11.1m for an $81.1m running total, followed by South Korea on $4.3m for first place and a $24.1m tally.
Elsewhere, Russia generated $2.9m for $13.4m, Germany $1.7m for $4.8m, the UK $1.5m for $7.8m, Brazil $3.5m powered by last Thursday's Corpus Christi holiday for $9.3m, and Mexico $2.2m for $9.3m.
Illumination's Despicable Me 3 launched ahead of the North American release in Australia, Malaysia, the Philippines, Singapore and Thailand, arriving at number one in each for a combined $9.9m from 686 venues.
The family release debuted in Australia on Thursday and rounded out the weekend on $4.5m, roughly 17% ahead of the opening of Despicable Me 2 on the same date four years ago and 1.2% below Minions exactly two years ago.
The Philippines produced $1.9m for the fourth biggest animated opening of all time behind Minions, Despicable Me 2 and Finding Dory, while Singapore $1.5m for the biggest animation opening of the year-to-date. Malaysia generated Malaysia generated $1.1m, and Thailand $859,000 in the third-biggest animated opening of all time behind Minions and Finding Nemo.
Despicable Me 3 debuts in India this week and arrives in 46 territories on the June 30 weekend including North America, followed by China on July 7.
Get Out stands at $75.7m and the last two territories to open will be Bulgaria on July 7 and Japan on October 27.
The Fate Of The Furious ranks as the sixth biggest international release in history on $1.013bn and stands at $1.238bn worldwide. China is the top market on $392.1m where the action film remains the highest-grossing foreign film ever.
WARNER BROS PICTURES INTERNATIONAL
UPDATED: Wonder Woman brought in a further $40.3m from 62 markets to reach $298.4m. The film stayed top in a number of markets including the UK on $2.4m for a $20.7m running total after three weekends, and Brazil on $5.4m for $23.3m after three. Germany delivered a $3.2m debut including previews.
Wonder Woman has overtaken the international lifetime total of The Wolverine, Thor, and Iron Man.
King Arthur added $1.8m from 49 territories to stand at $99.3m and has grossed $12.3m in Russia, $8.3m in China, and $6.3m in the UK. Everything, Everything has reached $4.8m.
FOX INTERNATIONAL
UPDATED: Alien: Covenant surged to $140.8m thanks to a sturdy $29m weekend haul from 43 markets. Ridley Scott's sci-fi debuted top in China on $28.3m, of which $3m came from 403 IMAX screens. The film opens in Japan on September 15.
Captain Underpants: The First Epic Movie added $1.2m from nine for an early $4.7m. The Boss Baby stands at $318.7m, Snatched $12m, and Diary Of A Wimpy Kid: The Long Haul $9.6m. My Cousin Rachel starring Rachel Weisz has amassed $1.9m in the UK and $2.6m including Australia.
WALT DISNEY STUDIOS MOTION PICTURES INTERNATIONAL
UPDATED: Pixar's Cars 3 shot out of the gates in 23 international markets for $21.3m overall, combining with the $53.7m North American launch for an early $75m global haul.
The family film secured pole position in most of its markets, grossing $5.8m in Mexico, $5m in Russia, $1.5m in Poland, $1.3m in Panama, and $1m in Colombia. Box office from 23 active markets tracked 9% ahead of the same footprint for Cars 2 and 29% ahead of Cars.
Cars 3 arrives in New Zealand this week, followed by Brazil and South Korea on July 13, the UK and Spain on July 14, Japan on July 15, France on August 2, and Italy on September 28.
Pirates Of The Caribbean: Dead Men Tell No Tales reached $500m in international box office this weekend and in the process became the 21st Walt Disney Studios film to achieve the feat.
The adventure now ranks as the third biggest international release of 2017 so far after adding approximately $19m for $500.7m, with China the lead market on $169.4m. The global haul stands at $651.3m.
Guardians Of The Galaxy Vol. 2 added an estimated $1.2m for $469.5m China is the lead market on $99.3m, followed by the UK on $52.5m and Germany on $29.6m. The worldwide tally stands at $844.4m.
PARAMOUNT PICTURES INTERNATIONAL
Baywatch grossed $13.2m from 50 for $64.4m. The action comedy arrived in 16 new markets left by a number two debut in Mexico on $2.4m for a record B15 comedy launch that dethroned The Hangover. The Brazilian debut generated $1.3m.
In the third session, Germany produced $2m for $11.8m, Australia $761,000 for $6.5m, and the UK $716,00 for $10.4m.
SONY PICTURES RELEASING INTERNATIONAL
UPDATED: Scarlett Johansson comedy Rough Night grossed $4.2m from its first 16 markets day-and-date with North America. Roll-out will continue throughout the summer.
VOLTAGE PICTURES
UPDATED: All Eyez On Me, the Tupac Shakur biopic that scored a terrific number three debut in North American at the weekend, grossed $4.1m from 15 markets.
Australia led the way through Village Roadshow on $1.4m, followed by Germany via Constantin Films on $1.1m. Canada generated $419,853 through VVS, while the Netherlands produced $286,067 through Dutch Filmworks, Sweden produced $248,038 through Svensk, and New Zealand delivered $206,539 via Village Roadshow.
The film opens this week in Portugal and Norway and arrives in the UK through Lionsgate on June 30.