Dir: David Robert Mitchell. US. 2009. 93mins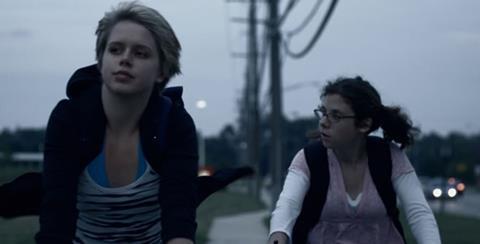 Few US indie films since Michael Lehmann's Heathers (1988) have shown the originality of The Myth of the American Sleepover, David Robert Mitchell's poignant debut feature. Unlike Heathers, it's not satirical, and the director does not adhere to the conventional linear story arc, with alternating high and low dramatic points.
The movie has the potential to catch on with both younger and older audiences, the latter finding the truth of teen angst and delight in their memory banks.
Mitchell loosely structures the film like interlocked concentric circles (he has said his idea of narrative is more European than American), which pivot on four high school and college age teens in a cocooned suburban milieu who pass through what might seem like minor ups and downs to an adult viewer, but in fact are major to the youths, caught as they are between the conflicting urges of sex, belonging, and achieving.
Though lacking recognisable names, the actors deliver excellent and credible performances — an achievement recognised when The Myth won Best Ensemble at the South by Southwest festival, where it had its world premiere in March. It screens in Critics Week in Cannes.
Coupled with Mitchell's confident, stylish but unobtrusive direction, the movie has the potential to catch on with both younger and older audiences, the latter finding the truth of teen angst and delight in their memory banks. It should do well for an American independent film in foreign territories, especially in English-language markets, infatuated as many foreigners are with stateside suburbia. Once it finds a distributor, and with the help of critics, it should find a decent audience in the home market.
The action takes place at the end of summer, just before the school year begins. Several sleepovers are held, mostly in students' homes, and, except for some unexpected visits — some welcome, some not — are segregated by gender. Pretty Maggie (Sloma, the discovery here and a strong candidate for future stardom), younger than most and therefore of low rank in the hierarchy based on school level, is one of the only students to pass on the overnights.
She is preoccupied with flirting with Steven, a cynical poolboy (Diedrich), biking with her friend Beth (DeNoyer), and dancing, both in a school marching group and, in party mode before it gets rained out.
Handsome Rob (Morton) attends the "guy" sleepover, but he is too obsessed with a pretty blonde he eyed that afternoon at the supermarket to enjoy himself. As self-absorbed as most teens are, he is completely oblivious to the crush his friend Marcus (McCallum) has on him. Attractive Claudia (Bauer) is the newcomer, invited at the last minute to the cool girls' sleepover, who discovers the jealousy and spite not only of the others (she has a sexy boyfriend) but also within herself.
The fourth principal character is Scott (Jacobsen), a college junior who returns to the safety of this world, in part to recover some sort of relationship he had several years before with a set of twins, Ady and Anna Abbey (Nikita and Jade Ramsey), who enjoy teasing him. Not without its good moments, this section is the weakest of the four, perhaps because Scott is so removed from this insular universe that the viewer is pulled out of it. Altogether, though, the back-and-forth cutting between the youngsters is excellent — not surprising, since Mitchell is an experienced editor.


Production company: Roman Spring Pictures
International sale: Visit Films, +1 718 312-8210
Executive producer: Michael Ferris Gibson
Producer: Adele Romanski
Screenplay: David Robert Mitchell
Cinematography: James Laxton
Editor: Julio C. Perez IV
Production designer: Jeanine A. Nicholas
Music: Kyle Newmaster
Main cast: Claire Sloma, Marlon Morton, Amanda Bauer, Brett Jacobsen, Nikita Ramsey, Jade Ramsey, Annette DeNoyer, Wyatt McCallum, Mary Wardell, Doug Diedrich, Dane Jones