Dir: Michel Leclerc. France 2010. 95mins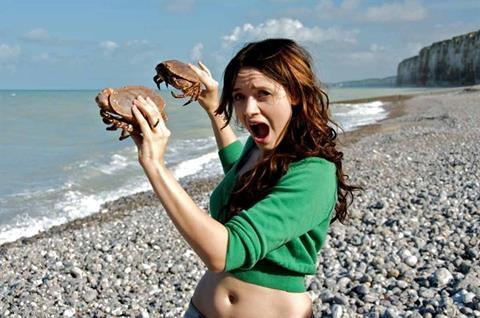 An oddball, pithy political romcom, The Names of Love has vigour, intelligence to spare, and a winning - if unlikely - romantic duo at its lead. It's also slapdash and often too cute for comfort, but it provides its share of spiky laughs and is certainly hard to dislike.
A boisterously ribald turn by comic ingénue Sara Forestier should provide domestic box-office vim.
This is a handcrafted affair, made stylishly and con amore by writer-scripter duo Michel Leclerc and Baya Kasmi. A boisterously ribald turn by comic ingénue Sara Forestier should provide domestic box-office vim. Specifically French political and cultural references – however topically box-fresh – will limit sales potential, but Francophile festivals in search of thinking person's feelgood material will be keen.

The story is an extended odd-bedfellows tale of middle-aged, cautious bird-flu expert Arthur Martin (Gamblin) and firebrand sexpot Bahia Benmahmoud (Forestier). They're both from racially and culturally mixed backgrounds… or as Bahia puts it, "This is so cool! The two of us embody France!"
He's the son of a white-bread Frenchman and a Jewish mother (Moretti) whose parents died in the Holocaust. Their son has ended up with the quintessentially French name Arthur Martin, which is also the name (cue many gags) of a leading electrical goods company.

The much younger Bahia, who shares her name with screenwriter Kasmi, is the daughter of an Algerian immigrant (Soualem) and a school-of-68 French radical (Franck, firing on all cylinders). Sexually abused by her piano teacher as a child (the thread the film handles least well), Bahia grows up extremely promiscuous, but has a policy of sleeping with reactionaries in order to convert them to the Left. After an initial spat with Arthur on a radio show, she attempts to seduce him, he politely resists, and the two fall in love.

Their romance is essentially a hanger for a plethora of satirical barbs about racial and cultural identity in France. Clever anti-realist tricks give the film an appealing cartoonish touch – episodes in which the characters speak with their childhood and teenage selves, and an Annie Hall-ish moment when Lionel Jospin (France's defeated Socialist presidential candidate in 2002) gamely drops in on the couple at home for a chat.

The film has a serious backbone, dealing with contemporary intolerance on France, both in the political mainstream and in Islam; what-the-hell flippancy allows it to lightly carry off such taboo topics as the veil. Backstories about Algeria and the Holocaust prove harder to handle, which is where the faintest edge of sentiment creeps in.

The film's upfront asset is Sara Forestier, revealed as a force of nature in Abdellatif Kechiche's L'Esquive in 2003, who here proves fearless as a comedienne. Forestier is game for anything, whether it's juggling crabs on a beach, or cheerfully flashing her breasts in repeated wardrobe malfunctions – although it's some stretch to believe Bahia is so ditzy that she doesn't even notice when she's naked on the Paris Metro.
If Forestier could only rein in the goofy 'ain't-I-nuts-though mugging, her star would really be on the rise. But ever-dependable Gamblin proves a real sport in going super low-key to offset the balance.

Production companies: Delante Films, Karé Productions
International sales: TF1 International, +33 (0)1 41 41 21 68
Screenplay: Baya Kasmi, Michel Leclerc
Producers: Caroline Adrian, Antoine Rein, Fabrice Goldstein
Cinematography: Vincent Mathias
Editor: Nathalie Hubert
Production designer :Jean-Marc Tran Tan Ba
Music: Jérôme Bensussan, David Euverte
Main Cast: Sara Forestier, Jacques Gamblin, Carole Franck, Zinedine Soualem, Michelle Moretti