Dir: Philip Groning. Germany. 2013. 172mins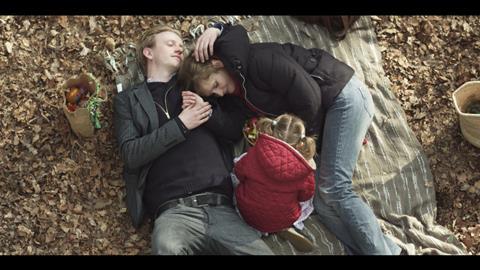 Philip Groning's first film since his award-winning Into The Great Silence (2005) - and a possible contender for the Golden Lion - The Police Officer's Wife (Die Frau des Polizisten) will no doubt generate some enthusiastic reviews, frequent mentions of Haneke's spirit hovering over it and debate on every shot and every reference around and it will most likely to be a favorite of festivals and their juries,
Groning's cinematography (he is his own cameraman) is nothing short of superb, meticulous both in the choice of frames and of lighting, a perfect means of conveying moods and emotional climates.
At almost three hours running time there is an abundance of details to dissect, with even the absence of music likely to draw much applause. But don't expect mainstream box office for this film that will likely be more at home in the more rarefied art house circuit.
Extremely pretentious in its formal demeanor and indulging in excessive lengths, this is a 59 chapter (some of them barely one minute long) scientifically precise analysis of a quiet, typically respectable family life, tainted by brutal violence…most, but not all, of it taking place off-screen. And there is plenty of it, judging by the bruises that gradually cover the wife's body, all of them observed at close range and considerable length by Groning's scrupulous camera.
Uwe (David Zimmerschied) a policeman, Christine (Alexandra Finder) and their small daughter Clara (played by two sisters Pia and Chiara Kleemann) look, for all purposes, like a happy middleclass family. The couple lives in a small provincial town, have a decent flat and apparently love each other, though they don't have a lot to share between them, verbally.
The only strange thing seems to be that all through the film they have absolutely no contact with anyone at all, whether it be neighbors, relatives or friends, as if nothing should disturb Groning at work. He focuses on the three of them only, often in huge close-ups, and to ease his task, keeps them entirely separated from the rest of the world.
Christine does not work, therefore there is no need to send the daughter to a kindergarten, which means there are no other kids in her life. There is only mom, who devotes most of her time revealing the secrets of life and nature to her daughter, while dad is away often on night shift.
The crisis erupts when one night, Christine turns her husband away and he viciously kicks her out of bed. Then, as Groning goes on with his chronicle of their lives, showing Uwe at work, his wife taking care of Clara's education, everything wrapped up In glorious images of the surrounding nature looking at its best, the first bruises appear on Christine's back and arms, as the couple are innocently gamboling in the bathroom. Then there are more and more bruises, some of them incurred in front of the camera, others just implied, but beyond any doubt, by the patches of black and blue covering all her body and the dark shadows under her eyes.
Obviously an unbearable situation, but Groning does his best to not to point out evident culprits. Just as there is a dark pool of violence uncontrollably exploding in Uwe, there is an equally dark spot in Christine who does nothing to stop it. The script intentionally refrains from any psychological or social attempt to explain any of this, it just records the tragedy as it is, another one of the nature's mysteries often mentioned in the picture.
All of which would have been perfectly acceptable, if not for Groning's insistence on drawing the attention, ostentatiously, to everything he does. The division into chapters, beyond the annoyance it generates (without those ceremonious inter-titles the film could have been some ten minutes shorter if not more), alienates the viewer and constantly reminds that we are observing, not participating, in what happens on the screen.
Groning's cinematography (he is his own cameraman) is nothing short of superb, meticulous both in the choice of frames and of lighting, a perfect means of conveying moods and emotional climates. But Groning himself obviously knows it and enamored in his own images he sticks with them far too long for his or their own good.
Production company: Philip Groning Filmproduktion
International Sales: The Match Factory, www.the-match-factory.com
Producers: Philip Groning, Dr. Matthias Esche, Philip Kreuzer, Werner Wirsing
Screenplay: Philip Groning, Carola Diekmann
Cinematography: Philip Groning
Editors: Hannes Braun, Philip Groning
Production designers: Petra Barchi, Petra Klimek, Adan Hernandez
Main cast: Alexandra Finder, David Zimmerschied, Pia and Chiara Kleemann