Dir/scr: Ian Power. Ireland-Spain-Luxembourg. 2010. 100mins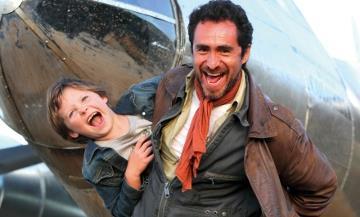 Ian Power's The Runway is a modest little charmer. Good natured and whimsical in tone, it is engagingly performed, nicely staged and should have a good chance of getting the attention of distribs on the look out for safely entertaining family flicks. Its Spanish-Irish tone could also make it appealing to festivals.
The revelation is the presence and style of Kerry Condon as a single-mum trying to keep things together.
It comes dangerously close to clichéd Irish whimsy at times, but the strength of the performances (especially from delightfully charming Kerry Condon) manages to keep it on track and avoid any prangs. The film screened at the Rome Film Festival.
Set in 1983, Paco (Jamie Kierans), is an imaginative and energetic nine year-old, whose mother Grace (Condon), has never really revealed the truth about his father, instead telling the boy his dad is a Spanish astronaut working for NASA.
They struggle to get by in the depressed Irish town of Kilpadder in County Cork, now financially crippled by factory closures. One night while watching the stars, Paco sees a plane crash into a nearby field. It is piloted by Columbian Ernesto Sanchez (Demian Bichir), who emerges with a few scrapes.
Given Ernesto can't speak English, Paco – who understands a few words - volunteers to translate. What follows is a series of misunderstandings with Paco eventually convincing the townspeople that helping to rebuild Ernesto's plan and build a runway to help him takeoff would help put Kilpadder back on the map.
Naturally Ernesto wins over the locals – and charms Grace – though he is also keeping a secret about his cargo and the fact he is on the run from the Columbian mob.
Jamie Kierans is nicely enthusiastic as Paco, and Demian Bichir has the charm to convince as a globetrotting pilot, though the revelation is the presence and style of Kerry Condon as a single-mum trying to keep things together.
The film itself offers no real surprises, though there are some delightful moments as the townspeople work together to rebuild the plane and construct a makeshift runway. When faced with the issue of getting aviation fuel they go to a shadowy republican faction (presumably the IRA), and get help after convincing them that Ernesto knows Che Guevara. This is done simply by Ernesto putting on a beret and looking revolutionary.
Production companies: Fastnet Films, Poderosa Pictures, Film Fund Luxembourg, Lucil Film, Film I Vast, Quickfire Films
International sales: 6 Sales, www.6sales.es
Producers: Brendan McDonald, Macdara Kelleher
Executive producers: James Atherton, Jan Pace, Marina Fuentes.
Cinematography: PJ Dillon
Production designer: Ray Ball
Editor: Amine Jaber
Main cast: Jamie Kierans, Demian Bichir, Kerry Condon, James Cosmo, John Carpenter