Dir: Stephen Brown. UK-Ireland. 2013. 87mins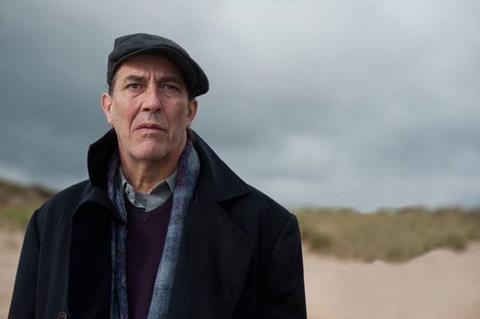 A beautifully shot wallow in sadness, memory and self-pity, the elegantly made The Sea may lack real dramatic drive as it favours haunting slowness over pace, but the film's emotional still waters run deep and the film is gently watchable as a series of fine actors deliver nuanced and powerful performances.
Ciaran Hinds is a magnetic presence on screen and his mournful wanderings around the windswept Irish town are nicely staged.
Set to be released in the UK by Independent Film Company, the series of high profile performers – including Ciaran Hinds, Charlotte Rampling, Rufus Sewell and Natascha McElhone – may attract sales attention, though it truth it is also rather niche art house material, aimed at an older audience. The film had its world premiere at the Edinburgh International Film Festival.
The film, which is structured in three interweaving sections, dwells on art historian Max (Hinds), who returns to the Irish coastal town where he grew up following the death of his wife (Sinead Cusack). The film dips between modern-day Max and his booze-fuelled ramblings; the days leading up to the death of his wife as they banter and bicker about past infidelities, and remembrance of his childhood summers in the town and the moment of a childhood trauma that clearly still has an impact on his life.
While the scenes of Max and his wife together are well performed, they rarely take the story anywhere, except perhaps to suggest her death is a prompt for his maudlin behaviour and spurs a need to revisit the place of past happiness and regret. It is the balance between his memories of his childhood days and the counterbalance with his modern-day musings that is when the film is at its strongest.
As a boy he meets and is entranced by the eccentric Grace family….mother Connie (an impressive Natascha McElhone), father Carlo (Rufus Sewell, asked too hard to be a cliched eccentric) and their two children and childminder Rose (Bonnie Wright). His depth of involvement with the Grace family spirals towards one terrible moment, and the flashbacks are set alongside Max's emotional and psychological traumas as he finds himself back at The Cedars (run by landlady Miss Vavasour, played with ease by Charlotte Rampling), the place where he spent time with the Grace family.
Ciaran Hinds is a magnetic presence on screen and his mournful wanderings around the windswept Irish town are nicely staged, especially in the powerful and evocative opening scene when he stumbles drunkenly into a dark and raging sea. John Banville has adapted from his own 2005 Booker Prize-winning novel, but the subtle drama of the book gets lots in amidst the slow-moving and rather mannered on-screen action, and the trauma of the childhood incident rather lacks impact, as does a rather clumsy link between Rampling and Hinds which should have been mined for full dramatic impact but in the end rather drifts along. A shame because it is a treat to see such strong actors on screen together.
Production companies: Samson Films, Independent Film Company, Rooks Nest Entertainment
International sales: Independent Film Company, www.independentfilmcompany.com
Producers: Luc Roeg, Michael Robinson. David Collins
Executive producers: Andrew Orr, Philip Herd, Ernest Bachrach, Rebecca Long, Steve Spence, Michael Sackler, Julia Godzinskaya
Screenplay: John Banville, based on his novel
Cinematography: John Conroy
Editor: Stephen O'Connell
Production designer: Derek Wallace
Music: Andrew Hewitt
Main cast: Ciaran Hinds, Charlotte Rampling, Natascha McElhone, Rufus Sewell, Bonnie Wright, Sinead Cusack, Padhraig Parkinson, Missy Keating