The world premiere of Ritesh Batra's adaptation of the Julian Barnes novel starring Jim Broadbent and Charlotte Rampling will kick off proceedings at the 28th annual Palm Springs International Film Festival on January 5.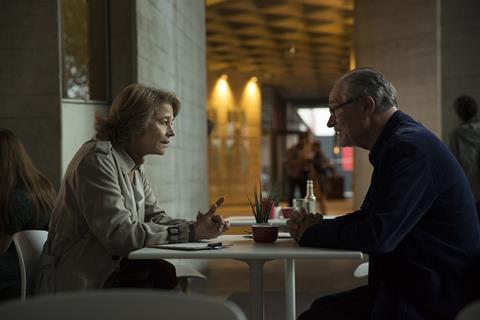 The Sense Of An Ending (pictured) is Batra's second film after The Lunchbox and will open through CBS films on March 10.
Taylor Hackford's The Comedian starring Robert De Niro will close the event (SPC opens the film on January 13) as festival brass unveiled the full roster of Premieres, New Voices/New Visions, Modern Masters, True Stories and After Dark.
World premieres include Colin Hanks's Eagles Of Death Metal: Nos Amis (Our Friends) (US-France); Andrew Wagner's Breakable You (US) starring Holly Hunter, Tony Shalhoub and Alfred Molina; Catalina Aguilar Mastretta's Everybody Loves Somebody (Mexico); and Simon Aboud's The Beautiful Fantastic (UK-US).
Rounding out the world premieres are: The Concessionaires Must Die! (US) by America Young; Do It or Die! (US) by Jørn Winther; Take Me Home Huey (US) by Alicia Brauns and Christine Steele; and Rahul Bose's Poorna (India).
A Focus On Poland honours the late Andrzej Wajda with screenings of the current foreign language Academy Awards submission Afterimage and an archival print of his 1958 masterpiece Ashes And Diamonds, as well as Adam Guziński's Memories Of Summer and Zacma: Blindness by Ryszard Bugajski, among others.
The New Voices/New Visions showcase of ten films includes Mbithi Masya's Kati Kati (Kenya-Germany), Ivan I. Tverdovsky's Zoology (Russia-France-Germany), Chloé Robichaud's Boundaries (Canada), and The Winter (Argentina-France) by Emiliano Torres.
Among Modern Masters entries are Ken Loach's I, Daniel Blake (UK-France-Belgium), Kim Ki-duk's The Net (South Korea), Feng Xiaogang's I Am Not Madame Bovary (China), and Abacus: Small Enough To Jail (US) by Steve James.
World Cinema Now features work by Downfall director Oliver Hirschbiegel (13 Minutes, Germany), Izu Ojukwu ('76, Nigeria), Rodrigo Grande (At The End Of The Tunnel, Argentina), Ana Cristina Barragán (Alba, Ecuador), Claudia Huaiquimilla (Bad Influence, Chile), and Cecilia Verheyden (Behind The Clouds, Belgium).

Documentaries such as María José Cuevas's Beauties Of The Night (Mexico), Raoul Peck's I Am Not Your Negro (US) and Vanessa Gould's Obit (US) populate the True Stories section.
Genre fare in After Dark includes Colm McCarthy's The Girl with All the Gifts (UK-US) and Amat Escalante's The Untamed (Mexico-Denmark-France-Germany-Norway).
The Awards Buzz line-up of foreign language Oscar submissions – one of the trademarks of the festival – include Maren Ade's Toni Erdmann (Germany), Paul Verhoeven's Elle (France), Pablo Larraín's Neruda (Chile), Mariano Cohn and Gastón Duprat's The Distinguished Citizen (Argentina), and Kim Jee-woon's The Age Of Shadows (South Korea).
"I couldn't be more proud of this year's line-up," said artistic director Michael Lerman. "The programming team has managed to pull together a plethora of different viewpoints in storytelling from around the world in hopes of generating great discussion sorely needed in these divisive times."
PSIFF is set to run in California from January 2-16. For the full line-up click here.