The fraught relationship between a mother and daughter comes to the boil at a family celebration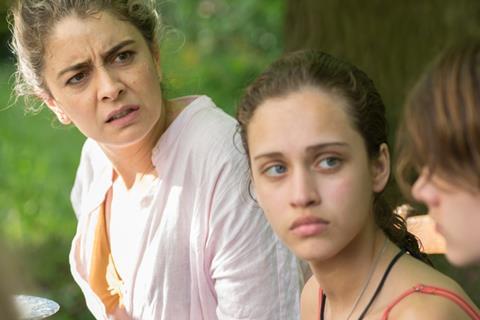 Dir/Scr: Paula Hernandez. Argentina, Uruguay. 2019. 107mins
A family gathering is marked by festering resentments, flare-ups and impending catastrophe in The Sleepwalkers (Los Sonámbulos). Writer/director Paula Hernandez's expert control of mood and escalating tension transforms familiar-sounding material into a compelling exploration of the way the ones we hold dearest can hurt and disappoint us the most.
The veneer of civilised behaviour is ripped away to reveal the fierce emotions that have been held in check
Hernandez deftly combines a coming-of-age drama with a finely observed portrait of a complex mother-daughter relationship and then wraps it all up in the bigger picture of a family sleepwalking towards disaster. The result is a multi-layered drama vividly brought to life by a well-cast ensemble, and festivals should be wide awake to its appeal.
Translator Luisa (Érica Rivas) has reluctantly agreed to spend yet another New Year holiday at the historic country home of her mother-in-law Meme (Marilu Marini). Her husband Emilio (Luis Ziembrowski) and teenage daughter Ana (Ornella D'elia) are all part of a big family celebration. The difference at this family gathering is that Meme has decided to sell the property, a move that Emilio wants to stop. His brother Sergio (Daniel Hendler) seems less concerned.
Ana has just hit puberty and become a concern for the protective Luisa. In the film's eerie, virtually wordless opening sequence, Luisa discovers a naked Ana sleepwalking in the night. The girl is guarded and sullen. The pinging of her phone has become the soundtrack of her life. Luisa is constantly at odds with Emilio; he makes plans without considering what she wants, she has dreams that she has chosen not to share with him. There is a failure to communicate undermining the fabric of their marriage.
When Sergio's bad boy prodigal son Alejo (Rafael Federman) arrives at the house, Ana is drawn towards this blithe spirit who tempts her towards transgression. Alejo also makes overtures to Luisa, perhaps aware that both women are yearning for change. Throughout the film we gain a sense of the way Emilio instinctively, even unthinkingly, manages to undermine Luisa. There is almost a parallel process in the way Luisa approaches Ana, as she clearly fears for a daughter on the brink of womanhood.
Hernandez maintains a fine balance between precious moments of individual introspection and the bustle of family meals, fishing trips and swimming pool sessions that always seem to end in argument. Individuals find a sense of peace when they alone. Company only ever signals conflict. The style of the film reflects that, with the gatherings captured in prowling, busy, hand-held camerawork and overlapping conversations. Quieter moments are more traditionally framed, as Luisa or Ana are seen at a window or door illuminated by moonlight.
There isn't a weak link in the cast. Ornella d'elia invests Ana with a mixture of icy disdain and youthful vulnerability. Federman is creepily convincing as the blithe, toxic charmer Alejo and a towering Rivas (Wild Tales) captures all the seething frustrations and raw anger of someone who has spent far too long trying to please others.
Tensions in The Sleepwalkers slowly come to the boil. The veneer of civilised behaviour is ripped away to reveal the fierce emotions that have been held in check. The events that finally force everyone to wake up are handled with discretion. The one thing that might emerge from the wreckage is the bond between mother and daughter.
Production companies: Tarea Fine, Oriental Features
International sales: Meikincine Entertainment lucia@meikincine.com
Producers: Juan Pablo Miller, Paula Hernandez
Production design: Aili Chen
Editing: Rosario Suarez
Cinematography: Ivan Gierasinchuk
Music: Pedro Onetto
Main cast: Érica Rivas, Ornella D'elia, Marilu Marini, Luis Ziembrowski