Dir-scr Manoel de Oliveira. Portugal-Spain-France-Brazil 2010. 104mins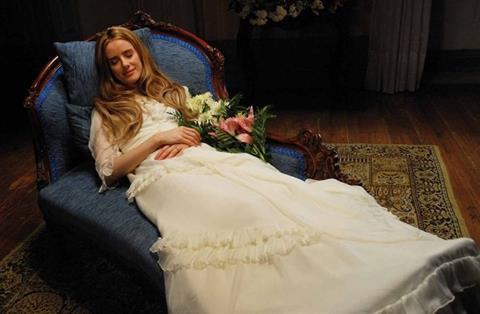 Now aged 101, Portuguese maestro Manoel de Oliveira is one of the surpassing prodigies of cinema. He continues not only to film but to flout commercial logic with features that are intransigently eccentric and calculated to please only himself and a 'happy few' of long-term admirers.
The rarefied tone and somewhat funereal mood will make Angelica one for only his most faithful art-house distributors.
His latest film has all the maestro's subtlety and precision, but lacks the more accessible touch that gave Belle Toujours and Eccentricities of a Blonde Haired Girl some slim, but tangible, chances of crossover appeal. A contemplation of love and metaphysics, The Strange Case of Angelica finds Oliveira, nothing if not game, trying out some new visual tricks, but the rarefied tone and somewhat funereal mood will make Angelica one for only his most faithful art-house distributors.
One rain-swept night, a young Jewish photographer named Isaac (the director's grandson and regular lead Trêpa) is called out to the moneyed Portas estate, where he is to take a photo of the family's married daughter Angelica (López de Ayala), who has just died.
He starts snapping the deceased - only to see her open her eyes and smile at him through his viewfinder.
Isaac finds her still smiling when his photos are developed (the story apparently takes place some years before digital photography), and becomes obsessed with her. Angelica haunts his dreams, notably in a digital fantasy sequence - a first for Oliveira, and a rather beautiful one - as she takes Isaac for a spin through the skies, in the manner of Chagall's wedding paintings.
The film's first half is executed with a finesse that could only be Oliveira, and almost entirely in visual terms, as Isaac visits the estate and muses in his shabby room. About midway, however, the film moves into more rarefied, discursive mode, as an engineer (Cintra) and friends muse on the economic crisis, theory of matter and antimatter and, more enigmatically, the "seven mosquitoes of the Apocalypse". It's one of those Oliveira sequences which pile on the obscurity, only to end on a sublime comic note as - just on the edge of the frame - a cat eyes up the landlady's caged bird.
Apart from the classic supernatural theme of a man falling for a seductive revenant, it's hard to say what the film is really about - but there are plenty of tantalising hints in the quotes from metaphysical texts and the allusions to particle colliders and the Hubble telescope. Trêpa is an undemonstrative but winningly bemused lead, while López de Ayala, in a wordless role, lends perplexing allure to the ghostly siren.
As ever, this film is partly a hymn to Portugal, its landscapes and traditions, and the Douro valley is shot with downbeat magnificence by Sabine Lancelin, giving welcome balance to the film's oppressively sombre interiors.
Production companies: Filmes do Tejo II, Eddie Saeta, Les Films de l'Après-Midi, Mostra Internacional de Cinema
French distributio: Epicentre Films
International Sales:
Pyramide, +33 (0)1 42 96 02 20
Producers: François d'Artemare, Maria João Mayer, Luís Miñarro, Renata de Almeida, Leon Cakoff
Cinematography: Sabine Lancelin
Editor: Valérie Loiseleux
Production designers: Christian Marti, José Pedro Penha
Main cast: Ricardo Trêpa, Pilar López de Ayala, Leonor Silveira, Luis Miguel Cintra, Ana Maria Magalhães