Dir/scr: Woody Allen. US-Italy. 2012. 111mins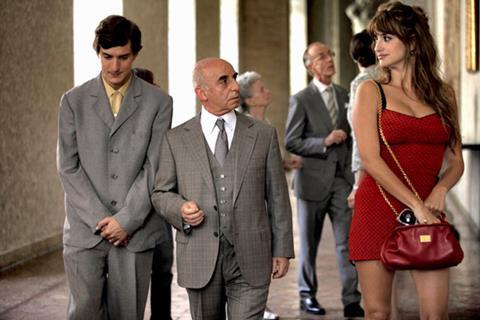 In the latest stop on Woody Allen's cinematic tour of Europe, the Eternal City clichés are laid on as thick as a Quattro Stagione pizza topping. Lovers romance amidst atmospherically-lit ruins; Vespas buzz past al fresco trattoria tables; the cutting-edge soundtrack opens with Volare, and a humble traffic policeman has an apartment overlooking the Spanish Steps (presumably he won the lottery, but likes his job too much to quit). There are times when it makes Roman Holiday look like a neo-realist classic.
In the end, though it has a certain charm, To Rome With Love is little more than a travel brochure with jokes.
That said, the multi-stranded To Rome With Love is a likeable enough capriccio, with much of the pleasure coming from watching an all-star cast enjoying themselves like kids at the back of the bus. But it's not Midnight in Paris, lacking the high-concept premise and the plausible relationship dramas that gave that equally soft-focus paean to the French capital a certain dramatic heft, and helped to turn it into Woody's biggest ever box-office result. If that was Four Weddings And A Funeral, this is Love, Actually: a chocolate assortment where everyone is sure to find a flavour they like, and if they don't they can always admire the packaging.
Allen's latest premiered in Italy a good two months before its debut in the US (where Sony Pictures Classics will give it a limited release on 22 June, a week after the film does the opening honours at the Los Angeles Film Festival). This has a lot to do with the muscle of majority backer Medusa Film, but was hardly calculated to give the film a good send-off, given the Italian critics' predictably lukewarm reception to a film that was widely dismissed for peddling outdated Dolce Vita stereotypes.
Such was the nervousness surrounding the film's Italian head-start that the international press were barred from the preview screening and no English-language copies were released, so the current review relates to the dubbed Italian version. However large swathes of dialogue – including the entirety of the Roberto Benigni episode – are in Italian in any case (which could also put a brake on the film's international prospects, with long subtitled passages already on view in the US trailer).
The film's original title, The Bop Decameron (which had already been changed once, to Nero Fiddled) was a nod to Italian Medieval author Giovanni Boccaccio's short story and folk tale anthology The Decameron. Allen did well to ditch that working title, as the four stories that alternate in To Rome With Love have little to do with Boccaccio, and little to do with one another apart from their Roman backdrop.
First up is the tale of Hayley (Pill, who played Zelda Fitzgerald of Midnight In Paris), a lone American turista in Rome who finds herself a fiancé when she asks Michelangelo (Parenti) a handsome, politically committed young Italian architect, the way to the Trevi Fountain. Allen and Judy Davis play the bride-to-be's New Yorker parents, while opera tenor Fabio Armiliato puts in a sparkling performance, at the centre of one of the film's more inspired comic scenarios, as the future bridegroom's father – an undertaker with a talent for singing in the shower.
A naïf young couple in from the provinces (Mastronardi and Tiberi) are separated by chance just before the husband is due to meet his prim Roman relations about a job in the family business; due to a banal mix up (one of many in the lazy script), he is forced to pass off hooker Anna (Cruz, fine but mostly treading water in a role she's done before) as his wife when the uncles and aunts turn up.
Story three centres on architecture student Jack (Eisenberg), who's studying in the Eternal City for a year with live-in girlfriend Sally (Gerwig). When Sally's sexy but superficial actress friend Monica (Page) comes to stay, John (Baldwin), a jaded older architect who lived in Rome years before, morphs entertainingly from real character to the angel/devil dissuader/prompter of Jack's swelling interest in his girlfriend's best friend. Baldwin is perfect in the role, injecting a note of world-weary bitterness that is refreshing in this over-sugared confection.
Finally, in what feels like a treatment for a full-length feature, comes the story of a dull small-time Roman clerk called Leopoldo Pisanello (Benigni), who one morning discovers that he has become famous for no apparent reason, to the extent that he is interviewed about what he had for breakfast, gets invited to all the big society events and has his morning shave beamed nationwide.
As a fable of the emptiness of modern fame it's a well-crafted, smile-inducing exercise, and Benigni is perfect in a role that seems written for him. But like all of the plot strands that alternate here, it never seems more than a sketch – and it could be set anywhere (one even suspects that Allen might have originally written it with New York in mind).
The narrative voice-overs of that lucky Spanish-Steps-dwelling traffic policeman are deployed to give a veneer of narrative cohesion, but Allen seems to forget the device for large parts of the film. What really unites the four episodes, apart from some deft editorial interleaving, is the fact that all are shot in the golden light of a summer's evening (except once, when it rains for romantic effect) and all are lightened by an obtrusive soundtrack of naff Italian lounge classics like Amada Mia, Amore Mio.
If this is an attempt to capture the lightness of golden age Italian portmanteau comedies like L'Oro di Napoli, it doesn't quite work, and though there a couple of decent gags along the way one is left yearning for some real connection with the Eternal City – the kind achieved, for example, in Fellini's Roma or even the first episode of Nanni Moretti's Caro Diario. In the end, though it has a certain charm, To Rome With Love is little more than a travel brochure with jokes.
Production companies: Medusa Film & Gravier Productions present a Perdido Production
Domestic distribution: Sony Pictures Classics
International sales: Focus Features International, www.focusfeatures.com
Producers: Letty Aronson, Stephen Tenenbaum, Giampaolo Letta, Faruk Alatan
Co-producers: Helen Robin, David Nichols
Co-Executive producer: Jack Rollins
Cinematography: Darius Khondji
Editor: Alisa Lepselter
Production designer: Anne Seibel
Main cast: Woody Allen, Alec Baldwin, Roberto Benigni, Penelope Cruz, Judy Davis, Jesse Eisenberg, Greta Gerwig, Ellen Page, Monica Nappo, Alison Pill, Flavio Parenti, Alessandra Mastronardi, Alessandro Tiberi, Fabio Armiliato, Antonio Albanese, Riccardo Scamarcio